While it is an impressive spectacle at any time of year, the majestic Barron Falls literally comes alive during both the summer and autumn seasons, as the tropical rains feed its dramatic descent to the rugged gorge that has been carved out below.
A visit to Australia's tropical rainforest with Skyrail during waterfall season is a must do experience, particularly if waterfall photography is on your bucket list!
Rain is a vital part of this ancient environment and its arrival heralds the flowering and fruiting of many plants, not to mention the effect it has on the Barron Falls!
A giant 260-metre, granite-faced waterfall, the Barron Falls is one of Cairns' and Tropical North Queensland's most iconic landmarks. Impressive year-round, the Falls are truly a sight to behold in the summer and autumn months, as the mesmerising waters thunder over the granite precipice to create an impressive monument to nature's deluge.
The Barron Falls can be viewed from lookouts at our Barron Falls Station (one of two stops during your Skyrail experience), including The Edge Lookout – an impressive cantilever structure with a glass floor section. Adjacent to us is Kuranda Scenic Railway's Barron Falls Station. Their viewing platform also has a great view of the falls and on the train journey you will pass many creeks and waterfalls as you wind your way around the mountain. Visitors of all ages are immediately drawn to the up-close-and-personal views that are on offer. Once in Kuranda, take a walk along the banks of the Barron River to really soak in the emerald greens at ground level and add in some extra time to enjoy the Kuranda Riverboat too!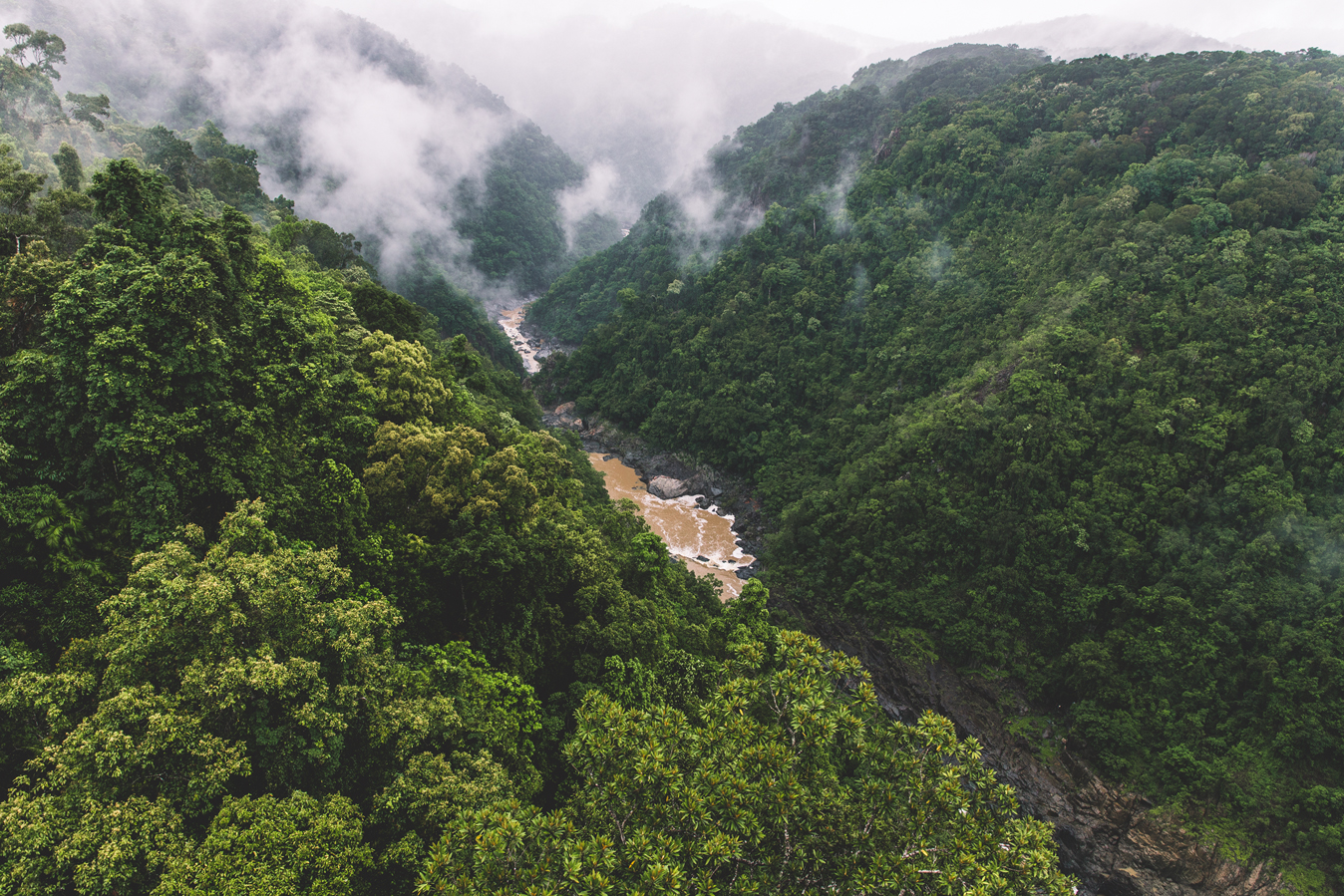 The Tropical North Queensland region is also a place of great beauty and inspiration, not only for travellers from all over the world, David Attenborough himself calls it the most extraordinary place on earth. Other big fans can be found in hollywood, remember when James Cameron's Avatar broke box office records in 2009?
The film takes you to a special world beyond the imagination and highlights the journey of Jake Sully [Australia's very own Sam Worthington]. Jake is first sent to infiltrate the Na'vi people of Pandora, only to fall in love with a Na'vi female, Neytiri. It is not long before he also feels part of the beautiful surroundings of Pandora including the floating mountains; the tree of souls and the spectacular scenery that has created a world of lush, green escapism for movie goers world-wide. Now you can find your escape, feel like you are inside Pandora, with us right here at Skyrail Rainforest Cableway! A world away, just 15 minutes from Cairns. Keep an eye out for the 'home tree', if you listen to our in gondola commentary on the Skyrail Interpretive App and Audio Guide you will spot it with ease!
Fun fact: Avatar designer Dylan Cole revealed part of his inspiration for Avatar's forest, came from a research visit on Skyrail Rainforest Cableway!
During a Skyrail experience, visitors glide just metres over ancient rainforest with a birds eye view of the forest canopy, basket ferns and a multitude of leaves, all sparkling a million shades of green. Found in our very special pocket of rainforest within the Barron Gorge National Park, there is the world's oldest tree dwelling kangaroo, the world's first flowering plants and many relic species from the days of Gondwanaland. As for the rest of our famous residents, there are a few. The iridescent blue of the Ulysses butterfly flashes across the canopy, while the Southern Cassowary's blue neck and red wattles provide a stark contrast to the green foliage. The Wet Tropics are also home to some bio-luminescent residents including fungi, fireflies and glow worms.  Unlike Pandora, these rainforests are World Heritage protected and Skyrail Rainforest Cableway provides the most sustainable and environmentally friendly way to visit them and is a truly unique rainforest experience, available no-where else in the world.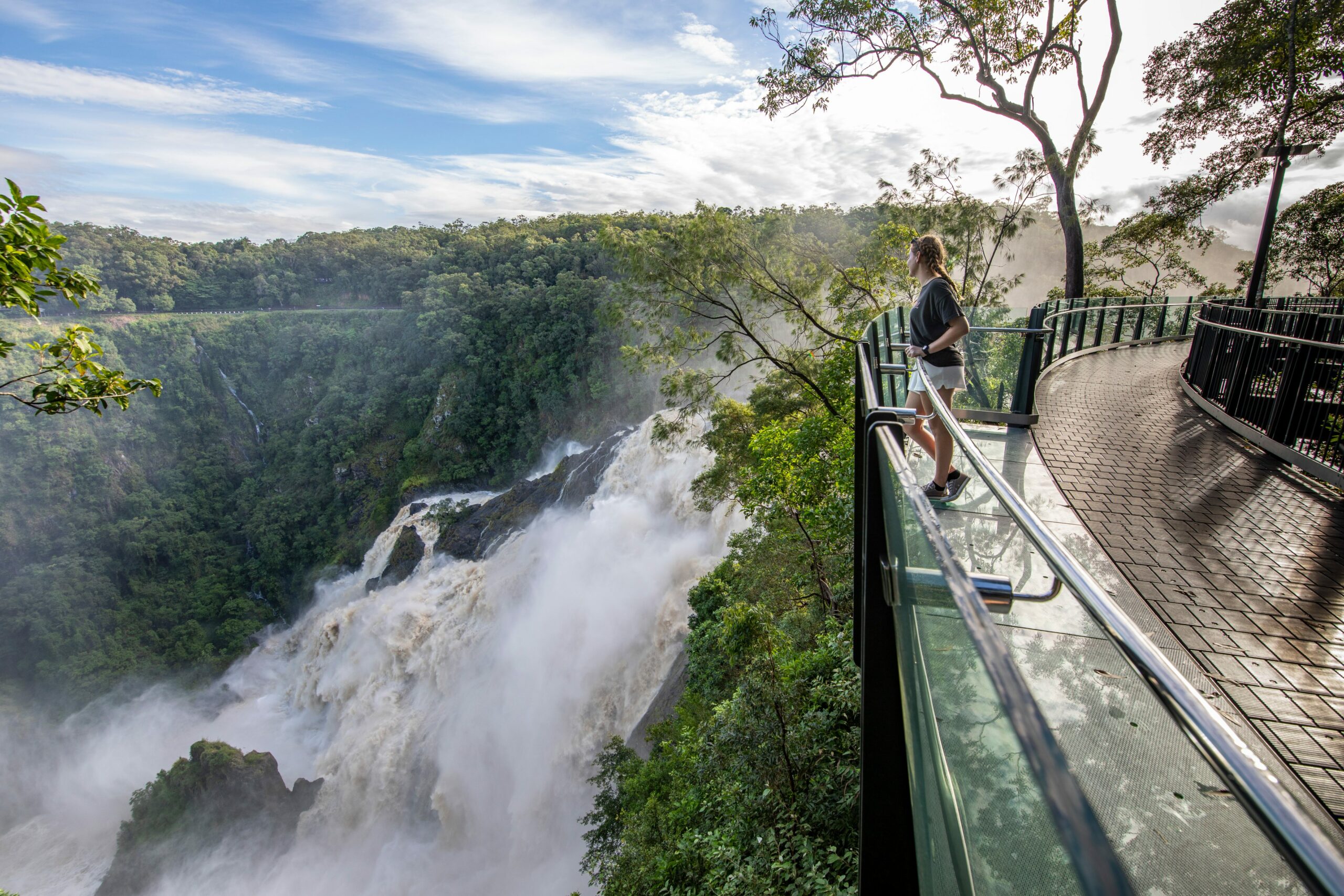 Photo by: PhlipVids at The Edge Lookout with Barron Falls in flood.
Visiting Australia's World Heritage listed Wet Tropics Rainforests in waterfall season really is a magical and must do experience. Rolling cloud formations hug the majestic rainforest clad mountain ranges, shrouding this ancient environment in a cloak of moisture laden mist. Skyrail, and the ancient rainforest, really is the perfect rainy day experience.
Relax and immerse yourself in a fascinating journey of discovery through the oldest continually surviving tropical rainforest on earth! You can even take a sneak peak to see what's happening in the rainforest right now from our live streams!
We look forward to showcasing the best of Tropical North Queensland during waterfall season with you, come and chase waterfalls with us!