Explore Australia's Ancient Tropical Rainforest
Skyrail Rainforest Cableway Prices
Discover Native Flora and Fauna

Advance bookings and payment is required
TOUR OPTIONS:
Return (round-trip) or one-way Skyrail experience departing from Smithfield (Cairns) Terminal or Kuranda Terminal.
Choose to spend as little as a few hours, half a day or a full day.
START LOCATION:
Smithfield (Cairns) Terminal: 6 Skyrail Drive, Smithfield (15 minutes north of Cairns and 50 minutes south of Port Douglas).
For guests in Cairns, Beaches or Port Douglas you will start your experience at the Smithfield (Cairns) Terminal.
Kuranda Terminal: Arara Street, Kuranda.
For guests in Kuranda or on the Atherton Tablelands you will start your experience at the Kuranda Terminal.
GETTING HERE:
Drive yourself or book a bus transfer from Cairns City. Bus transfers are not available for Kuranda departures.
TIMINGS:
One-way Skyrail: 1 ½ hours
Return: 2 ½ hours
Kuranda Village: 2-3 hours
Tours and Pricing
Skyrail: One-Way Experience
Adult
$59.00
Child (4-14 years)
$29.50
Family (2 Ad + 2Ch)
$147.50
Skyrail: Return Experience
Adult
$88.50
Child (4-14 years)
$44.25
Family (2 Ad + 2Ch)
$221.25
Skyrail: Return Experience  With return bus transfers
(From Cairns City locations only)
Adult
$112.50
Child (4-14 years)
$68.25
Family (2 Ad + 2Ch)
$293.25
BUS TRANSFERS
* Available from selected Cairns City  locations only.
ADDITIONAL EXPERIENCE UPGRADES
For a unique perspective of the rainforest canopy upgrade to Diamond View (glass floor gondola) or Canopy Glider experience (open air gondola), available one-way only.
Plan your day with our experience map

Diamond View
Enjoy a unique and unimpeded perspective straight down to the tropical rainforest canopy with Skyrail's glass floor Diamond View gondola.
Diamond View guests enjoy dedicated Diamond View only boarding queues, and Diamond View gondolas depart the platforms every 7 minutes (approximately).
Diamond View gondolas seat a maximum of 5 people (including infants) and is available on a one-way, per-person basis only. Return and family rates do not apply. Bookings are made on a per seat basis only and you may share a gondola with other guests.
Upgrade to Diamond View Gondola
$25.00 per adult one-way
$12.50 per child one-way
Simply add Diamond View to your experience during the booking process
*Prices valid from 1st April 2022 – 31st March 2023.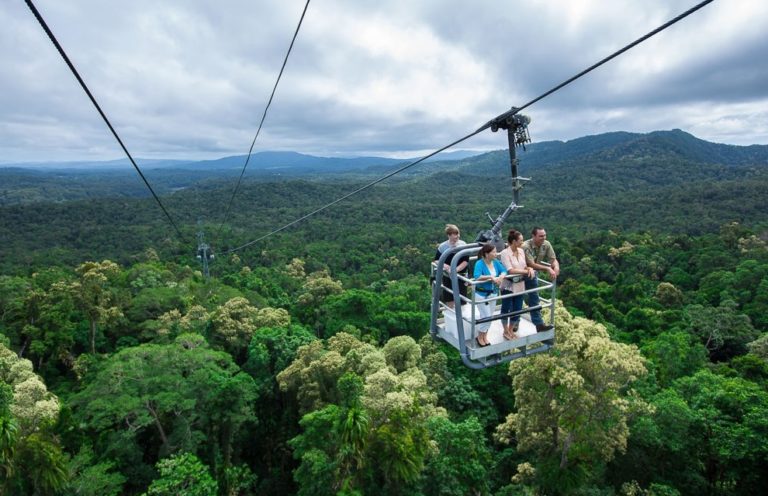 Canopy Glider
Get closer than ever to the Wet Tropics Rainforest with the exclusive open-air Canopy Glider gondola.
Accompanied by a Skyrail Ranger providing personalised interpretation and fascinating stories of the plants, animals and evolution of the rainforest, enjoy spectacular panoramic views of the Tropical North Queensland region.
Advance bookings for this premium rainforest adventure are essential and bookings require a minimum of 2 and a maximum of 3 guests.
Upgrade to Canopy Glider
$110.00 per person one-way

*Prices valid from 1st April 2022 – 31st March 2023.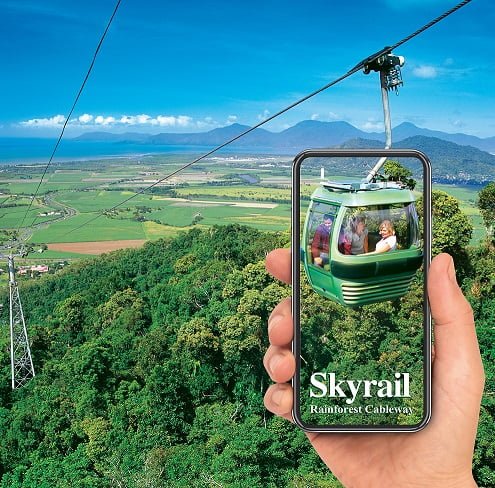 Skyrail Interpretive App & Audio Guide
Ensure you get the most out of your experience by downloading Skyrail's multi-lingual Interpretive App and Audio Guide that places the story of Australia's ancient tropical rainforest directly in your hands.
Enhance your experience with in gondola commentary
See augmented reality rainforest animals appear right before your eyes
Track your journey
Learn more about your experience
Capture and share photos to your social networks
Download the Skyrail Interpretive App & Audio Guide now