UNLOCK THE SECRETS OF THE
World's Oldest Tropical Rainforest
UNLOCK THE SECRETS OF THE
World's Oldest Tropical Rainforest
Skyrail Rainforest Cableway is located just 15 minutes north of Cairns city and 50 minutes south of Port Douglas in Cairns, Tropical North Queensland, Australia.
Embark on a fascinating journey of discovery with Skyrail Rainforest Cableway over and deep into Australia's Wet Tropics World Heritage Area that has survived against all odds to become the home of the world's oldest continually surviving tropical rainforest.
Enjoy a truly unique perspective of this ancient landscape; glide metres above the pristine jungle canopy before descending to explore the rainforest close up.

We are acting to protect the natural environment for future generations, creating advocates, and a greater appreciation for a sustainable future.
A Lifelong Commitment
We've recently been awarded EarthCheck Certified's highest accolade: Master Certification, for demonstrating more than 20 years of commitment to the highest standards of sustainable environmental performance.
Since 2002 our local family operated business has participated in the EarthCheck Certified program, which helps companies, communities and governments to deliver clean, safe, prosperous and healthy destinations for travellers
to visit, live, work and play.
Discover ancient tropical rainforest

Enjoy a one-way or return (round trip) Skyrail Rainforest Cableway experience or combine Skyrail with the historic Kuranda Scenic Railway to create the perfect half or full day rainforest itinerary.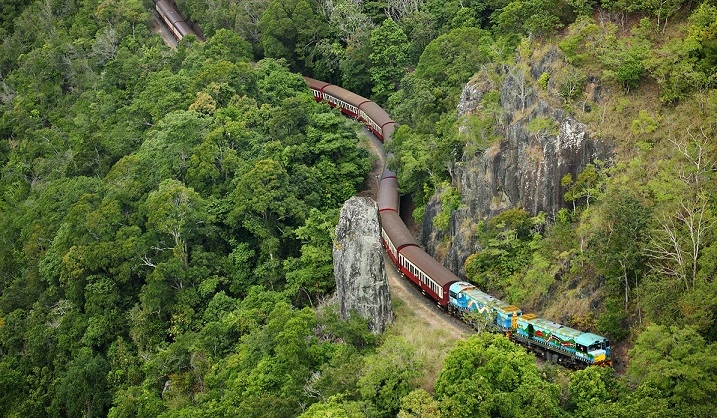 Kuranda Scenic Railway
Compliment your Skyrail experience by including Kuranda Scenic Railway. Built over 130 years ago, this historic train winds its way through the mountains between Cairns and Kuranda.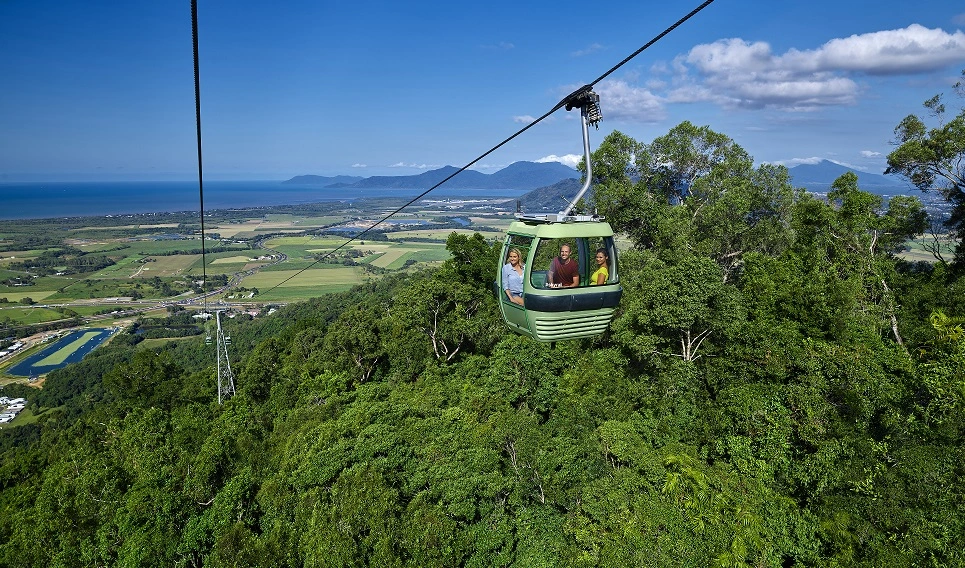 Skyrail Rainforest Cableway
Enjoy a unique perspective of Australia's World Heritage listed Wet Tropics Rainforest as you glide above the ancient canopy before descending to explore the forest floor.
What Does the World's Oldest Tropical Rainforest Look Like in Spring?
Explore the hidden wonders of Red Peak's boardwalk. Natures beauty surrounding you is just the beginning of a day discovering the ancient rainforest. 🌿
Have you ever wondered what it would be like to get up close to Din Din (Barron Falls) and the deep gorge below? At The Edge Lookout you can enjoy stunning panoramic views of this ancient landscape.
📷@queensland
Surround them in nature to let their imagination and sense of adventure run free as they discover #theancientrainforest. 😀🌿 @tiffany_west247
Dreaming of a tropical escape and got sunshine on your mind? 🌞 Why not enjoy a day exploring #theancientrainforest and creating memories to last a lifetime with your little ones! 🚡 @tiffany_west247
Have a Question?
Not sure if you need to book? Or what might happen if you need to cancel? See our list of most frequently asked questions.
Need More Information?
Everything extra you need to know, including how to get here, what packages you can book and what's included in your day.
Plan your day with our experience map