Cairns' Most Popular Day Out
Skyrail + Kuranda Scenic Railway Prices
Skyrail & Kuranda Scenic Railway Prices
Tours and Pricing
Skyrail & Kuranda Scenic Railway Self-Drive

Adult
$122.00
Child (4-14 years)
$66.00
Family (2 Ad + 2Ch)
$310.00

Skyrail & Kuranda Scenic Railway with one-way bus transfer

(Cairns City locations only)

Adult
$124.00
Child (4-14 years)
$68.00
Family (2 Ad + 2Ch)
$316.00
BUS TRANSFERS
The self-drive experience includes one-way bus transfer between Skyrail Smithfield Terminal and Freshwater Railway Station.
Bus transfer available from selected Cairns City locations only.
ADDITIONAL EXPERIENCE UPGRADES
For a unique perspective of the rainforest canopy upgrade to Diamond View (glass floor gondola), available one-way only.
Kuranda Scenic Railway's Gold Class is tailored to provide a more luxurious and personalised journey.

Advance bookings and payment is required
TOUR OPTIONS:
This is a combination of a one-way Skyrail Rainforest Cableway with a one-way Kuranda Scenic Railway and can be enjoyed as a half or full day experience.
You can choose to start with either Skyrail Rainforest Cableway or Kuranda Scenic Railway.
START LOCATION: SELF DRIVE TOUR
Smithfield Terminal: 6 Skyrail Drive, Smithfield.
All self-drivers must drive to Skyrail Smithfield Terminal to check in and receive ticketing information.
TIMINGS:
Skyrail: 1 ½ hours
Scenic Railway: 1 ½ hours
Kuranda Village: 2-3 hours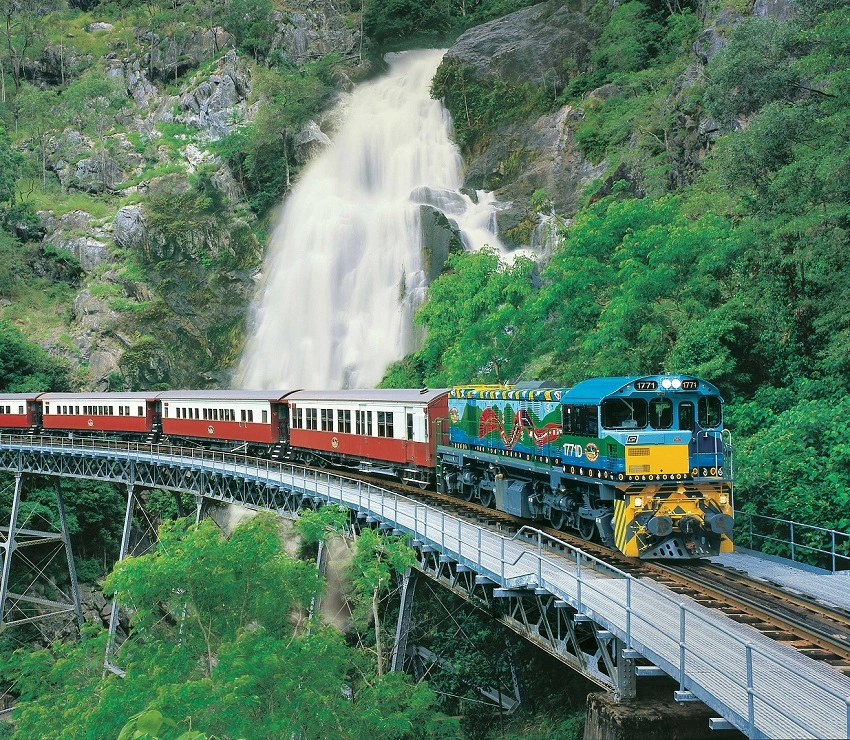 Kuranda Scenic Railway
Board the historic Kuranda Scenic Railway as it meanders its way between Cairns and Kuranda.
Opened in 1891, this famous railway ascends from the coastal plains of Cairns through Freshwater Railway Station and on to Kuranda, the Village in the Rainforest, some 328 metres (1,076 feet) above sea level.
Your historic journey in fully refurbished vintage carriages includes English commentary and a short photo opportunity stop at Barron Falls.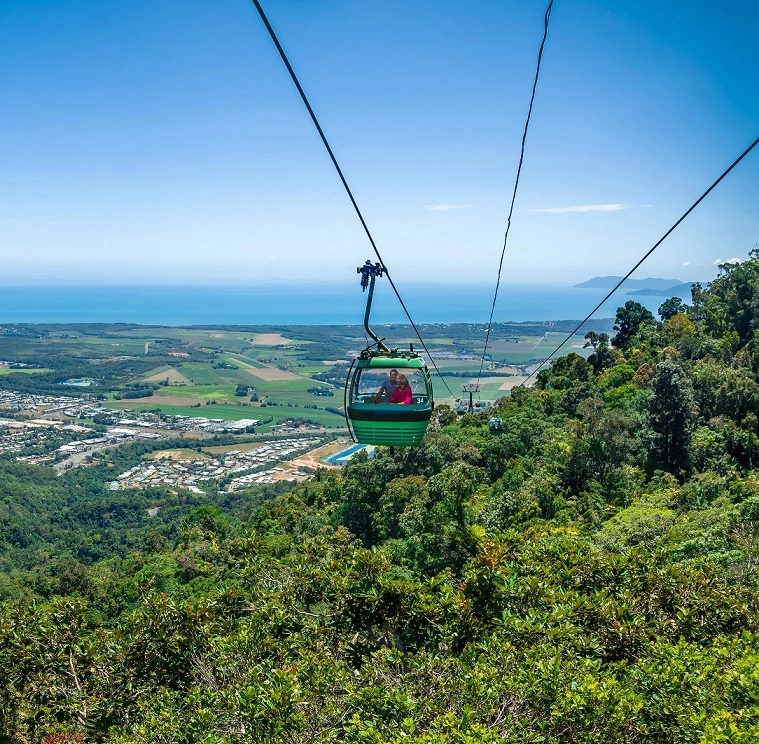 Skyrail Rainforest Cableway
Skyrail Rainforest Cableway takes you on a fascinating journey of discovery over and deep into Australia's Wet Tropics World Heritage listed rainforest.
Glide mere metres above the pristine rainforest canopy before descending to explore the forest floor at Red Peak and Barron Falls.
Enjoy complimentary ranger guided tours, the Rainforest Discovery Zone, The Edge Lookout, the Historical Precinct and the Rainforest Interpretation Centre to fully immerse yourself in the unique sights, sounds, smells and feel of the rainforest.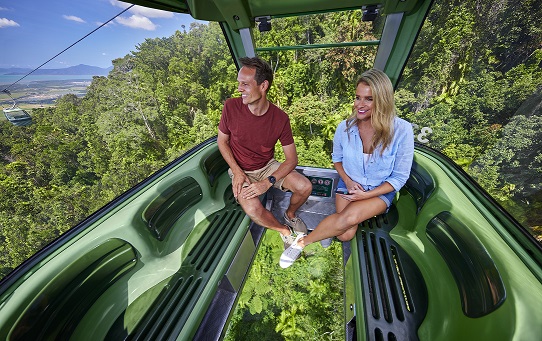 Skyrail Rainforest Cableway Diamond View
Enjoy a unique and unimpeded perspective straight down to the tropical rainforest canopy with Skyrail's glass floor Diamond View gondola.
Diamond View guests enjoy dedicated Diamond View only boarding queues, and Diamond View gondolas depart the platforms every 7 minutes (approximately).
Diamond View gondolas seat a maximum of 5 people (including infants) and is available on a one-way, per-person basis only. Return and family rates do not apply. Bookings are made on a per seat basis only and you may share a gondola with other guests.
Upgrade to Diamond View Gondola
$28.00 per adult one-way
$14.00 per child one-way
Simply add Diamond View to your experience during the booking process
*Prices valid from 1st April 2023 – 31st March 2024.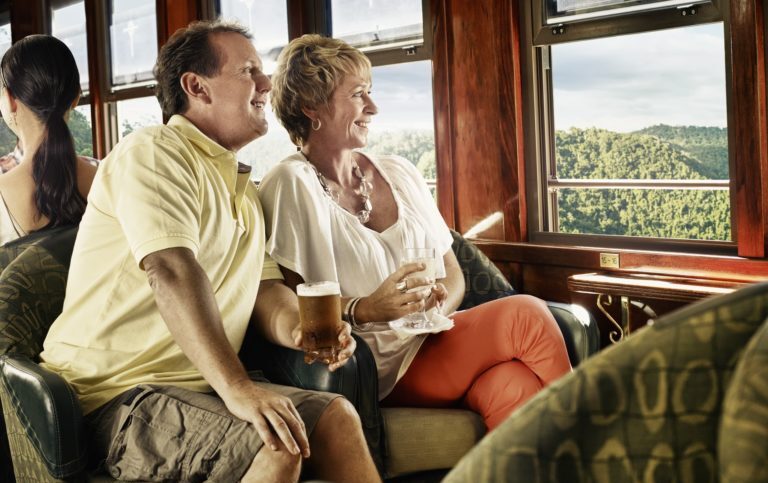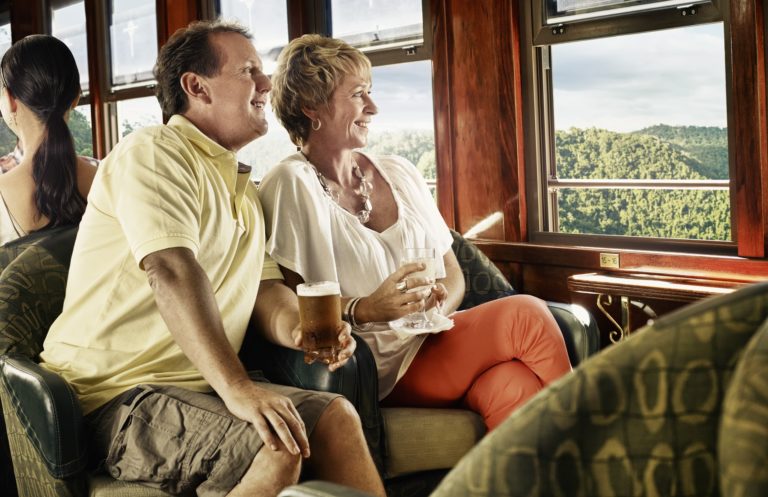 Kuranda Scenic Railway Gold Class
A premium railway experience for those who appreciate extra comfort and luxury. Guests enjoy individual lounge style seating, a commemorative gift pack and a selection of locally produced delicacies brought to you by a dedicated host serving morning or afternoon tea and beverages between Freshwater and Kuranda Railway Stations.

Gold Class is available on the 9:30am departue from Cairns Central Railway Station and 9:55am departure from Freshwater Railway Station to Kuranda, as well as the 3:30pm afternoon departure from Kuranda to Freshwater Railway Station.

Upgrade to Gold Class Carriage
$49.00 per adult one-way
$196.00 per family one-way

Simply add Gold Class to your experience during the booking process
*Prices valid from 1st April 2023 – 31st March 2024.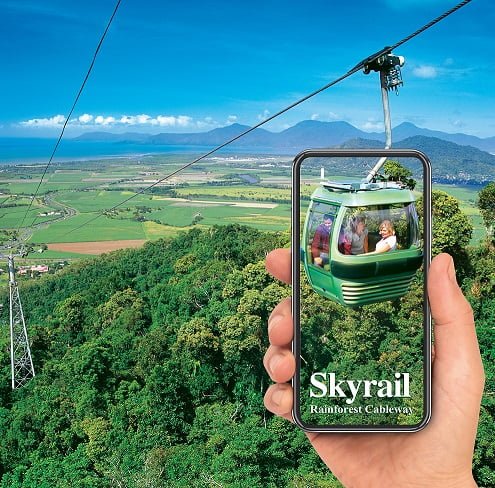 Skyrail Audio Guide & Interpretive App
Ensure you get the most out of your experience by downloading Skyrail's multi-lingual Audio Guide and Interpretive App that places the story of Australia's ancient tropical rainforest directly in your hands.
Enhance your experience with in gondola commentary
See augmented reality rainforest animals appear right before your eyes
Track your journey
Learn more about your experience
Capture and share photos to your social networks
Download the Skyrail Audio Guide & Interpretive App now