Skyrail Rainforest Cableway
Our Vision
The Skyrail Vision
To provide our guests with the best rainforest experience available anywhere in the world.
Skyrail Rainforest Cableway is an iconic, must-do experience that takes guests over and through the World Heritage listed Wet Tropics Rainforest, home to the oldest continually surviving tropical rainforest on Earth.
Who Owns Skyrail?
Skyrail is proudly family owned and locally operated by the Chapman family.
The Chapmans are 4th generation locals, who share a passion for the environment and the local community.
Skyrail Rainforest Cableway and the Chapman family have been welcoming visitors to the ancient rainforest since 1995, building a community of rainforest advocates for over 27 years.
We are privileged to offer guests the opportunity to explore one of the most fragile rainforest environments on earth and are acting to protect the natural environment for future generations, creating advocates, and a greater appreciation for a sustainable future.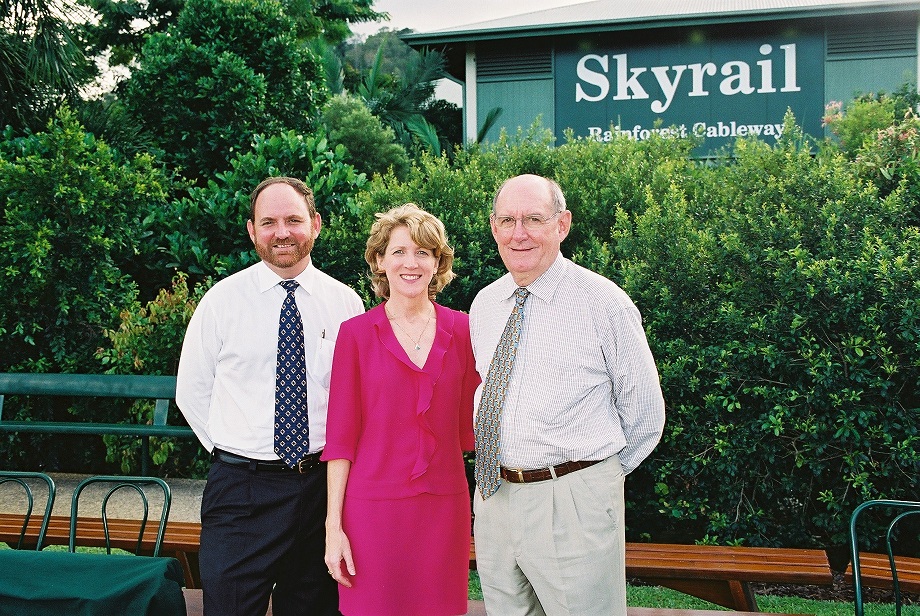 Right to Left: George Chapman (Skyrail Director), with his daughter Karen Hawkins (Skyrail Director) and son Ken Chapman (Skyrail Chairman)
The concept of Skyrail Rainforest Cableway was conceived in the 1980's by entrepreneurs and pioneers of the tourism and ecotourism industry, who have gone on to become leaders in their field, creating a legacy for those who have followed.
Since inception, Skyrail Rainforest Cableway was recognised for being a world class ecotourism experience, winning, domestic and international awards and has become an iconic must do Australian experience.
Skyrail was created to lower the impact visitors have on the natural environment, to travel sustainably and learn about the ancient environment around them in the most sustainable manner possible – an ethos that has been a part of our story from the beginning.
Through the unique idea of the cableway, by gliding above the pristine rainforest canopy and exploring the rainforest floor on environmentally sensitive pathways, guests can fully immerse themselves in their rainforest experience without leaving even a footprint behind.
Enabling people of all ages and abilities from across the world to discover the beauty and wonder of this incredible ancient landscape, while simultaneously promoting and educating visitors on the importance of the Wet Tropics rainforest and its preservation.
27
Since opening 27 years ago, Skyrail has become a world-leader in sustainable tourism and remains the most environmentally sensitive way to experience the ancient rainforest.
7.5
The cableway stretches 7.5 kilometres or 4.7 miles between Smithfield (Cairns) and Kuranda. There are 32 towers in total and the highest tower stands 40.5 metres (133 feet) high.
545
Red Peak is Skyrail's highest point at 545 metres above sea level (1,788 feet). The Kuranda Terminal sits at 336 metres (1,100 feet) and Smithfield (Cairns) Terminal is just 5 metres above sea level (16 feet).
114
The cableway was originally installed with 47 gondolas. In 1997, this increased the total number of gondolas to 114. In 2013, Skyrail modified and introduced 11 Diamond View glass floor gondolas.