Rainforest Storytellers
Skyrail Rangers
Sharing stories from the Ancient Rainforest
At Red Peak you'll descend through the canopy to explore one of the most ancient and isolated pockets of rainforest on Earth, where unique plants and animals have survived the forces of nature and time, evolving over millions of years.
A Skyrail Ranger will guide you along the rainforest boardwalk and share their fascinating rainforest stories and intimate knowledge of this amazing environment.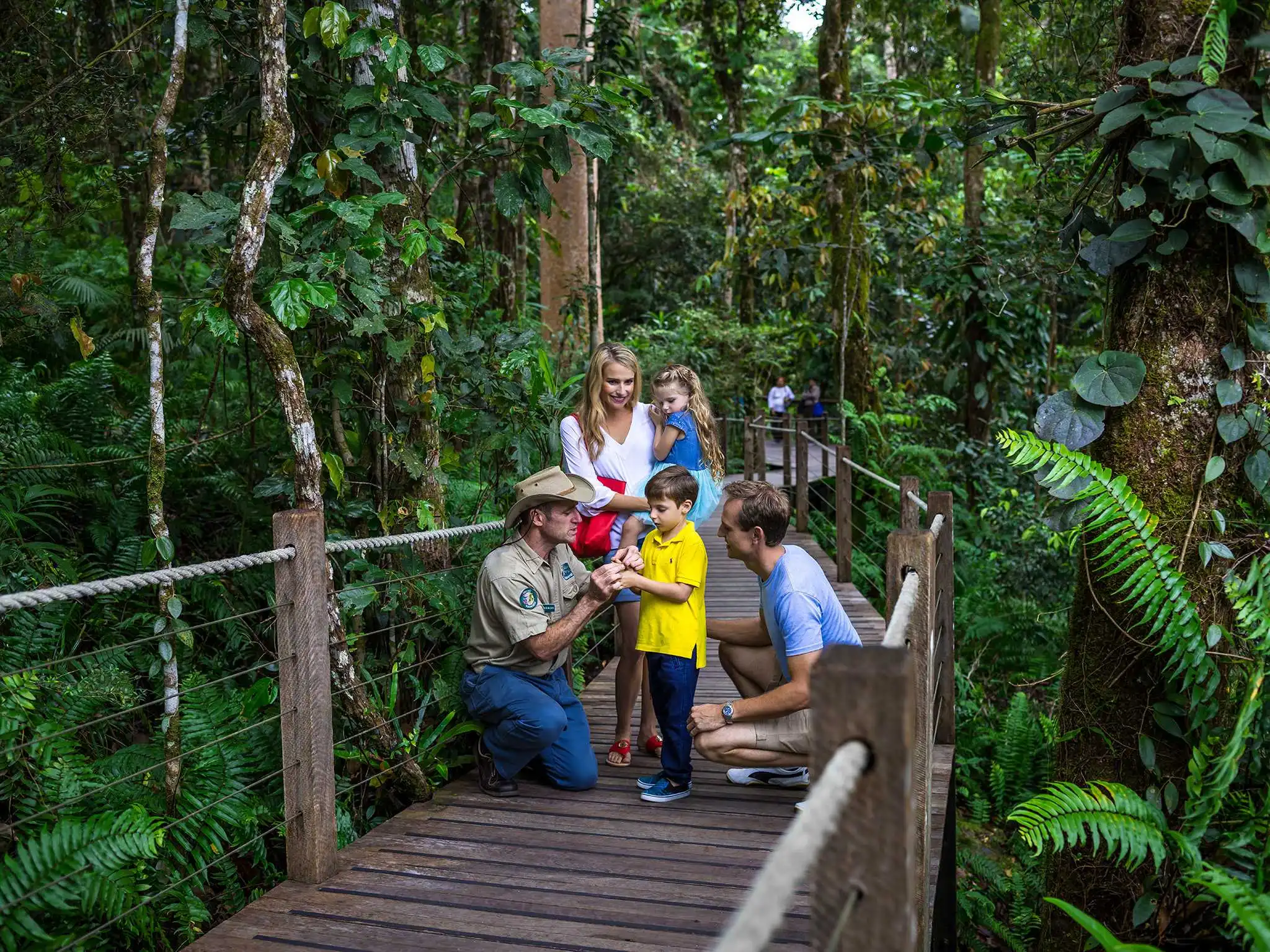 Our Rangers
Discover stories created over millions of years.
Ranger Mike
Hi, I'm Ranger Mike,
I am an expat from Austria and I found my paradise in Cairns, Australia. I am an avid landscape photographer and spend most of my time in the outdoors.
I love that my workplace is one of the most amazing eco-systems in the world (with some of the best views to match!) and I enjoy unveiling the fascinating history and mysterious stories of this magnificent rainforest with you.
Tropical rainforest is nature at its best and my favourite part of the ranger tour is when I see your enhanced appreciation of this incredible living green museum.
Ranger Aisha
Hi, I'm Ranger Aisha,
I am fluent in English, Japanese and Chinese and am a very passionate Skyrail Ranger. I am lucky because there are not too many jobs in the world where your 'office' is world heritage protected tropical rainforest.
My favourite part of the ranger guided tour is imparting our knowledge about the Basket Fern.  It's an amazing story of how fascinating the rainforest is, as it's more than just a plant but its own mini eco-system.
I would love to tell you many fascinating rainforest stories on a ranger guided tour with me at Red Peak!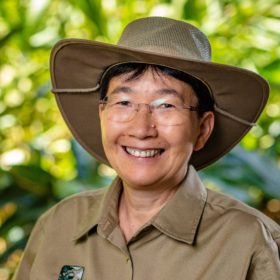 Ranger Noriko
Hi, I'm Ranger Noriko,
Originally from Japan, I have lived in Cairns for over 20 years. I love sharing stories about the beautiful tropical rainforest, especially the remarkable diversity of flora and fauna that can be seen at Red Peak.
My favourite rainforest creature is either the Southern Cassowary, an impressive dinosaur bird that saunters through the rainforest undergrowth, or the delicate Ulysses Butterfly, its striking blue colour standing out as it flutters through the tropical green rainforest.
I look forward to sharing more about these rainforest inhabitants with you on a ranger guided tour at Red Peak!
Ranger Steve
Hi, I'm Ranger Steve,
My travel and work as a diver and conservation officer throughout Asia, the South Pacific and New Zealand gave me a passion for further understanding and exploring the natural world.
After many years of travel and adventure, I attained a degree in Science (majoring in Zoology and Biogeography), and then found home here in beautiful Far North Queensland.
I have worked as both a ranger and educator in Biology, Marine Science, Geography and Environmental Science, with the aim of inspiring others to appreciate and help conserve the environments that we depend on.
It is a privilege to work in and above one of the most important bioregions of the world.  I look forward to seeing you at Skyrail soon!
Ranger Luke
Hi, I'm Ranger Luke,
I am a Zoologist from Victoria, with a passion for fauna and adventure. I previously worked in the Amazon Rainforest as a researcher but have relocated to Cairns to now work within the oldest surviving Rainforest on the Planet.
As a Skyrail ranger, my focus is now on education, preservation and enhancement, I hope to play my part in promoting positive change in cultural perception of the Rainforest and environmental importance.
I will be looking forward to learning alongside our guests as we take this journey together.
Ranger Chanel
Hi, I'm Ranger Chanel,
Growing up here in Cairns has given me a great appreciation for this beautiful region.
I am incredibly passionate about sharing stories of the Rainforest and witnessing people's eyes light up and connect deeper to the forest on my Boardwalk Tours. I feel there is so much healing for the soul when you are surrounded by greenery.
I feel being nature in helps so much with anxiety and mental health. My favourite part of the boardwalk is the Ancient Queensland Kauri Pine. What an incredible specimen, that has survived 400 years on this mountain top/island in the sky.
As a photographer, I like to look through the lens of beauty.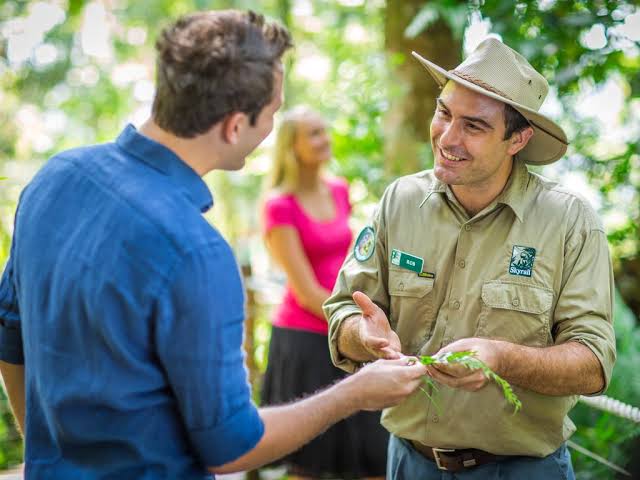 Our Rangers have an important role to play in ensuring the ongoing management and wellbeing of the rainforest and surrounding area; a role they undertake by;
Collaborating with rainforest researchers at James Cook University by supplying data of every flowering and fruiting tree within the Skyrail precinct.
Working in conjunction with the Wet Tropics Management Authority and Queensland National Parks to promote effective management of the Barron Gorge National Park.
Applying assisted natural regeneration techniques in the bushland around the Smithfield (Cairns) Terminal to promote native vegetation.
Ensuring Skyrail is a world leader in ecotourism.