UNLOCK THE SECRETS OF THE
World's Oldest
Tropical Rainforest
Embark on a fascinating journey of discovery with Skyrail Rainforest Cableway over and deep into Australia's Wet Tropics World Heritage Area that has survived against all odds to become the home of the world's oldest continually surviving tropical rainforest.
Enjoy a truly unique perspective of this ancient landscape; glide metres above the pristine jungle canopy before descending to explore the rainforest close up.
Discover | Explore | Enjoy | Contribute
The Skyrail Experience

Cairns Australia
Skyrail Rainforest Cableway is located just 15 minutes north of Cairns city and 50 minutes south of Port Douglas in Cairns, Tropical North Queensland, Australia. Traverse the spectacular landscape between Smithfield (Cairns) and Kuranda, on your 90 minute experience. A glimpse into an ancient world nestled in the fascinating Barron Gorge.
The Skyrail Experience

Explore the Rainforest
Descend through the canopy to explore one of the most ancient pockets of rainforest on Earth. Learn about this mystical landscape at the Rainforest Discovery Zone. Join a ranger guided boardwalk tour, their in-depth knowledge of this ancient environment will bring the fascinating story of the rainforest to life.
The Skyrail Experience

Discover a prehistoric landscape
Experience unimpeded views of the fascinating Barron Gorge and majestic Barron Falls from The Edge Lookout. Learn about plants and animals found nowhere else on Earth via interactive touch screens and audio visual displays at the Rainforest Interpretation Centre.
The Skyrail Experience

Unlock the secrets
Download the Skyrail Interpretive App and Audio Guide to unlock the secrets of the world's oldest tropical rainforest. Discover the story of the rainforest with in-gondola commentary, see animals come to life via augmented reality, play the Rainforest Rangers Animal Adventure game, capture share and track your Skyrail journey.
The Skyrail Experience

Kuranda Village
Kuranda, an eclectic village in the rainforest, is famous for its markets, myriad of cafes, art and craft galleries and wildlife parks. A fascinating mix of quirky surprises, colourful characters and natural beauty, all nestled amidst pristine World Heritage listed rainforest.
A world leader in ecotourism
Plan your day with our experience map

Discover ancient tropical rainforest

Enjoy a one-way or return (round trip) Skyrail Rainforest Cableway experience or combine Skyrail with the historic Kuranda Scenic Railway to create the perfect half or full day rainforest itinerary.

Skyrail Rainforest Cableway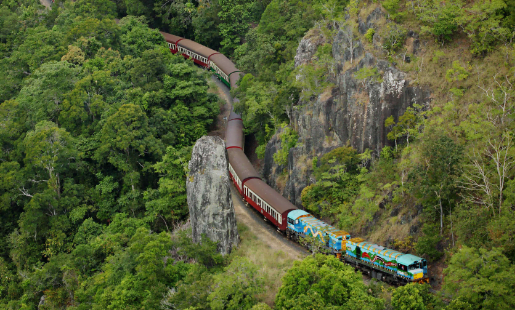 Skyrail Rainforest Cableway +
Kuranda Scenic Railway
Join us to help protect tropical rainforests through research and education.