Skyrail Construction
The construction of Skyrail Rainforest Cableway in Cairns, Australia was a world first in environmental tourism
Skyrail construction commenced in June 1994 but the original Skyrail concept was conceived in 1987 and was followed by 7 years of pre-construction feasibility studies, an Environmental Impact Study and numerous other reports and assessments, as well as consultation and approval processes with local, state and federal governments and local communities.
What made this amazing engineering project possible? Do you want to know how we built an experience in the World Heritage listed rainforest where visitors can learn about the environment without leaving a footprint?
Check out our new video clip showing the construction of Skyrail Rainforest Cableway
Skyrail's tower sites were selected to coincide with existing canopy gaps, and were surveyed to ensure no rare, threatened or endangered species would be affected by construction.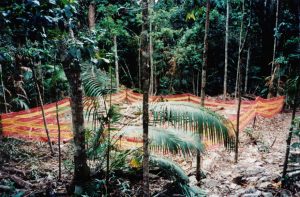 Before construction commenced on the tower sites, the leaf litter and top soil was collected and stockpiled for reintroduction when construction was complete. Plant seedlings were catalogued at each site, then removed and propagated during construction, and re-planted in their original locations, with the saved top soil and leaf litter, when construction was complete.
The towers were constructed in 10 metre x 10 metre clearings, and were placed as far apart as mechanically possible.
The tower footings were built largely by hand, up to five metres deep in some cases, using picks and shovels. There were no roads built during Skyrail's construction. Workers had to walk in to the remote tower sites each day, carrying their equipment, which took up to an hour each way.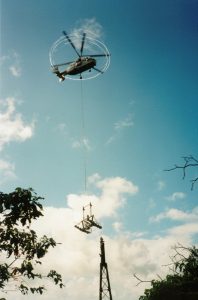 Helicopters were used extensively to assist construction. The helicopters were used to carry equipment, materials and cement to tower sites and rainforest stations. The helicopters carried their loads on 100 metre long lines to avoid wind turbulence affecting the sensitive rainforest canopy.
Due to the size of the tower sites, they were difficult to locate from the air, and GPS satellite navigation and radio communication was used to enable the helicopter crews to pin point the ground crews and tower sites.
Specialist, heavy-lifting, Russian Kamov helicopters were used to carry towers to tower sites. The towers were flown-in in sections and assembled on site; some tower sections weighed up to five tonnes each. The cableway haul rope was then laid and tensioned across towers by the helicopters.
Red Peak and Barron Falls Stations were designed to blend in with their rainforest surroundings and minimise environmental impact and were built in pre-existing clearings. Helicopters transported 900 tonnes of steel, cement and building materials into the Red Peak Station site.
15 months and $35 million later, Skyrail opened to the public on the 31st of August 1995. The cableway was originally installed with 47 gondolas, giving it a carrying capacity of 300 people per hour, however a $2.5million upgrade completed in May 1997 increased the total number of gondolas to 114 and increased the carrying capacity to 700 people per hour.
Stretching 7.5km, Skyrail Rainforest Cableway in Cairns Australia was the world's longest gondola cableway at the time of completion. More importantly, Skyrail provided people with a unique opportunity, and a world first, to see and experience the rainforest in a safe and environmentally friendly way.
The Skyrail project and construction required world first construction techniques and even today Skyrail Rainforest Cableway remains the most environmentally sensitive cableway project in the world.
The Skyrail Rainforest Foundation continues to raise funds and awareness with the primary objective of supporting tropical rainforest research and education.