Sustainable Tourism – The Highest Accolade
Skyrail is leading the way in Australia and the world with their focus on sustainable tourism with an unwavering commitment to the highest standards of sustainable environmental performance.
Skyrail was awarded Master Certification by EarthCheck in February, for demonstrating more than 15 years of commitment to the highest standards of environmental care and making social contributions that benefit their customers, staff and the local Tropical North Queensland community.
The Master Certification is EarthCheck's highest accolade that recognises Skyrail's commitment to the environment over the last 15 years. Skyrail was the first tourism operator in the world to achieve EarthCheck Certification and is one of less than ten EarthCheck Masters worldwide. The new certification confirms Skyrail as a global leader in the field of sustainability and more specifically, sustainable tourism.
Some of our impressive savings since 2002 include:
Conserving enough energy to support 92 households
Reducing enough Green House Gas Emmissions equivalent to taking 299 cars off the road
Saving enough potable water to fill up to 6 Olympic-sized swimming pools
Saving enough landfill waste to fill up to seven 20-foot shipping containers
Some of our initiatives that have been implemented as a result of EarthCheck Certification include:
A solar powered communications system between all of our gondolas
A solar powered mobile phone recharge station in our Canopy Cafe for guests to use along with our free Wi-Fi
Protection of the natural and cultural heritage values of the area
Recycling of all oil, fuels and solvents
Purchasing and selling sustainable and locally produced products
Recycling bins for both guests and staff to use at all terminals and on all boardwalks throughout the Skyrail experience
Collection and storage of rainwater runoff from our terminal buildings
Educating guests on Ranger Guided Tours to encourage respect for the environment and cultural heritage of the area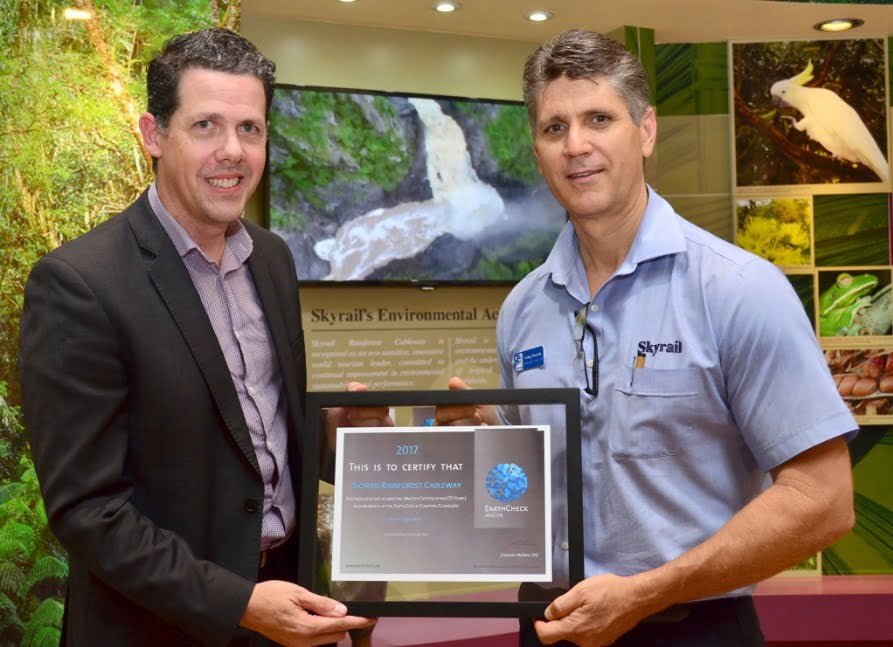 EarthCheck directer, Mark Olsen, presenting the award to Skyrail's Managing Director, Craig Pocock.
In announcing the certification, CEO and founder of EarthCheck Stewart Moore said Skyrail was setting the global standard for best practice in sustainability.
"Becoming EarthCheck Master Certified is the program's highest order of achievement. There are less than ten EarthCheck Masters in the world, so Skyrail now sets the global standard for best practice in sustainability in the travel and tourism industry," Mr Moore said. "With this year being the UN Year of Sustainable Tourism for Development, I am looking forward to witnessing how Skyrail will leverage their existing sustainability programs and successes in the future to generate further business value, improve business performance and foster innovation." 
Skyrail Managing Director, Craig Pocock, said the sustainable tourism journey that began with EarthCheck Certification 15 years ago emphasised Skyrail's ongoing commitment to sustainable tourism operations.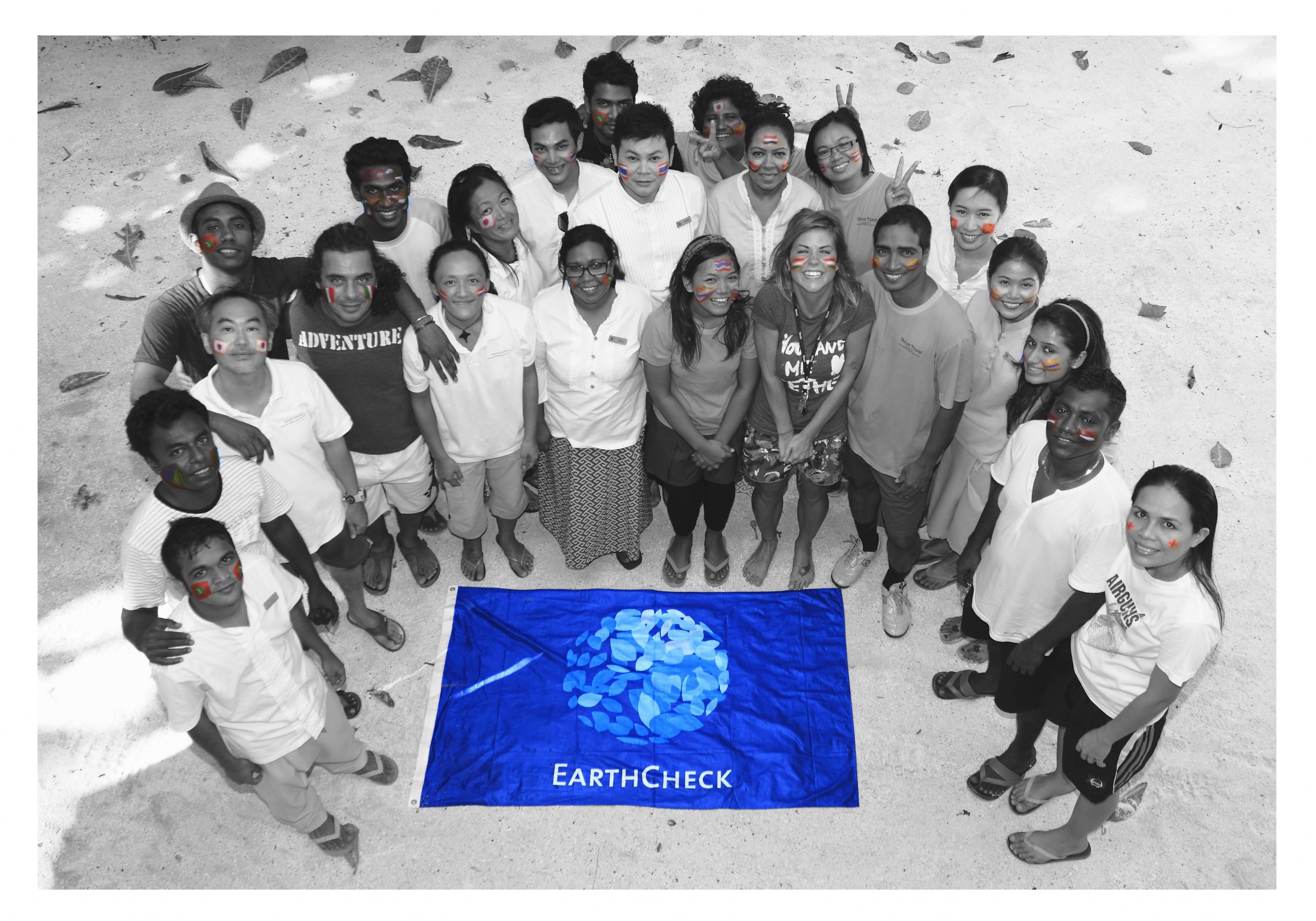 Who is EarthCheck and what do they do?
EarthCheck is a global business advisory group specialising in sustainability. In the past decade, they have supported more than 360 research projects with a total value of $260 million. 
Its flagship product, EarthCheck Certified, is the world's leading scientific bench marking and certification program for the Travel & Tourism industry. Their consulting arm works with tourism development bodies from Scotland to Tasmania and the EarthCheck Building, Planning and Design Standards are being utilised on four continents in economies and landscapes as diverse as Dubai, Brisbane, Zanzibar and Mexico. Currently, EarthCheck is advising more than 1,300 tourism and travel operators across 30+ industry sectors in 70 countries across the globe to make tourism sustainable at every level. 
The Skyrail team are committed to the highest standards of sustainable environmental performance. Skyrail has achieved other environmental accreditations – Advanced Ecotourism and Climate Action Innovator certifications. These independent assessments recognise Skyrail as an innovative leader, committed to environmental best practice and conservation and providing guests with the opportunity to learn about the environment. We are proud of the example we set for the tourism industry and look forward to showcasing the world's oldest continually surviving Tropical Rainforests for many years to come.
Other Master Certified members of EarthCheck are:
Amsterdam Manor Beach Resort – Aruba, Caribbean
Meliá Bali – Indonesia, South East Asia
Sandals Negril Beach Resort & Spa – Jamaica, Caribbean
Sandals Ochi Beach Resort – Jamaica, Caribbean
Skyrail Rainforest Cableway – Australia, Pacific
#Skyrail  #Rainforest  #Cairns  #SustainableTourism  #WalkTheTalk  #EarthCheck