Accessible weekend holiday
Cairns, Tropical North Queensland is where the rainforest meets the reef, not only is it a stunning destination to explore but it is accessible for all to enjoy!
Think about it for a moment… swimming and snorkeling on the Great Barrier Reef, immersing yourself in the world's oldest continually surviving tropical rainforest, staying in luxury hotels with stunning views and soaking up the warm sun. Sounds great doesn't it?
The Cairns Esplanade waterfront. Image credit: Tourism Tropical North Queensland
Cairns Airport and access for all
There is no better way to start your holiday than with support from the moment you touch the ground and arrive in destination. Cairns Airport has so much support and information making it a breeze for visitors with their commitment to providing facilities and infrastructure that is accessible for all.
With dedicated accessible pick up/ drop off areas at both terminals, access is easy and if you need parking there are clearly signposted spaces in the general parking areas.
Check in has a number of counters which have been lowered and modified to facilitate wheelchair users and assistance can be pre-arranged with some airlines for arrival. Inside the terminals Cairns airport has ramps, lifts and aerobridges to allow easy access to aircrafts and lounges.
For visitors with hearing difficulties there are hearing loops throughout the terminals, boarding gates, check-in desks and the main retail area.
Cairns airport supports the Hidden Disabilities Sunflower scheme and has a comprehensive overview of all accessible features for visitors transitioning through Cairns airport which makes planning a holiday much easier.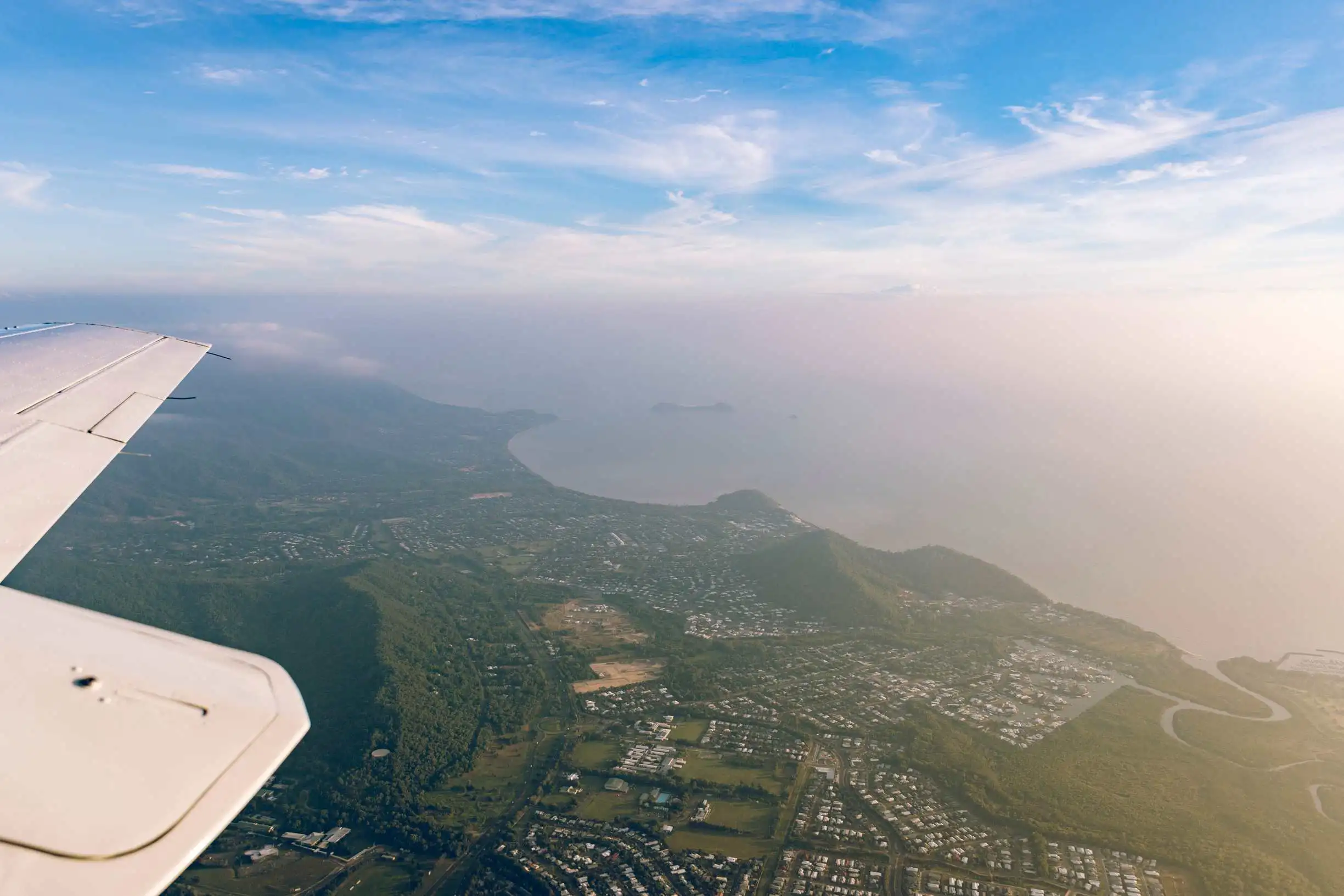 Stunning views as you arrive into Cairns. Image Credit: Tourism Tropical North Queensalnd.
Accessible accommodation in Cairns
One of the best companies offering short term accessible accommodation and services is the Spinal Life Healthy Living Centre with incredible views, and perfectly situated on the esplanade.
Fully accessible modern one or two bedroom apartments with adaptive equipment and home automation technology making a stay comfortable and stress free.
For those who may like a little more support they offer stay & rehabilitation packages with time dedicated during your stay from an occupational therapist, physiotherapist or exercise physiologist including full use of their onsite adaptive equipment specialist gym.
The solo traveller can pre organise assistance when exploring Cairns CBD, attending sporting and community events, shopping and other daily activities.
Feel at home with a stay at The Doubletree Hilton Hotel with oceanfront location, Coral Sea views and tropical landscaped gardens. Accessible parking, wheelchair ramp entranceway, accessible concierge desk and routes to all of the hotel's facilities.
Hilton Cairns king size accessible accommodation which is specially designed for guests who require additional space and amenities such as a spacious bathroom with a roll-in shower, lowered basin and support handles.
An accessible luxurious stay can be had at Novotel Cairns Oasis Resort with their spaciously designed deluxe rooms on ground floor level featuring king size beds, wider doorways, roll in shower with seating, handrails and lowered vanities.
All lifts have braille, and for guests with sensory or difficulty hearing the Novotel provides a map marked with areas which may be loud, distracting or have strong smells. We think this is a great idea!
There are so many options for accessible accommodation in Cairns listed by Tourism Tropical North Queensland which is going to make it hard to choose the best hotel for your tropical stay.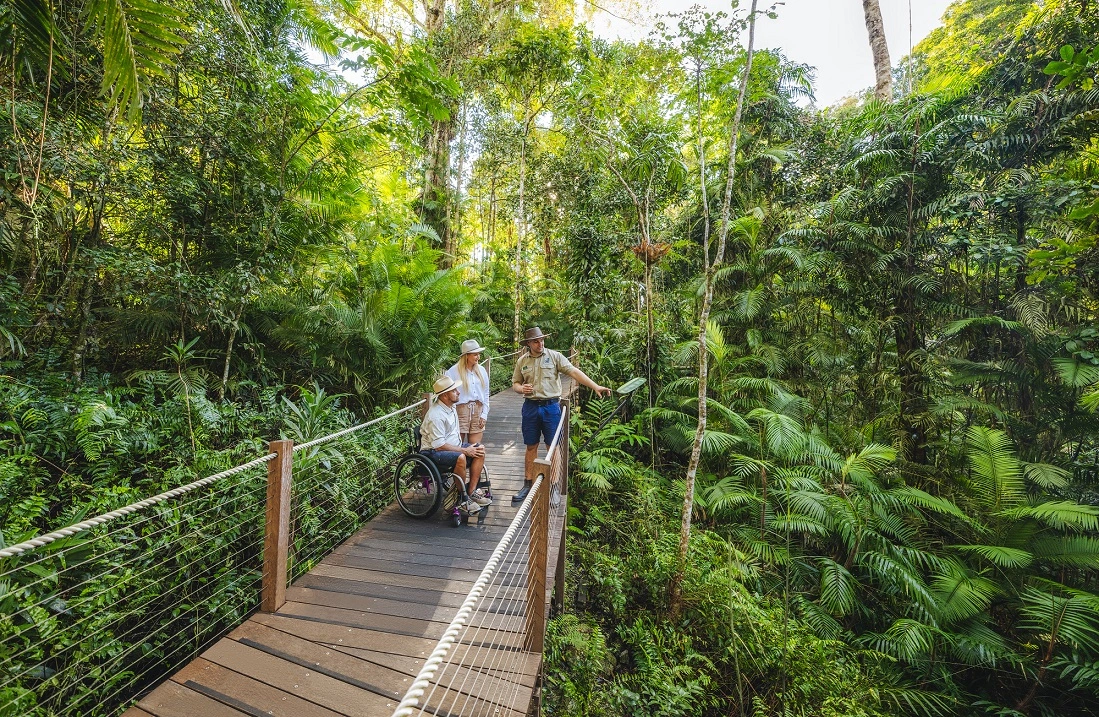 Stop at Red Peak to join a complimentary Ranger Guided Tour. Image credit: Tourism and Events Queensland
Accessible tours in Cairns
With so many accessible tour operators in Cairns it will be a busy holiday exploring all this beautiful region has to offer.
Skyrail Rainforest Cableway prides itself on being as universally inclusive and easily accessible as possible, for people of all ages and abilities. Glide smoothly in your gondola just metres above the deep green tropical rainforest canopy, admiring the panoramic views out to the Coral Sea and across the Wet Tropics World Heritage area.
Stop at Red Peak to join a complimentary Ranger Guided Tour, soak in the views at the lookout, explore the Rainforest Discovery Zone's story through evolution and learn about the ancient rainforest's rich history and connections to indigenous cultures.
At Barron Falls be sure to visit The Edge Lookout for a nerve testing glass floor viewing platform that gets you closer than ever to the impressive falls and deep gorge below.
Enjoy panoramic views of the Barron Falls and deep gorge at The Edge Loookout.
Image credit: Tourism and Events Queensland
The first and only Cairns' tourist attraction to support the Hidden Disabilities Sunflower scheme with an understanding that not all disabilities are visible.
Skyrail caters for wheelchair and mobility impaired guests with the slowing or stopping of the cableway to allow for easy, stress-free access onto and off the Skyrail gondolas. Friendly Skyrail operators can also assist at any point during an experience should guests require it. Access is available to all areas of the Skyrail experience via ramps and wide boardwalks, so no one misses out exploring the stunning Wet Tropics World Heritage area. Accessible restrooms are available throughout the ancient rainforest and in each terminal. Dedicated all day accessible parking is available and there is a drop off/pick up point at their Smithfield Terminal.
Companion card holders are supported when travelling in the ancient rainforest. A dedicated accessibility page outlines Skyrail's inclusivity for all their guests and a website accessibility menu widget lets users enable any accessibility modifications based on the users individual needs.
Skyrail is located in a World Heritage area and operates in accordance with strict environmental laws and obligations.
Skyrail complies with Guide, Hearing and Assistance Dog Act 2009 and all certified animals are welcome to travel the cableway with a primary or alternative handlers identity card and the assistance animals vest, or medallion on the day of travel.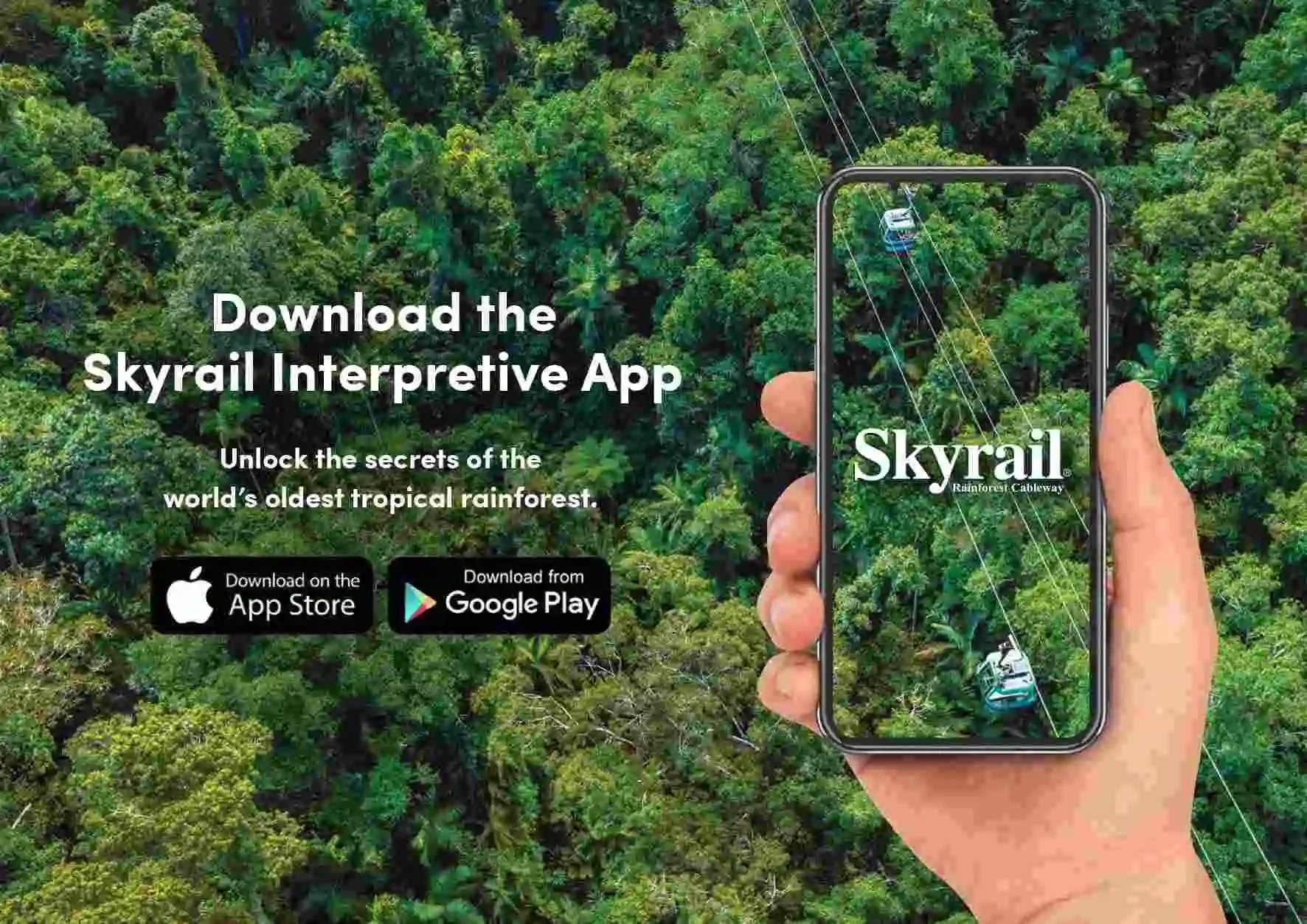 The Skyrail Audio Guide and Interpretive App provides guests with in-gondola commentary, subtitles to assist with hearing difficulties, a trip map, information regarding the experience and how to spend your time in the rainforest village of Kuranda.
We recommend reviewing Skyrail's accessibility information  which is designed to help with any experience queries if you are planning a day discovering the ancient rainforest and make it a memorable and enjoyable experience you'll remember.
You can package a Skyrail experience with the Kuranda Scenic Railway for two different perspectives of the Wet Tropics World Heritage rainforest. combine the best of both and make this a day trip! Sit back on the heritage carriages of the historic Kuranda Scenic Railway as it meanders its way through the Barron Gorge National Park.
Each train has an accessible carriage for a maximum of four wheelchairs plus a companion, with a dedicated hydraulic Lift for access at Freshwater & Kuranda stations. There is a wheelchair ramp at Cairns CBD station. The Kuranda Scenic Railway also complies with the Guide, Hearing and Assistance Dogs Act 2009.
Advisement of any assistance or needs required should be made to Skyrail or the Kuranda Scenic Railway at the time of booking so they can provide appropriate assistance during your ancient rainforest experience.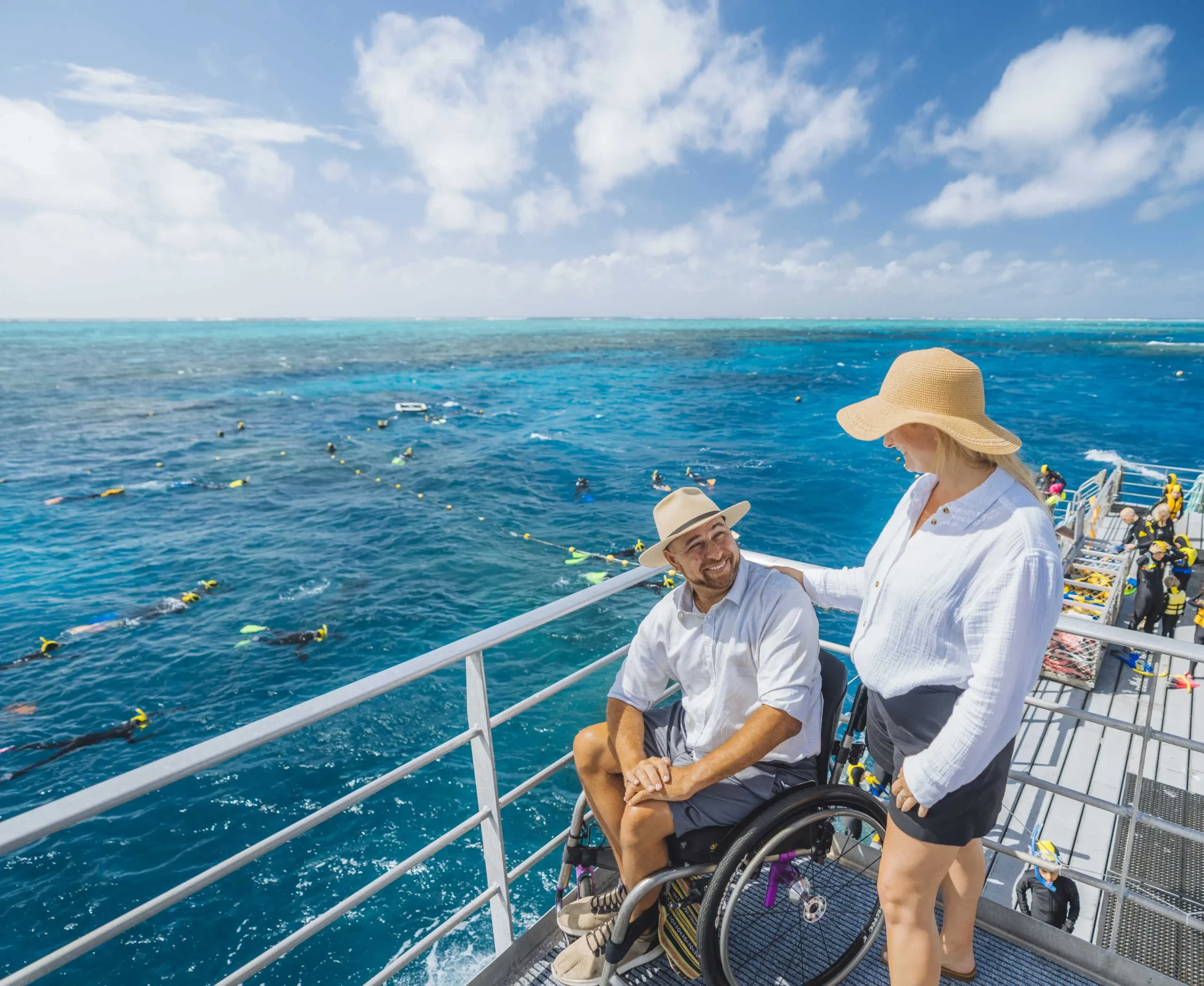 Accessibility of the Great Barrier Reef has been made easy with Quicksilver Cruises on their Quicksilver VIII to Agincourt Reef pontoon. Image credit: Tourism and Events Queensland
Accessibility on the Great Barrier Reef
One of the best things about visiting Cairns is the Great Barrier Reef, the world's longest coral reef system and it is simply stunning!
Accessibility of the Great Barrier Reef has been made easy with Quicksilver Cruises on their Quicksilver VIII to Agincourt Reef pontoon. Their water powered hoist can lower you into the water, so you swim directly off the lift to explore the Great Barrier Reef or relax in the chair enjoying the warm tropical water. Floating devices are available for those who wish to have more support in the water.
The Quicksilver VIII vessel has a large toilet cubicle suitable for most wheelchair passengers.
For the more adventurous, you can scuba dive. As the first reef tour operators in Queensland to be recognised as a PADI Adaptive Service Facility so everyone no matter what level of needs they have can take part in recreational scuba diving. Their team of highly skilled dive instructors focus on individuals' abilities and apply adaptive teaching techniques.
You can learn more about Quicksilver's accessible reef experiences on their official website.
Palm Cove beach. Image credit: Tourism and Events Queensland.
Beach Accessible Wheelchairs
There are moments when on holiday you just want to stop, soak up the sun and enjoy the smell of a sea breeze.
There are two beach accessible wheelchairs available at Palm Cove and Four Mile Beach, Port Douglas which are equipped with larger, wider wheels providing easier access to the beach.
For more information on how to reserve a beach accessible wheelchair, you can contact Palm Cove Surf Club or Macrossan House Port Douglas.
Cairns is a destination packed full of experiences for any traveler or avid adventurer and accessible to visitors of all abilities. Tourism Tropical North Queensland has a great collection of accessible activities to plan a fun filled holiday, with so much to see and do, you might want to start planning your Cairns accessible holiday weekend!