School Holiday exploring with Skyrail Rainforest Cableway
Shout out to the parents preparing their school holiday 'to do' list in Cairns! Skyrail Rainforest Cableway has got you covered for epic family fun in nature.
This rainforest cableway ticks a lot of boxes, for kids of all ages. An amazing journey, gliding over the treetops, Ranger guided tours, bucket list views of Barron Gorge and Falls. The upgrade option to a Diamond View (glass floor gondola) to really amp up the excitement factor, and so many fantastic photo opportunities. 
Skyrail Rainforest Cableway is family owned and operated and is most certainly family friendly, so grab your hat and book your tickets, pack the pram if your fam has really little people, it's time to make some memories the Skyrail way.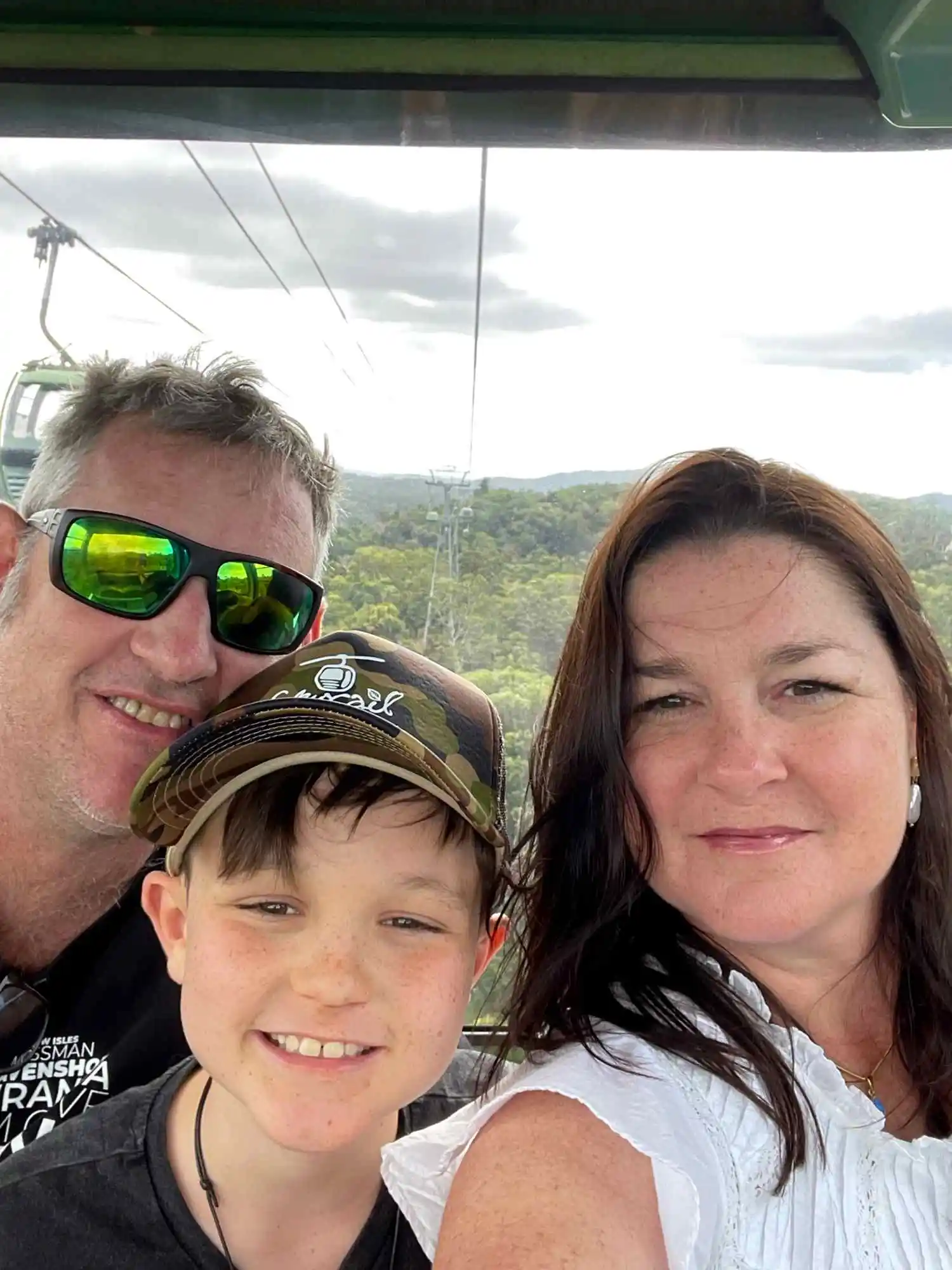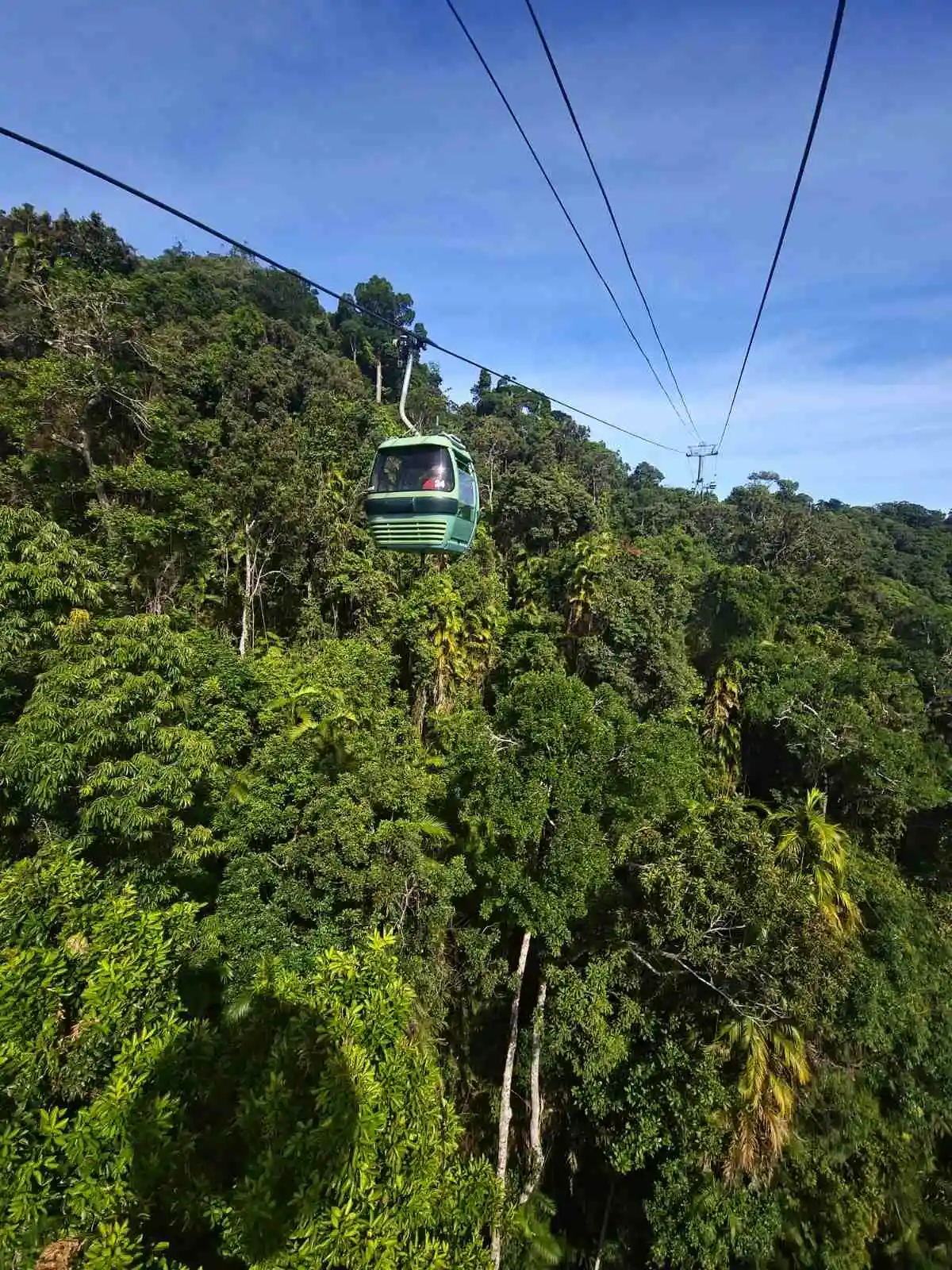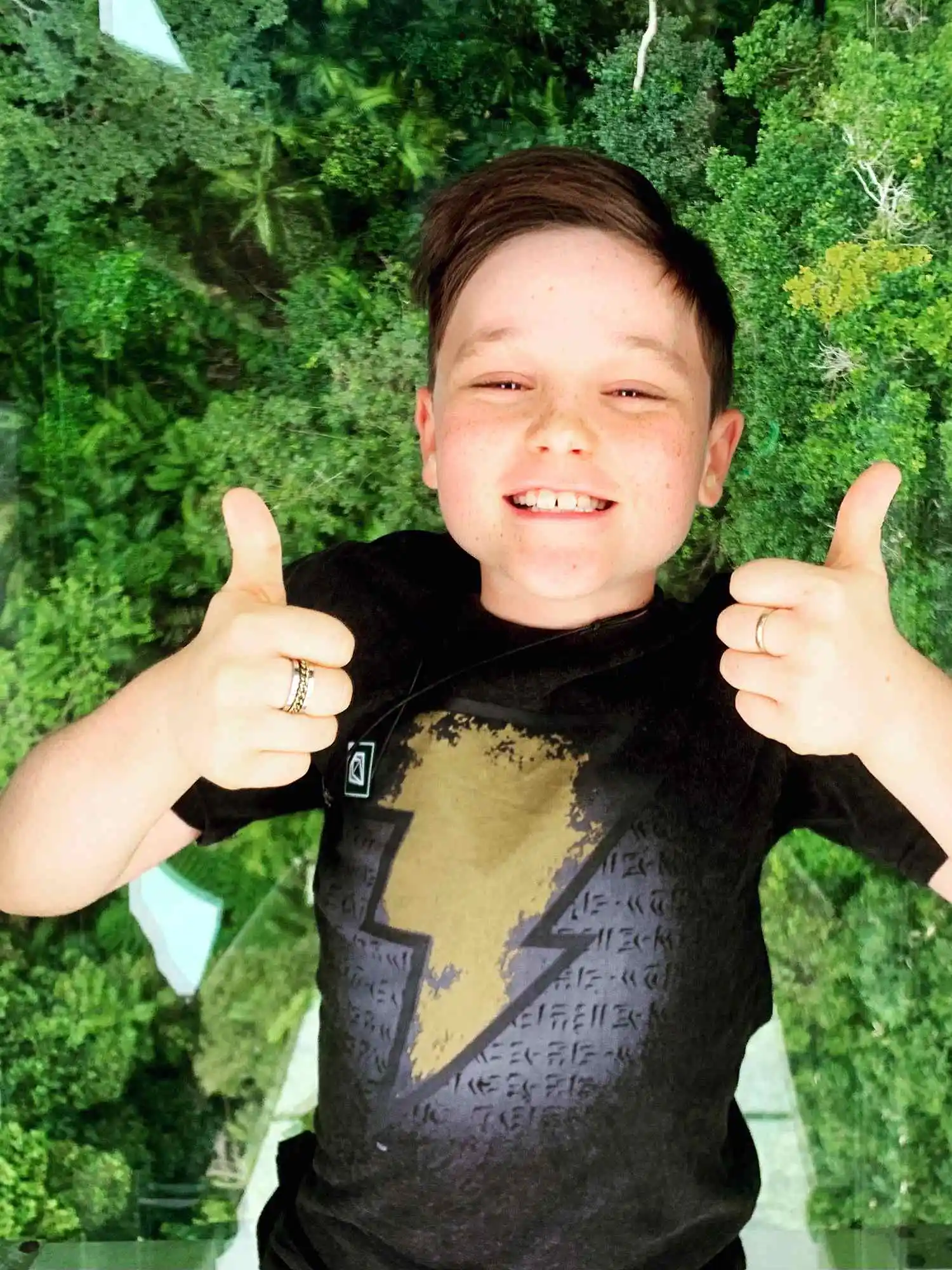 Skyrail Rainforest Cableway & The Ancient Rainforest
Skyrail Rainforest Cableway operates in the Barron Gorge National Park, which is a part of the Wet Tropics World Heritage Area and home to the world's oldest continually surviving tropical rainforests. This place is older than the Amazon (by a lot) and is all that is left of a rainforest that used to cover the entire Australian continent. Some of the trees here are more than 500 years old. Some of the ferns here trace their origins back over 400 million years. Many of the plants and animals that live and grow here are not found anywhere else on earth. How's that for an awesome kids' classroom. For all that, what you see during a visit is a thriving, living landscape of towering trees, climbing palms, vines, orchids and so much more.
Our Skyrail Rainforest Cableway journey commenced at its Smithfield Terminal, which is around a 15-20 minute drive from Cairns city, and the same distance if you are coming from Palm Cove. There's plenty of car parking and a café for the all-important coffee, snacks and refreshments. Please note: If you don't have your own transport, they also provide bus transfers from various CBD locations. The cableway itself is 7.5km long (15km return), running between the Smithfield and Kuranda Terminals. There is 2 stops along the way, Red Peak and Barron Falls where you can jump off and explore the forest floor on rainforest boardwalks. The ticket price includes Ranger guided tours at Red Peak and entry to the Rainforest Interpretation Centre at Barron Falls.
Red Peak Station is the highest point of the journey, at 545m above sea level, and it takes around 15 minutes to get there on the cableway from Smithfield. At Red Peak, Skyrail Rangers provide guided boardwalk tours as they share stories of the ancient rainforest. We joined one of Ranger Gwen's tours and it was brilliant! She outlined some of the rainforest's World Heritage values, discussed traditional plant use and explained some of the many evolutionary characteristics of the plants along the boardwalk. There's no need to pre-book the Ranger guided tour, just check the rainforest clock when you get to Red Peak Station for details of the next session. Also, make sure you check out the Rainforest Discovery Zone beneath Red Peak Station, it has so many fun and interesting facts and the World Heritage rainforest's story through evolution.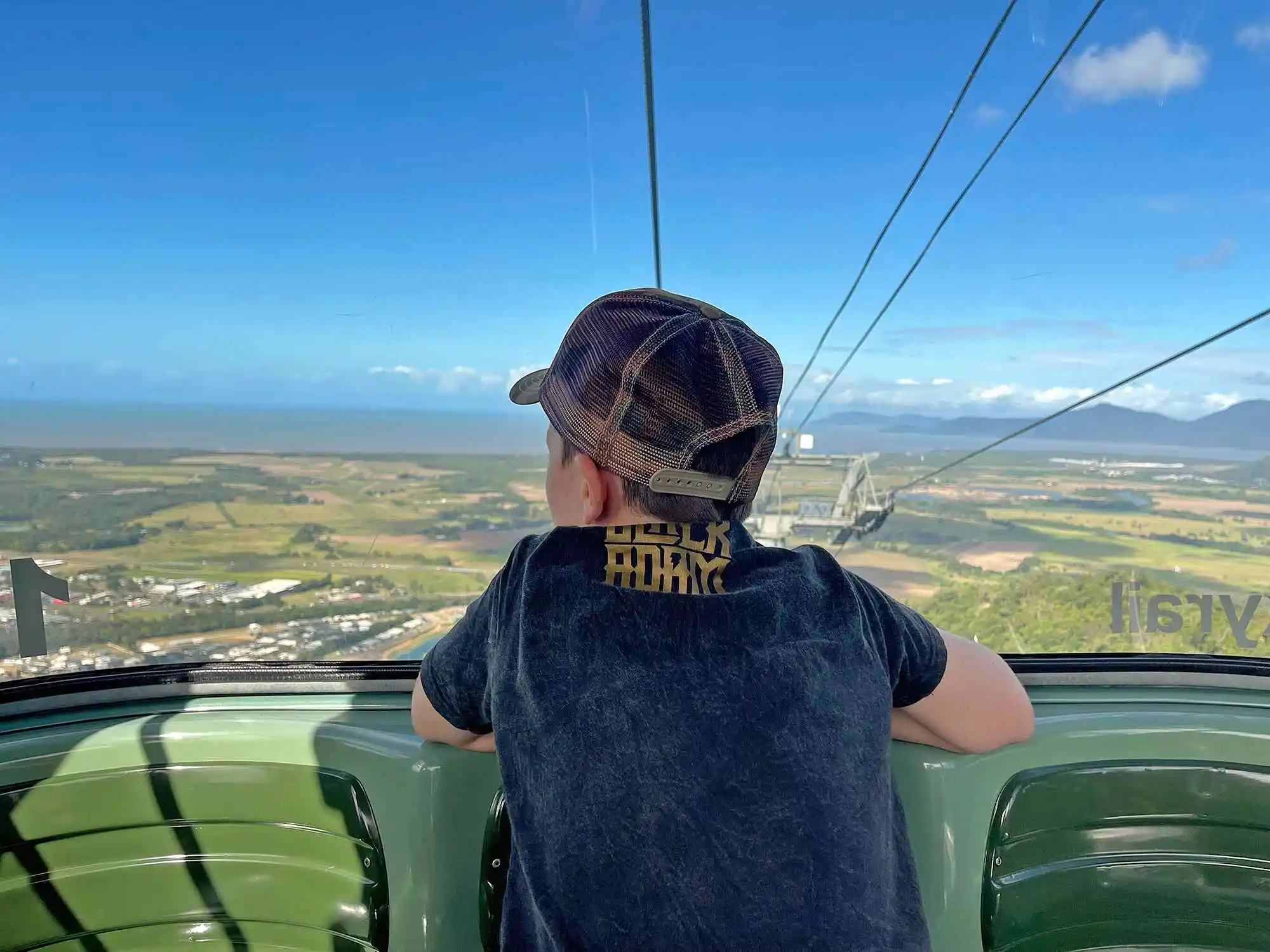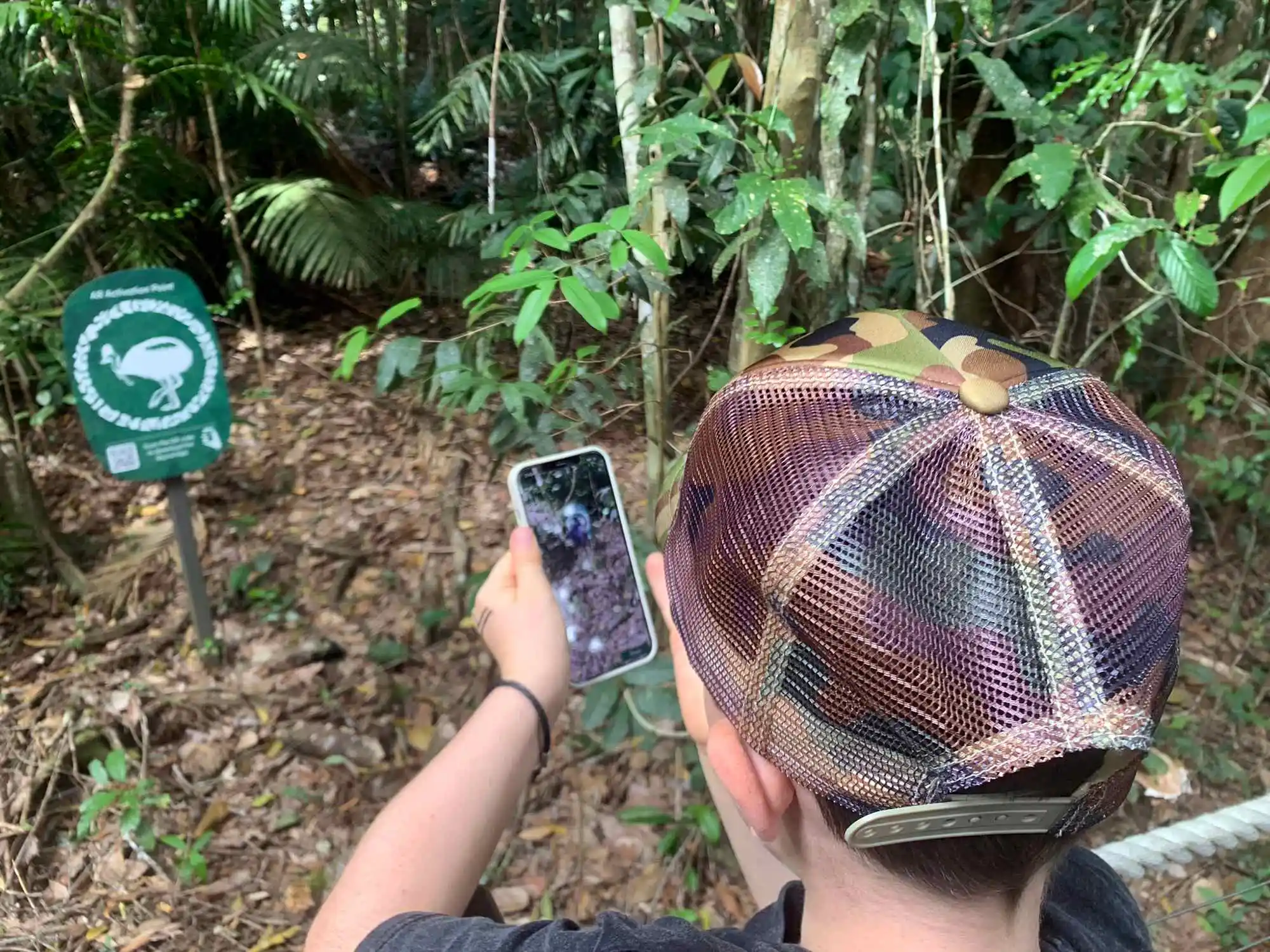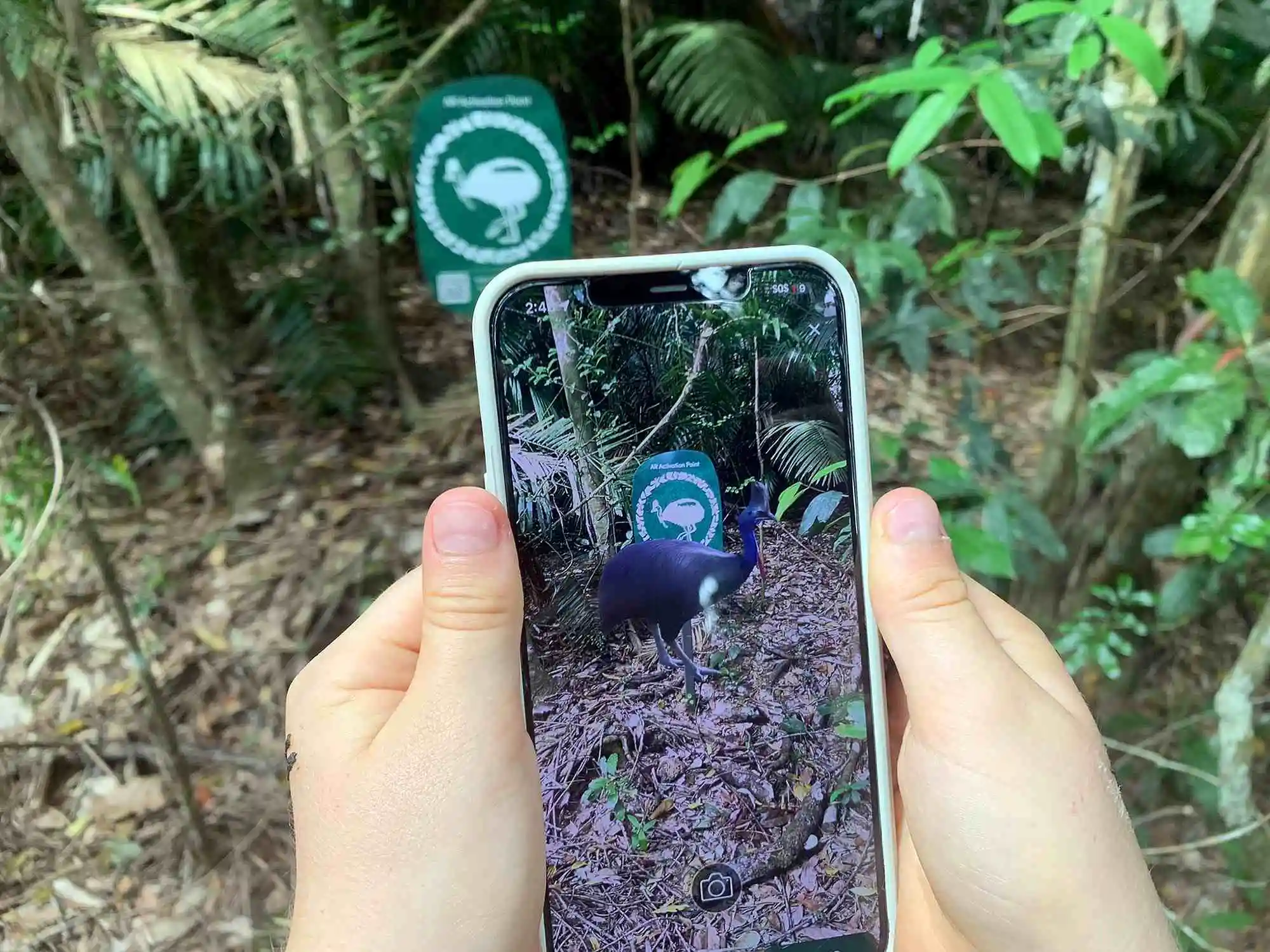 Barron Gorge & Barron Falls Station  
Next stop on Skyrail Rainforest Cableway is Barron Falls Station, which is about 20-minutes from Red Peak Station. So named for its location, this station has several lookouts providing great views of the impressive Barron Gorge and Falls, including The Edge Lookout which is cantilevered over the side of the gorge. There's also a Rainforest Interpretation Centre, which has rich biodiversity displays of rainforest fruits and seeds, insects and butterflies.
There are no set time limits on how long you can spend at each station, which is fantastic as it provides maximum flexibility for families. We spent around 35 minutes at Red Peak Station and the same again at Barron Falls Station. There are also bathrooms at all stations. From there we continued our Skyrail Rainforest Cableway tour to Kuranda, village in the rainforest, which included gliding over the Barron River. Croc spotting! Travel time between Barron Falls and Kuranda was around 15 minutes.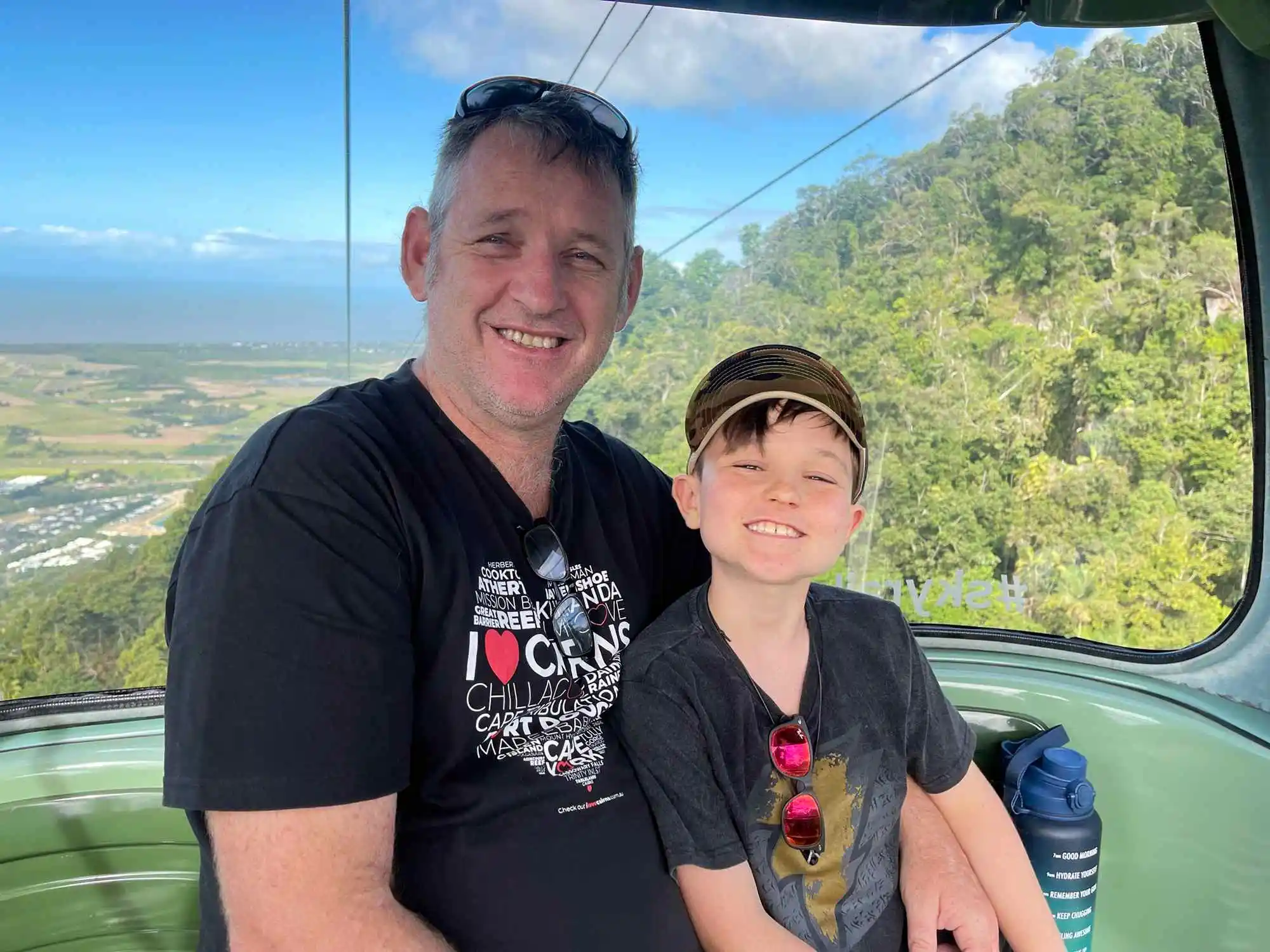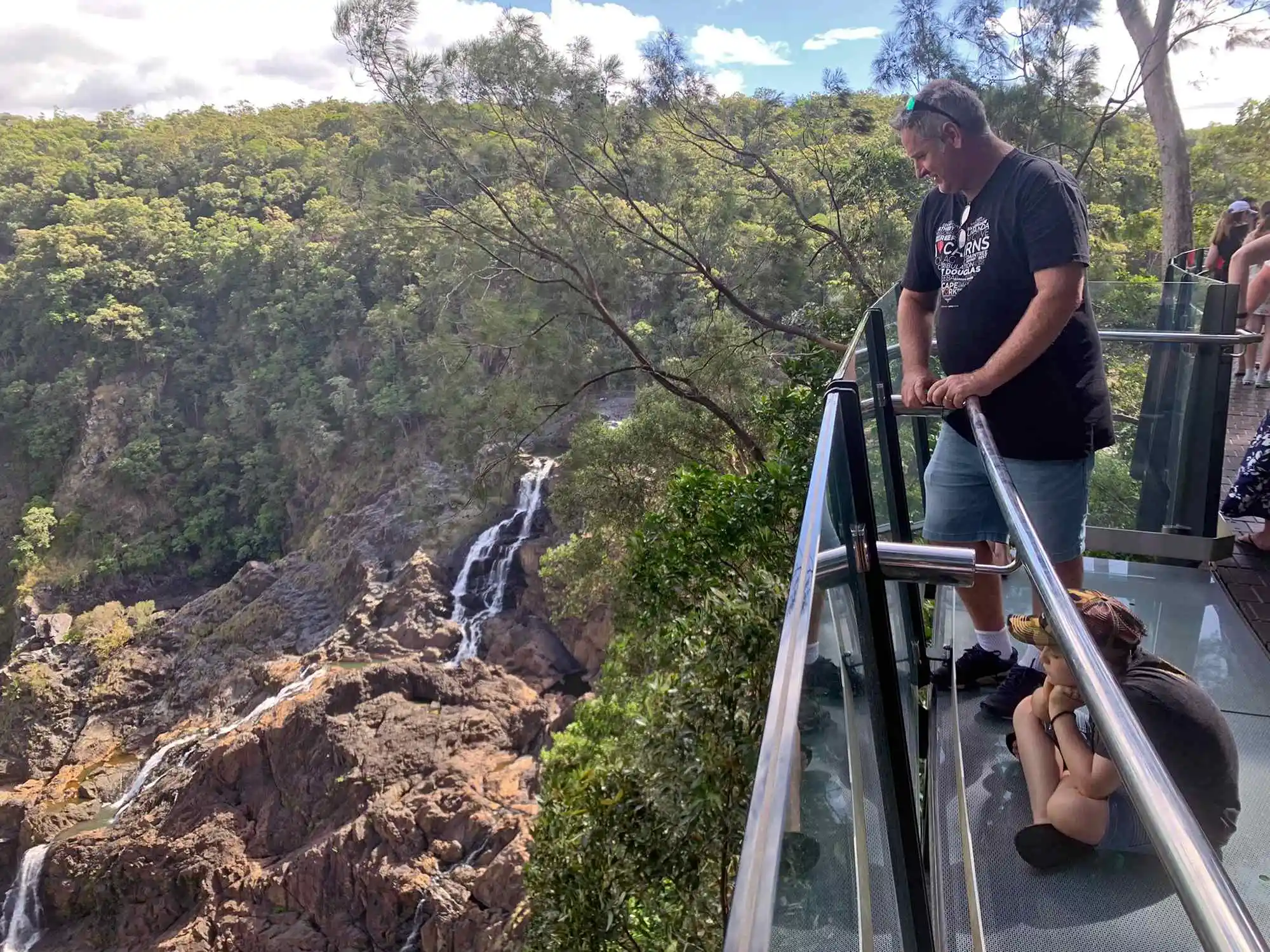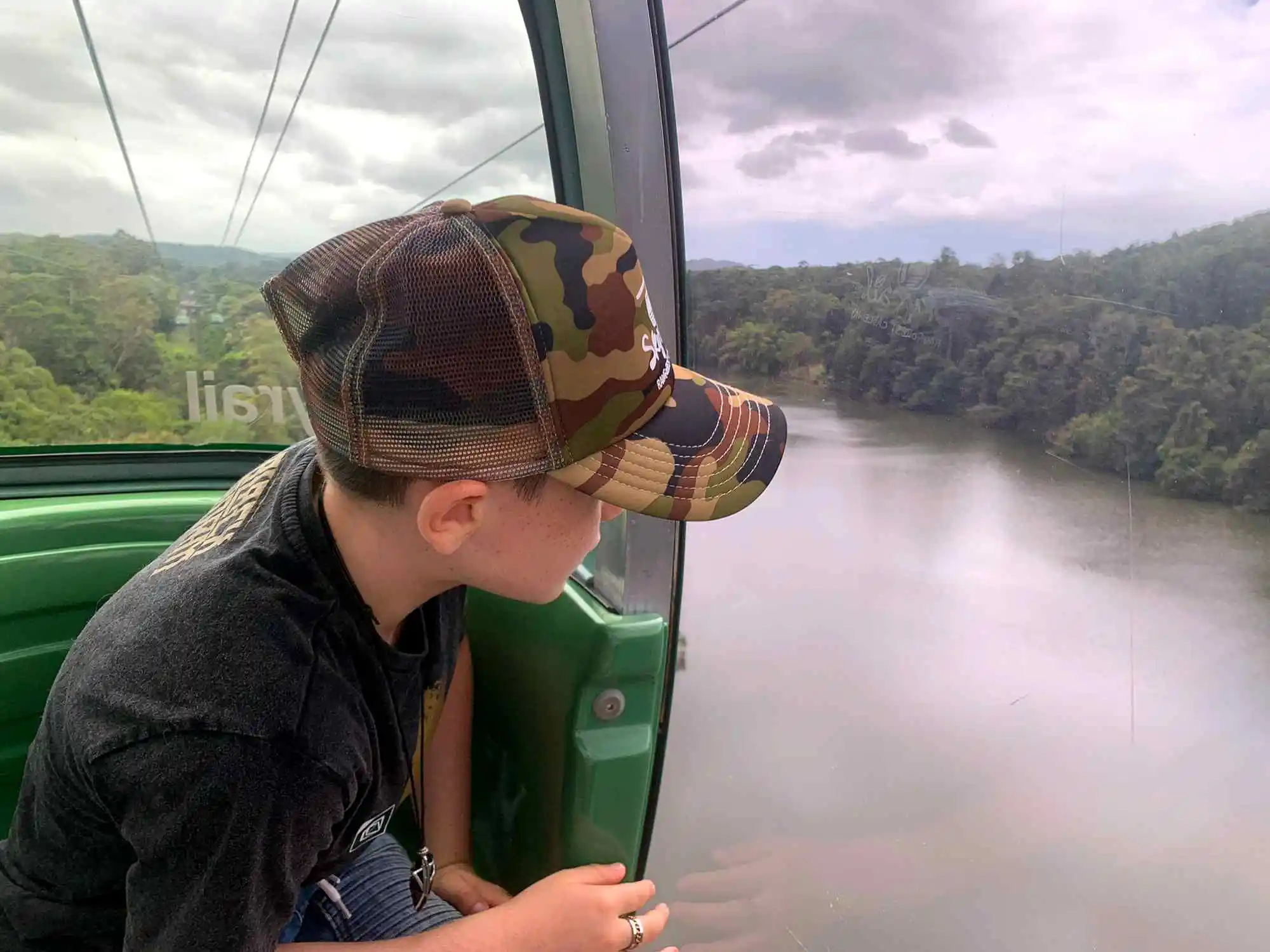 Our family made a day of it and booked a return Skyrail Rainforest Cableway trip, to and from Kuranda. We allowed ourselves a few hours in Kuranda, spending some quality family time exploring the markets, wildlife attractions, boutiques, shops, cafes, and restaurants.
Skyrail Rainforest Cableway – Family Fun Facts
Skyrail Rainforest Cableway is 7.5km long, with 2 stops.
There are bathrooms at each of the stations and terminals.
You travel on the cableway in gondola cabins, which seat up to 6 people and have windows and vents for air flow. Diamond View, glass floor gondola upgrade, seats 5 people.
You can take prams on the cableway if they fold up or don't exceed 630mm wide.
The ticket price includes: the cableway journey, Ranger guided rainforest tour, entry to the Rainforest Interpretation Centre, Rainforest Discovery Zone and The Edge Lookout.
You can self-drive or book a bus transfer from several CBD locations. 
Actual travel time one-way is around 90 minutes, making sure you have time to explore Red Peak and Barron Falls during your experience. 
For those families wanting that little bit more information, definitely download the Skyrail Audio Guide & Interpretive App which has a pre-recorded narrative of what you see along the way from your gondola. There's also Augmented Reality

points at both Red Peak Station and Barron Falls Station, which the kids will love!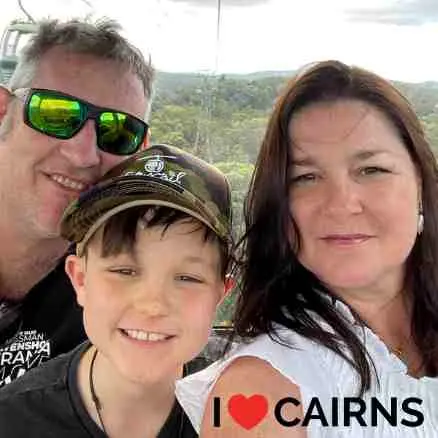 By Guest Writer, I Love Cairns
I Love Cairns is by Richard, Julie & Ethan Johnston. A family of three who love going on adventures! We live for weekends and holidays, getting out of the house, off the screen and into nature to make some memories. Skyrail is on our 'must do list' make sure you add it to yours!