Solar Recycling
Skyrail's Tropical Rainforest Solar Recycling Initiative
18 months after it was installed, our Tropical Rainforest solar recycling re-charge station continues to be a hit with guests who need to top up the charge on their mobile devices after a day in the rainforest. A second mobile device charging area has now been installed to allow even more guests to charge their phones, tablets, cameras and more. Both of the unique Tropical Rainforest solar energy charge stations are completely powered by recycled components from the cableway.
Located at our Smithfield Terminal, the Tropical Rainforest solar re-charge station along with the free WiFi and tempting selection of food and drinks ensures our Canopy Café is the place to visit after experiencing the ancient Australian rainforest on Skyrail Rainforest Cableway.
Skyrail's commitment to continual improvement in sustainable environmental performance is perfectly demonstrated by the fact that our charge station is powered by 12 x 20-watt solar panels that were recycled following our recent gondola radio system upgrade. These are perfect for a low power consumption renewable energy source such as the charge station.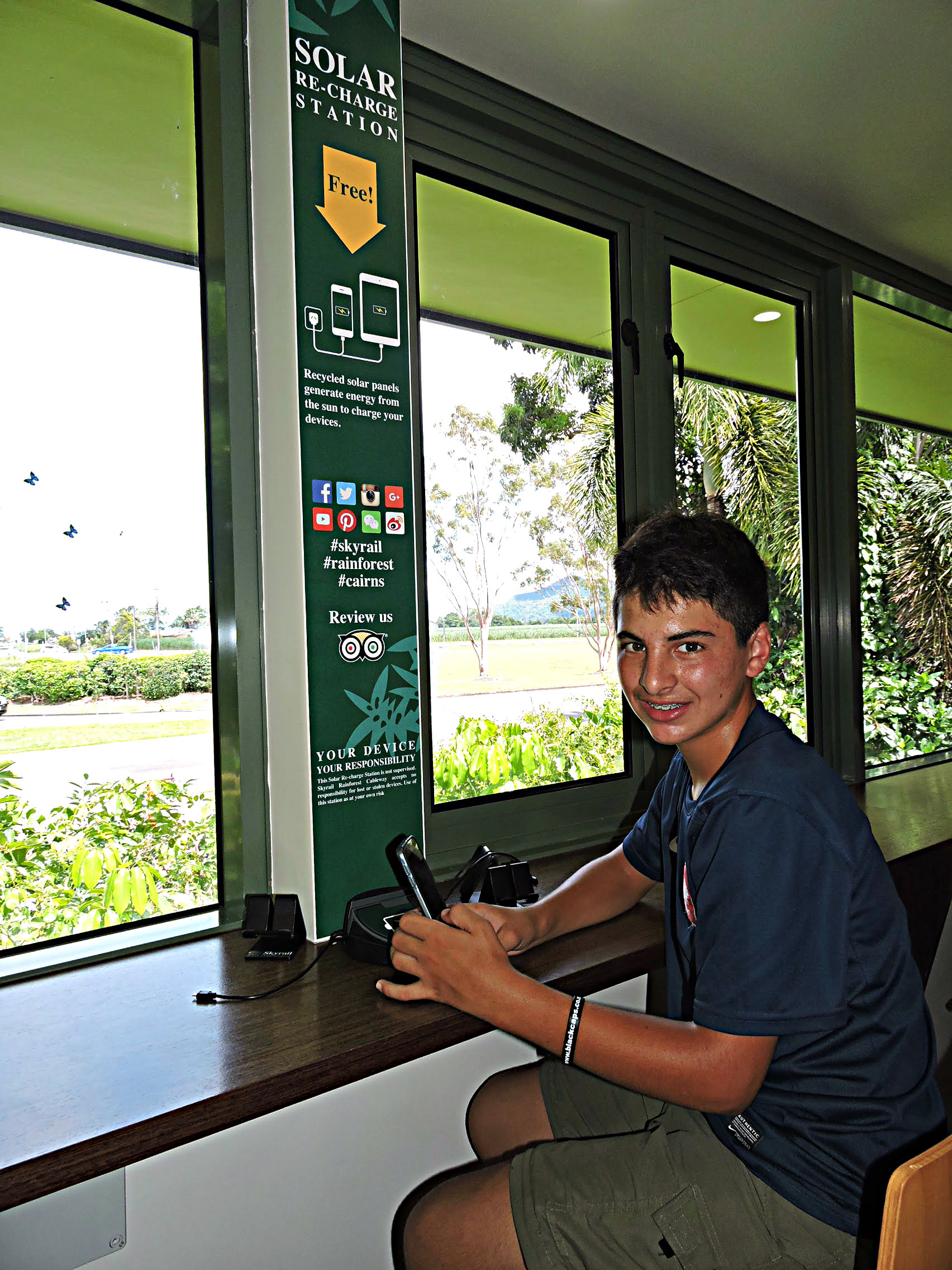 Also recycled for the Tropical Rainforest solar recycling charge station are the used batteries from the gondolas that are housed in recycled radio boxes. These batteries store the solar energy to help ensure an ongoing supply of charge for our guests.
Our current stock of second-hand solar panels and batteries ensures we will be able to provide our guests with clean, free energy for many years to come. With such a large supply of recyclable components, we are also planning to further expand our network of free charge stations along the entire length of the cableway.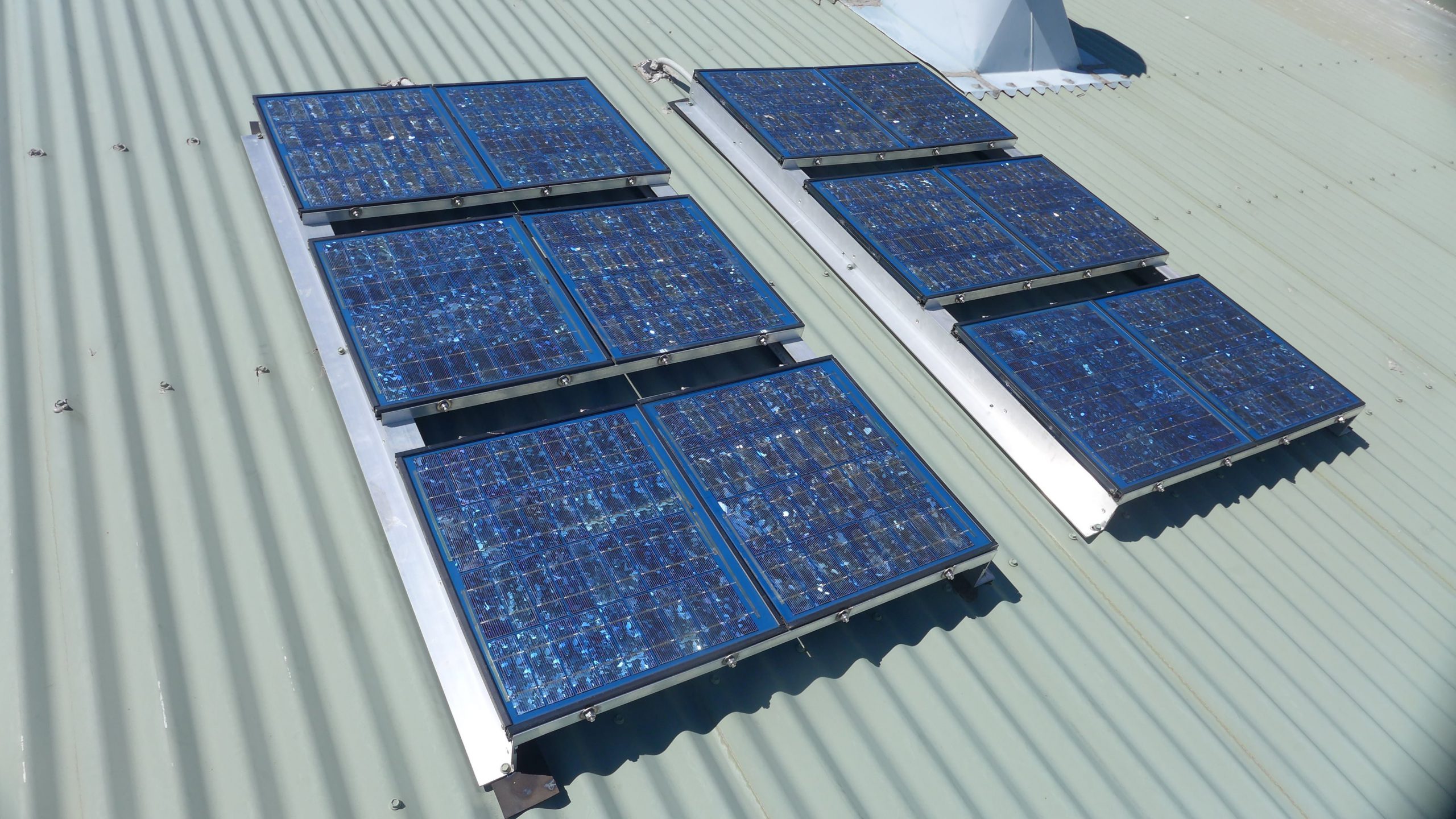 Pictured here are the tropical rainforest solar panels on top of the Canopy Cafe roof with the Wet Tropics rainforest and Skyrail Rainforest Cableway in the background.
Skyrail's commitment to continual improvement in sustainable environmental performance has also been formally recognised in our EarthCheck Master Certification. This certification confirms our position as a worldwide leader in sustainable tourism and our achievement as the only cableway in the world to operate under the internationally recognised EarthCheck Company Standard.
What is Skyrail doing to reduce our impact on the environment?
Below are ways we make a difference by reducing the impacts that Skyrail and our visitors have on the environment:
Skyrail saves energy through the open design of our buildings, operates an energy management system controlling the use of lighting and air conditioning, using low energy lighting, using solar power to charge batteries on its gondolas, and kinetic energy to operate Red Peak station.
Skyrail saves water by collecting rainwater for use in toilet cisterns, using water efficient cisterns and low flow tap fittings, minimising landscaping requiring irrigation, and controlling irrigation for optimum benefit.
Skyrail reduces waste by using biodegradable cleaning products, recycled paper products, recycling paper, cardboard, rubber, glass, plastics, aluminium, and other metals.
Skyrail provides smarter travel through the energy efficiency of the cableway and by introducing and educating visitors about the environment and sustainability.
You can learn more about our environmental accreditations, which are independent assessments that recognise Skyrail as an innovative leader, committed to environmental best practice and conservation and providing guests with the opportunity to learn about the environment. And view our and our Environment and Social Sustainability Policy to see our dedication and commitment to the highest standards of environmental responsibility.
How can you make a difference?
There are many simple actions you can take in order to live in a more sustainable way. Explore www.yourenergysavings.gov.au and http://planetark.org/ for advice on sustainable living and recycling.