A Local Foodie's Guide to Kuranda
Asking yourself, where is the best place to eat in Kuranda?
Here's our locals' guide to our favourite eateries and foodie gifts so you can savour your Kuranda experience long after you leave.  It's grouped by location so wherever you are, we've got you and your hunger pangs covered.
The fusion of nationalities and cuisines with the delectable local produce from the surrounding Atherton Tablelands makes Kuranda a multi-cultural food bowl of delights that no foodie should miss.
Kuranda Markets and village streets are bursting with specialty restaurants, cafes and shops but with so much to choose from, where should you go and what should you bring home?
As you walk the leafy pathways into Kuranda from the Skyrail Terminal or Kuranda Scenic Railway, you'll immediately understand why this whimsical and enchanting village has been charming guests and tantalising their tastebuds for decades.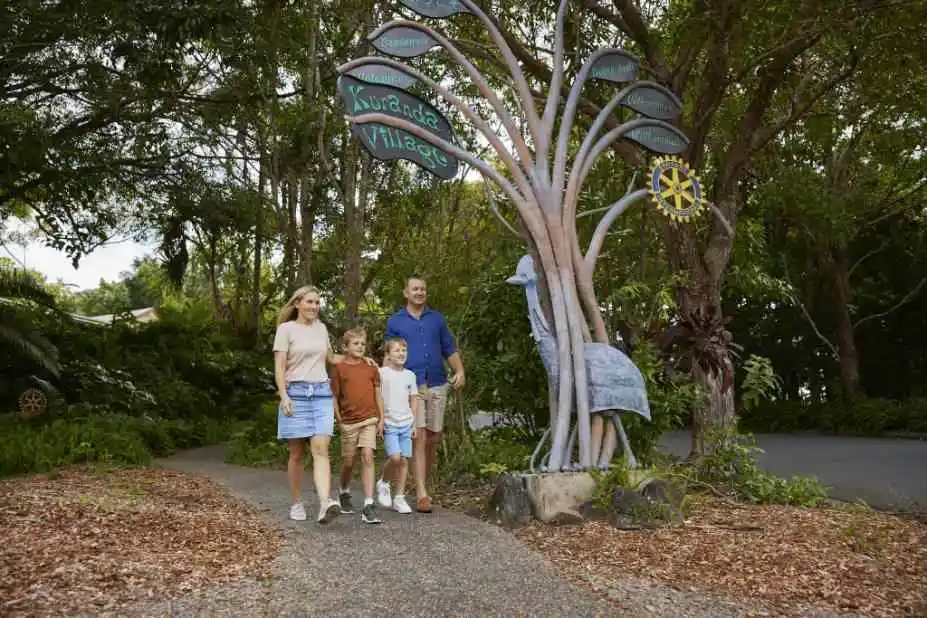 Take the time to explore the enchanting village of Kuranda with your family.
Kuranda Shops with the sweetest treats
No child (or inner child) can resist the lure of Kuranda Candy Kitchen, an iconic little candy store where you can see hard candies and rock being made and take home a crowd-pleasing treat.
Just past the Candy Kitchen is Café Azur, famed for its delicious healthy jaffles, fluffy omelettes and home-baked treats.  If you're in town for the evening, check if their mouth-watering curry night is on and join the locals for a spicy night out.
Kuranda has some truly great coffee, but the only café roasting locally grown beans on site for the ultimate freshness and aroma is Kuranda Rainforest Coffee – just follow your nose down Thongon Street and you'll find it next to Foodworks.  Whatever the weather, their cold drip and espresso iced coffees are a winner, and you can buy their exquisite bean blends instore or online.
Back to the main street and ready for some Asian-fusion, check out Big Forest Café's house specialty of Puk Summi rice burgers with delicious fillings like pork ginger, japchae or salmon aburi.  Fresh sushi, noodles and okonomiyaki (savoury fluffy pancakes) are also popular.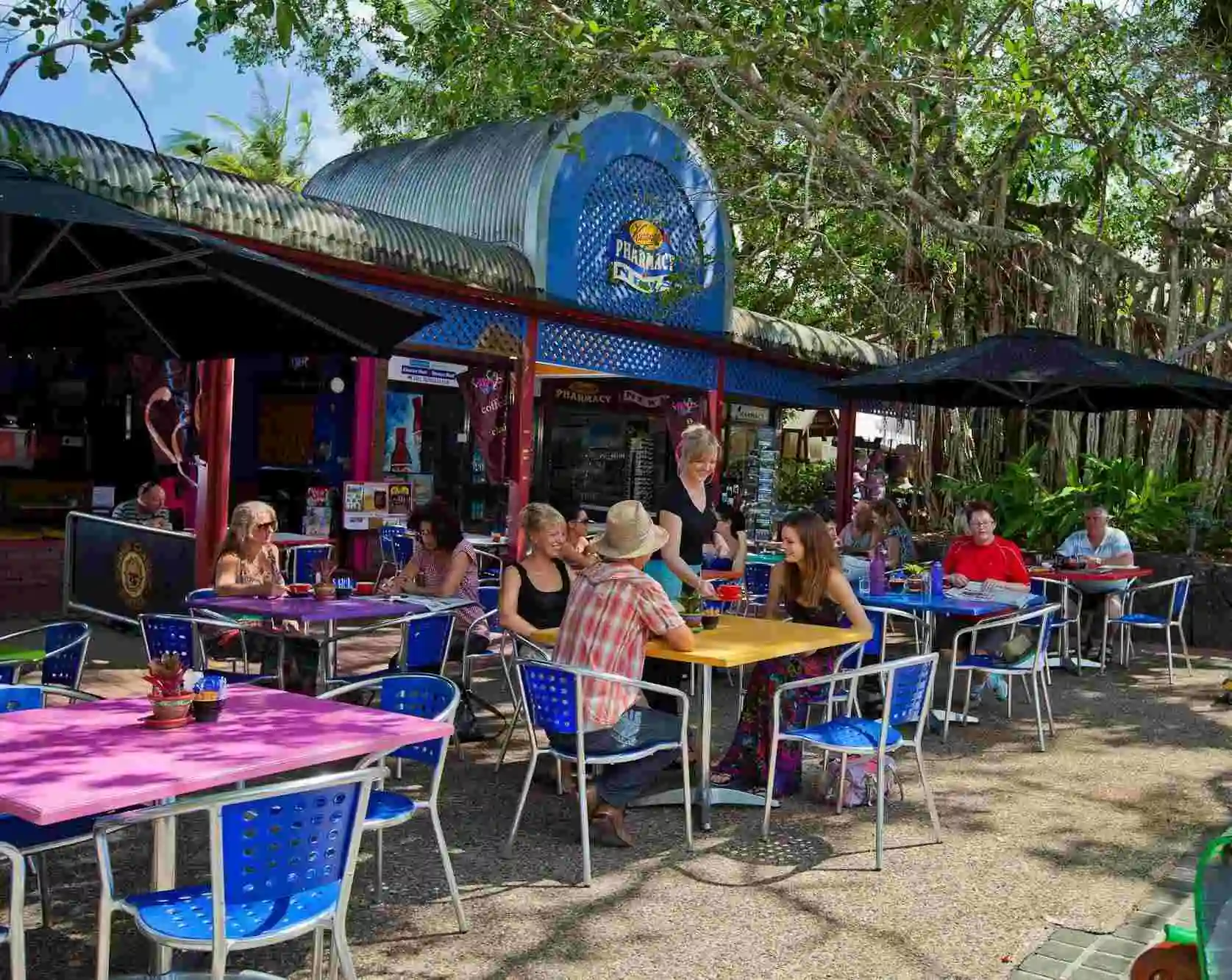 Kuranda Cafe on High Street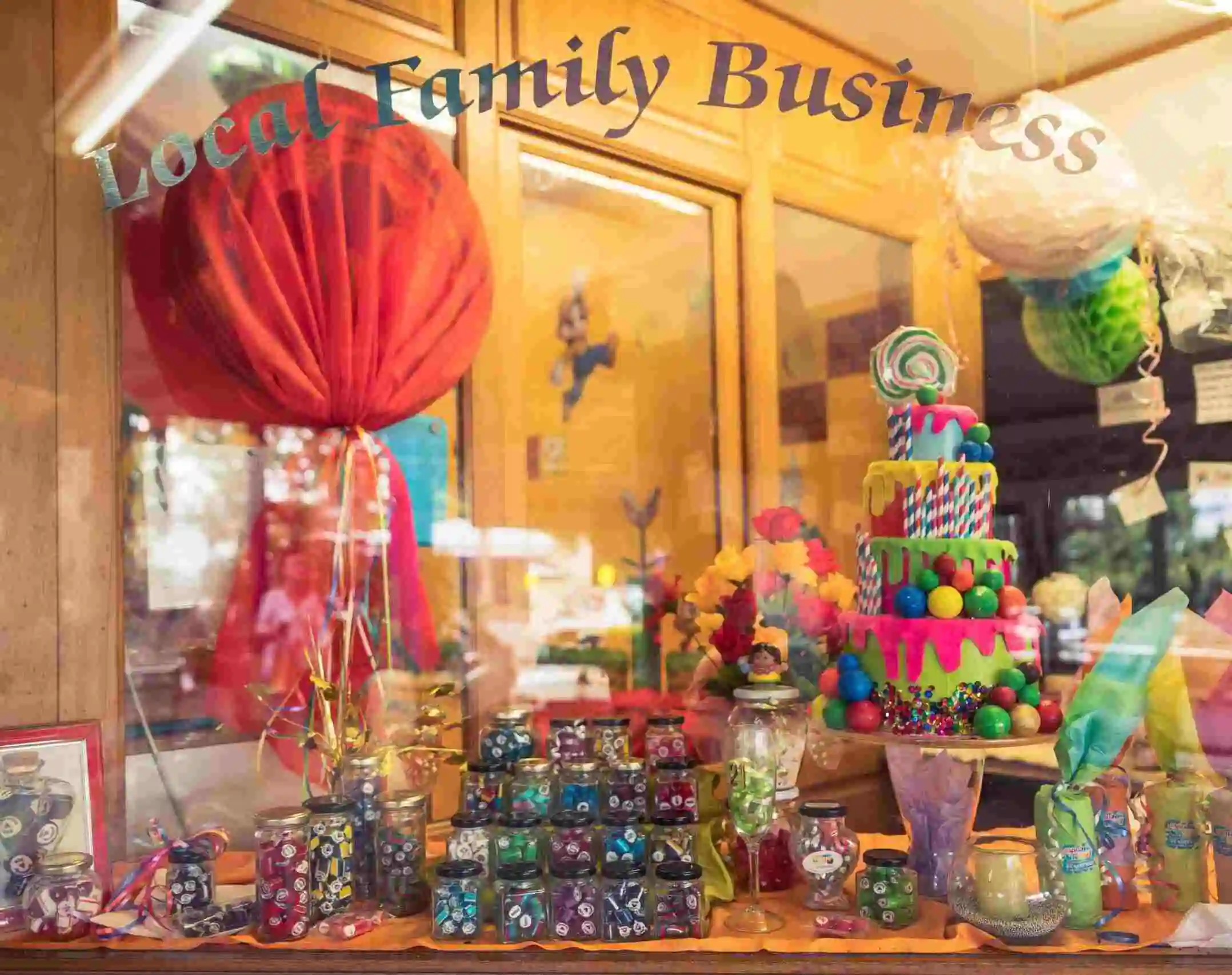 Freshly made sweet treats from Kuranda Candy Kitchen Photo Credit: Tourism Tropical North Queensland
Our local tip for one of the best (all-day) brunch in town is Café Mandala.
Tasty tasty tasty – that's the word that comes to mind! – with a fabulous modern Aussie menu, fresh juices, smoothies, sweets and pastries, and nestled amongst shady fig trees. 
One delicious dish is the roasted pumpkin, toasted sourdough, dukkah rolled poached egg, pomegranate, sweet corn and herb salsa, hummus, pumpkin seeds and a balsamic glaze.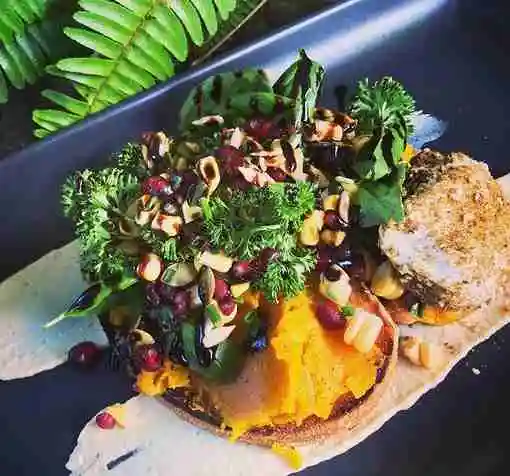 Cafe Mandala Smashed pumpkin
Over the road and bursting with fresh local produce direct from the farm gate, Sprout Juice & Coffee Bar is loved for its chill vibe and delicious home cooked meals, sweets, smoothies & juices.
The coffee's great too, using local Blackbird Espresso Specialty Coffee beans and creamy local milk.  If you're caffeined out, try a fresh Chai or turmeric latte made with their own local organic turmeric paste.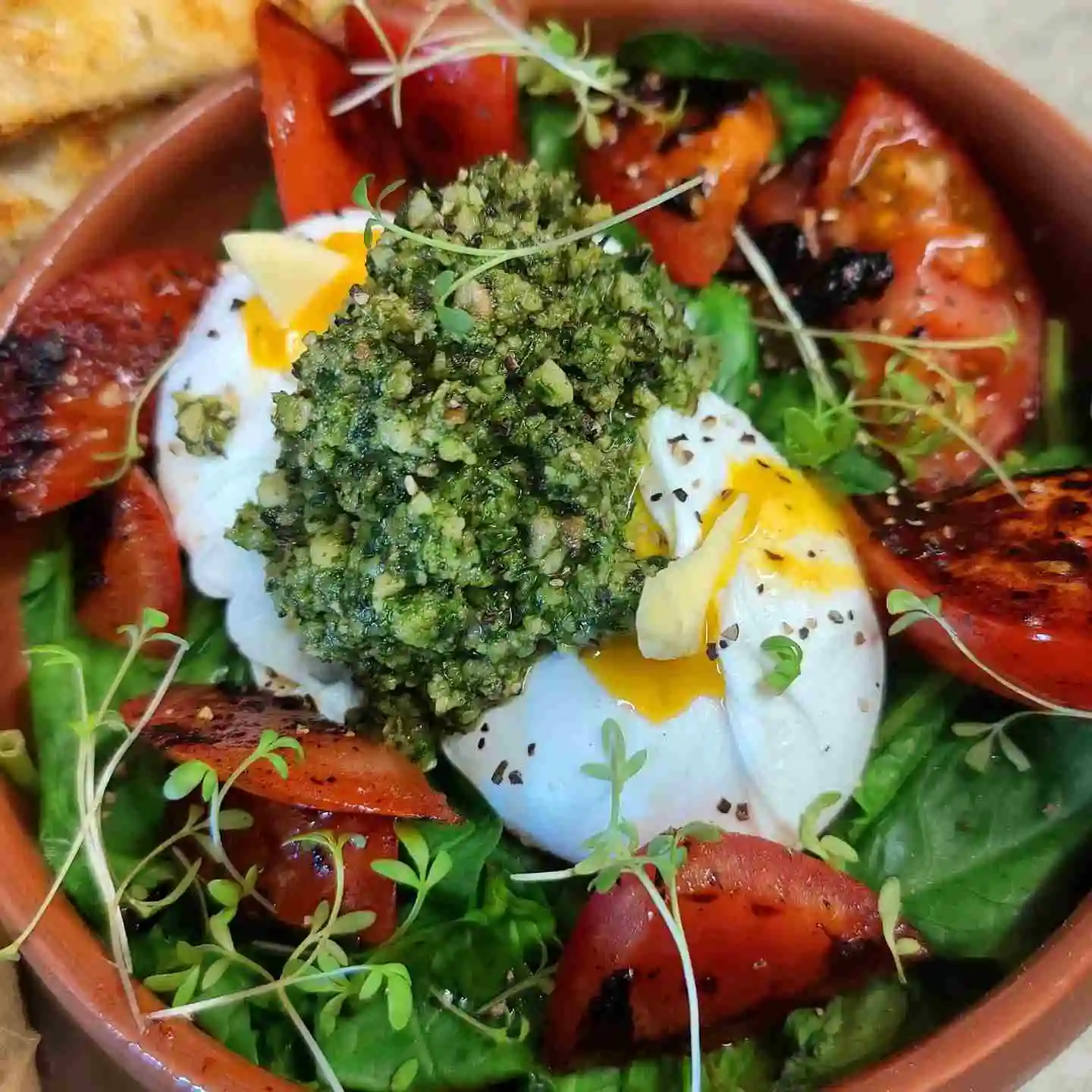 Sprout Juice & Coffee Bar Photo Credit: Tourism Tropical North Queensland
And finally, before you reach the markets, there are sausages!  German Tucker Wursthouse on Therwine Street is heaps of fun and does exactly what it says on the tin.  A great selection of German sausages, German potato salad and beer all served with a delicious sense of humour, but make sure you bring cash as cards are not accepted.
Delights of the Original Markets
Kuranda's Original Rainforest Markets are found on the corner of Therwine & Thooree Streets.  Local artisans and craftspeople set up the Original Rainforest Markets in the 1970's and the village has always reflected the creativity and passion of its residents, particularly when it comes to food and drink.
Hayabusa of Kuranda serves authentic Japanese meals and traditional handcrafted sweets – truly one of Kuranda's culinary delights.  Owner and chef Ben draws his inspiration from his father who was a cake pâtissier in Tokyo and Hayabusa was Australia's first Japanese-style sweet shop.  Drop in for a dumpling soup and do not skip dessert!
Still in Japan and the Japanese Tea House is a tranquil oasis that celebrates the meticulous art of tea making.  You won't see the tea being made as it is a sacred and secretive tradition, but you will enjoy the uplifting result with a delicious range of flavour fusions.
If one of your rules of life is that there's always room for a little ice cream, don't miss Frozen Nature's handmade gelatos and vegan sorbets.  Made on site and utterly delicious, you'll find Frozen Nature in the markets' "Eat Street".
On the Therwine Street side of the markets is the home of all things honey, Honey House Kuranda.  With over 25 honey varieties from a range of local apiarists including Rainforest, Avocado, Eucalypt, and Bloodwood, Honey House offers the highest quality, raw honeys which you can taste in store plus a range of medicinal and beauty products.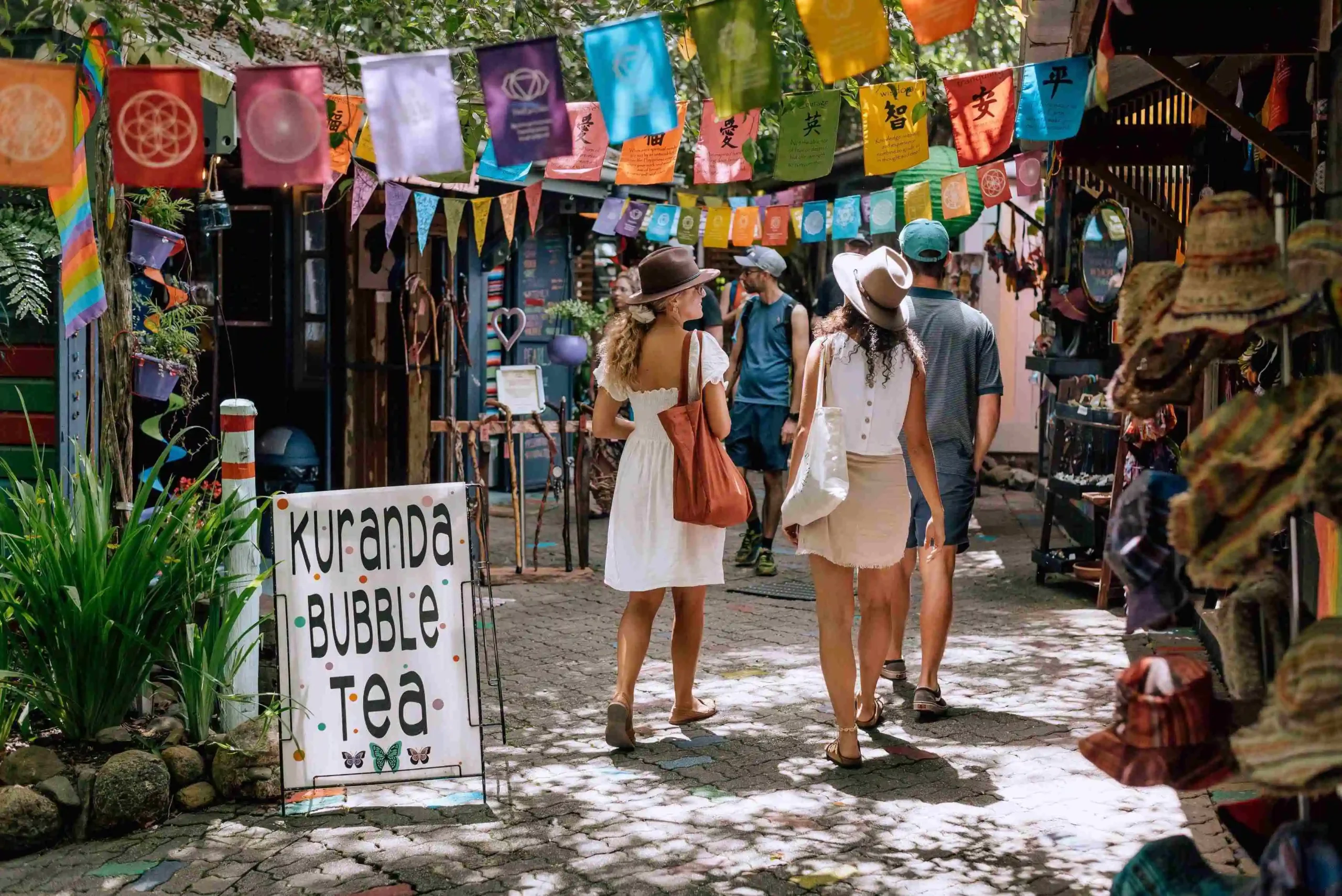 Kuranda's Original Rainforest Markets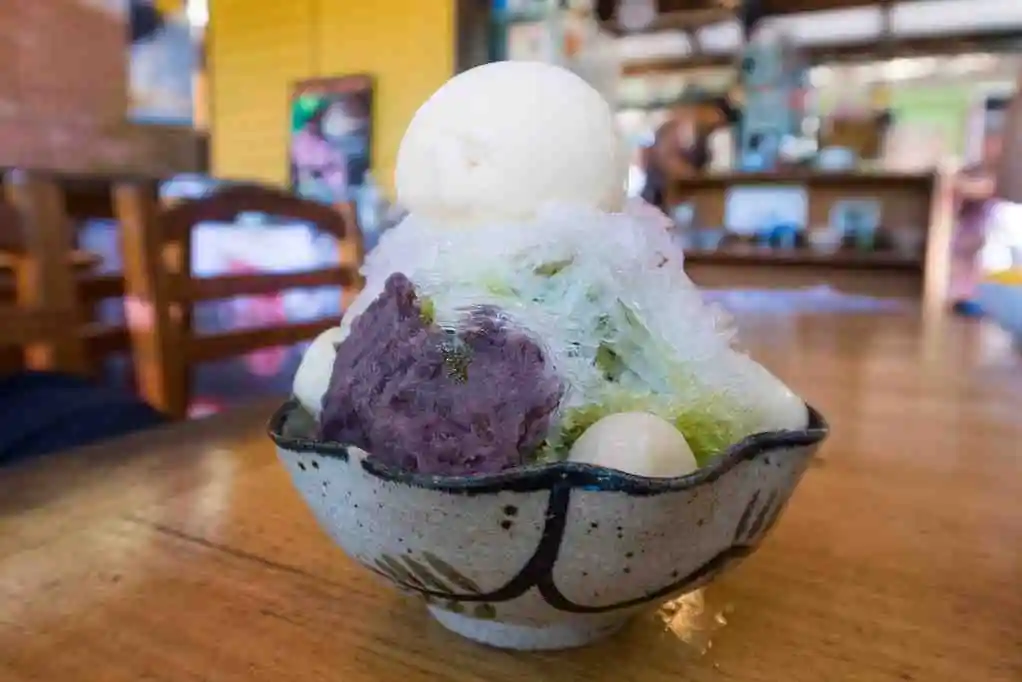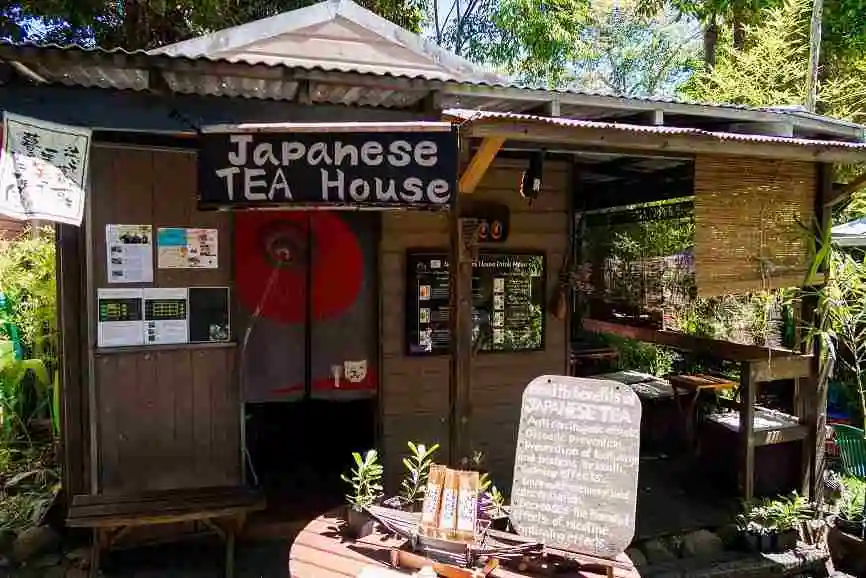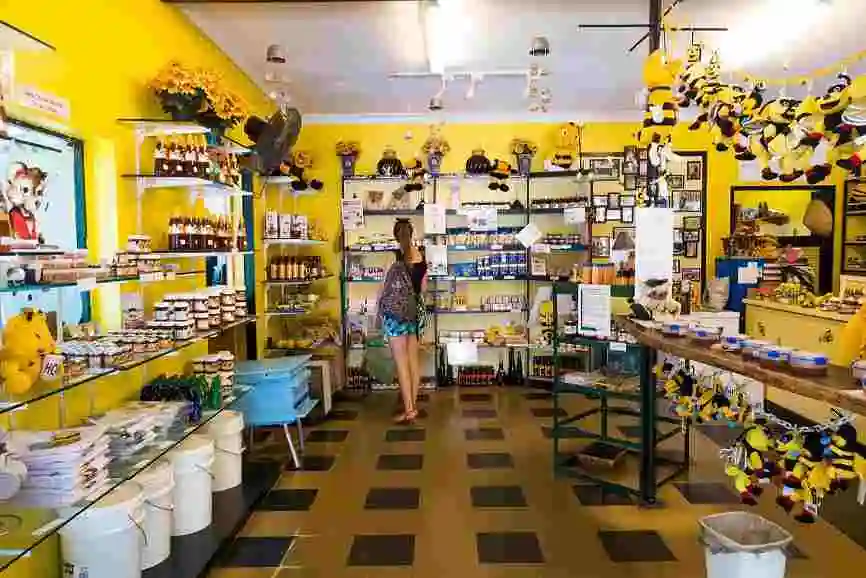 Photo Credit: Tourism Tropical North Queensland
Best Bites in the Heritage Markets 
The Heritage Markets are all weather, covered markets conveniently set around the native wildlife attractions Koala Gardens, Birdworld and Australian Butterfly Sanctuary.  With a range of arts, crafts, local products and one of the oldest and most popular restaurants in Kuranda, they are well worth a look.
Local icon Frogs Restaurant is a great spot for breakfast or lunch – bag yourself a table on the outside deck and if you're lucky you'll find water dragons playing at your feet.  Frogs have an extensive menu including wild caught local barramundi and native tasting plates and they're serious about coffee too, using Axil roasts and serving seasonal house blends plus cold brew and single origin.  They also have a terrific range of Craft Beers.
Distil on the Hill is a small batch micro distillery based in the hills of Jumrum Springs, Kuranda and with a stall in the Heritage Markets. Do your tastebuds a favour and pick up a bottle of their sublime Jindilli Gin – a contemporary style gin with a delicately balanced blend of juniper, native raspberries, local orange blossom, pink pepper and zesty lemon balm – or Mandarin Gin – an exquisite infusion of juniper, mandarin and exotic long pepper with a perfect balance of sweet and spicy.  Follow them on Facebook for some tropical cocktail inspo!
Leave a little space next to the gin for some boutique chilli products.  The Chilli Shop Kuranda sells a staggering range of chilli sauces, chutneys, jams, coffee, spices and rubs from mild to wild including a great range of local products.  And they offer free tastings so you can be sure you'll love what you buy.
If you're after local organic produce, wholefoods and treats while you're in town, look out for Wholesome Kuranda, which you'll find near Frogs. As well as the freshest fruits and soulful greens from local growers, they stock tofu, tempehs, cheese & cashew cheese, chocolate and dried fruits for guilt-free snacking.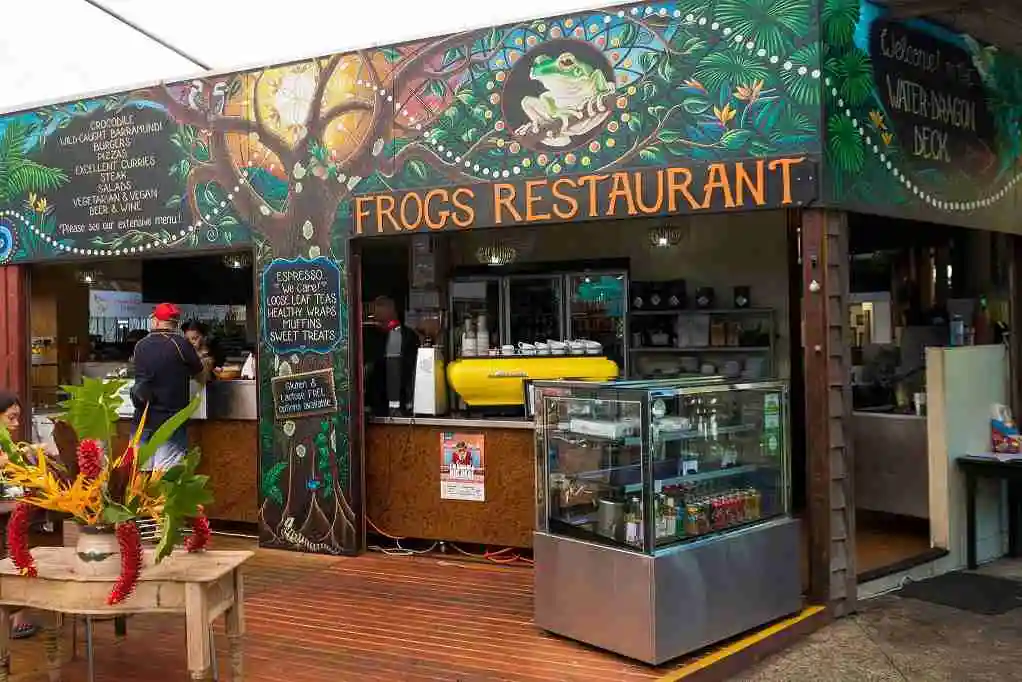 Frogs Restaurant in Kuranda
Photo Credit: Tourism Tropical North Queensland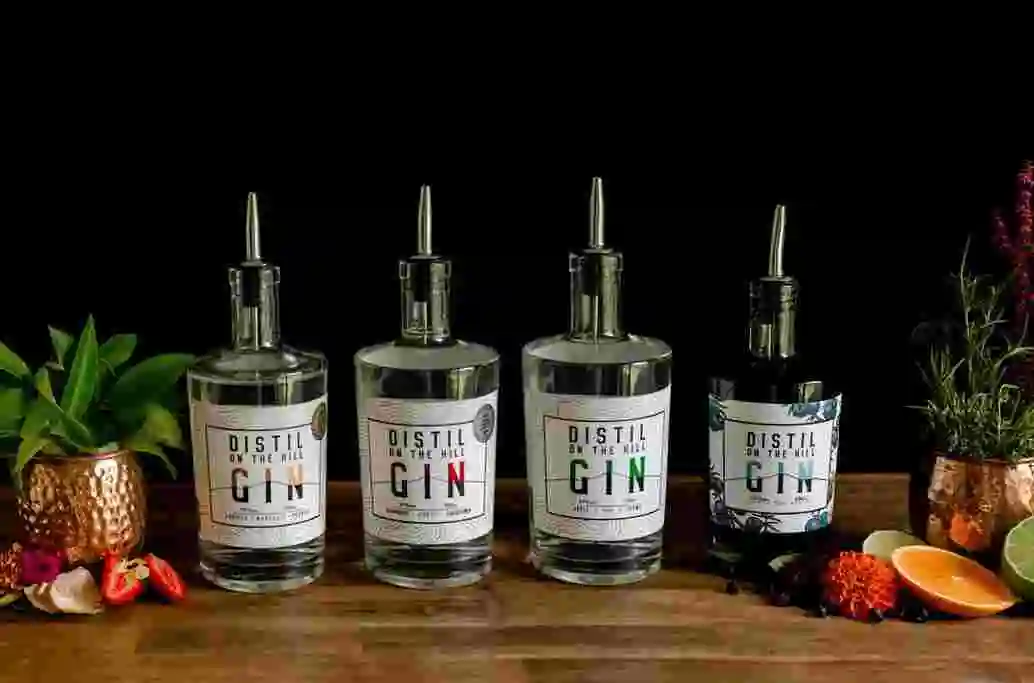 Distil on the Hill gin
Photo Credit: Heather Miller Photography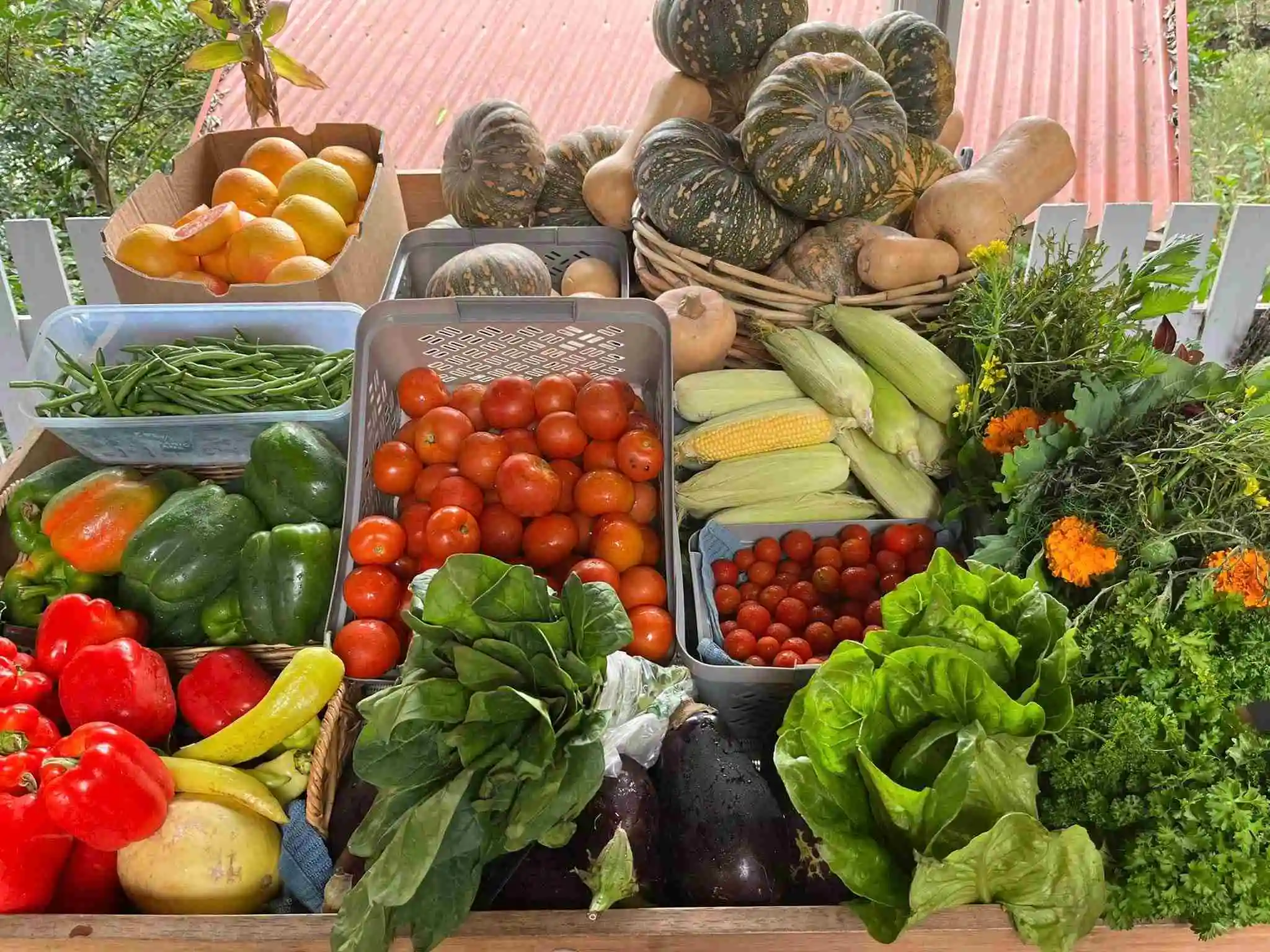 Just next door to the Australian Butterfly Sanctuary (and recently relocated from the Original Markets) is an absolute favourite with locals and visitors alike – The Petit Café. Their legendary traditional French crepes are to die for, but bring the whole family as you'll struggle to choose from the amazing menu of savoury and sweet fillings (strawberry & rhubarb compote with dark Belgian chocolate anyone?)  Their delicious pizzas follow the traditional Napolitan style and the menu is rounded out by great coffee, locally roasted by The Tattooed Sailor.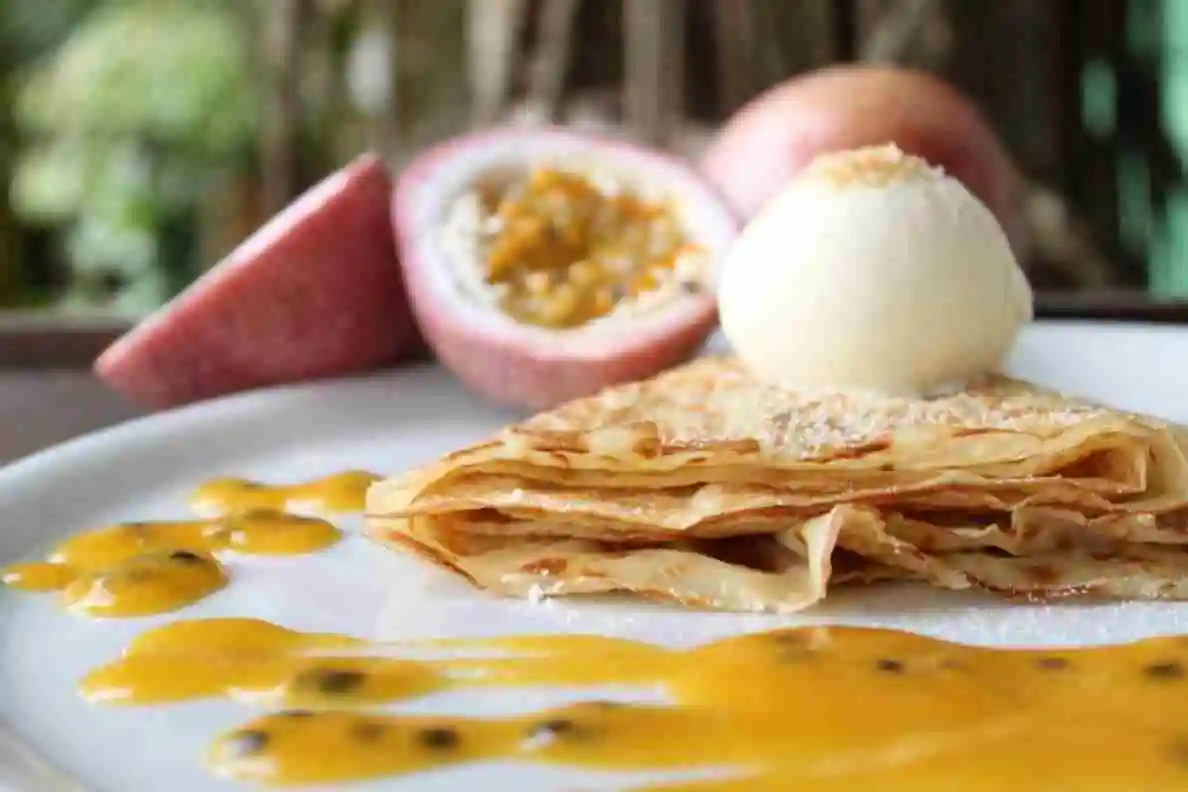 The Petit Cafe crepes
Photo Credit: Tourism Tropical North Queensland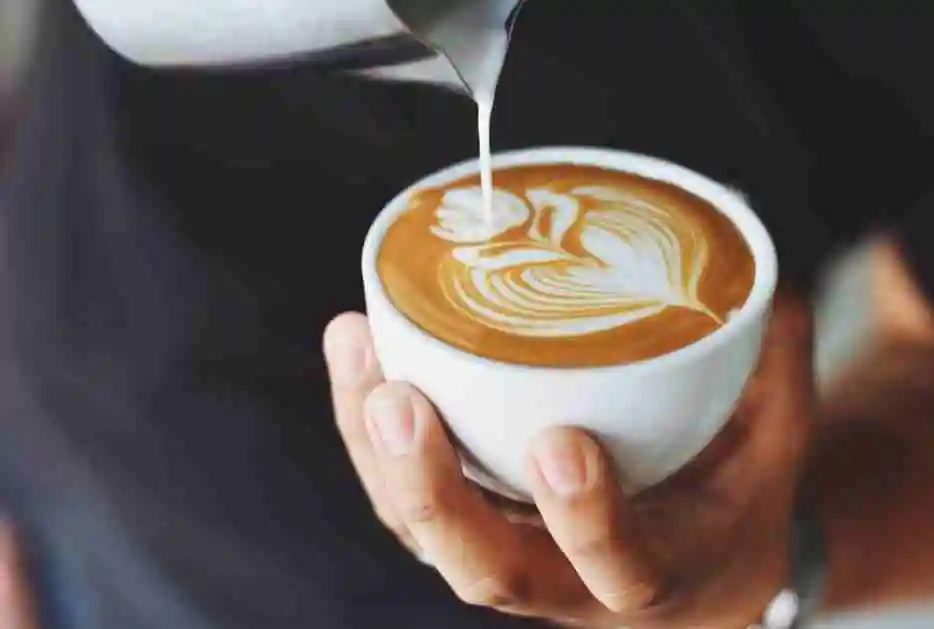 As you'll discover, Kuranda is in a world of its own with its tiny artisan eateries and family run restaurants, so make sure you make time to explore and enjoy.
To learn more about visiting Kuranda and booking your Skyrail experience, planning your visit is the easy part, it's choosing how many eateries to visit on the way that is the hard part!
Tropical Mama has lived in Cairns and the Daintree Rainforest for 25 years and is passionate about sharing the unique experiences of Tropical North Queensland with her extended family.