The Kuranda Riverboat
Discover tranquil beauty hidden in the Wet Tropics World Heritage area with Kuranda Riverboat as you cruise the Barron River.
Nestled alongside the Barron River in the rainforest village of Kuranda is a unique experience where guests can explore the breathtaking beauty of Tropical North Queensland. Whether you are a nature lover, avid photographer or wildlife enthusiast this is a peaceful journey you are sure to enjoy.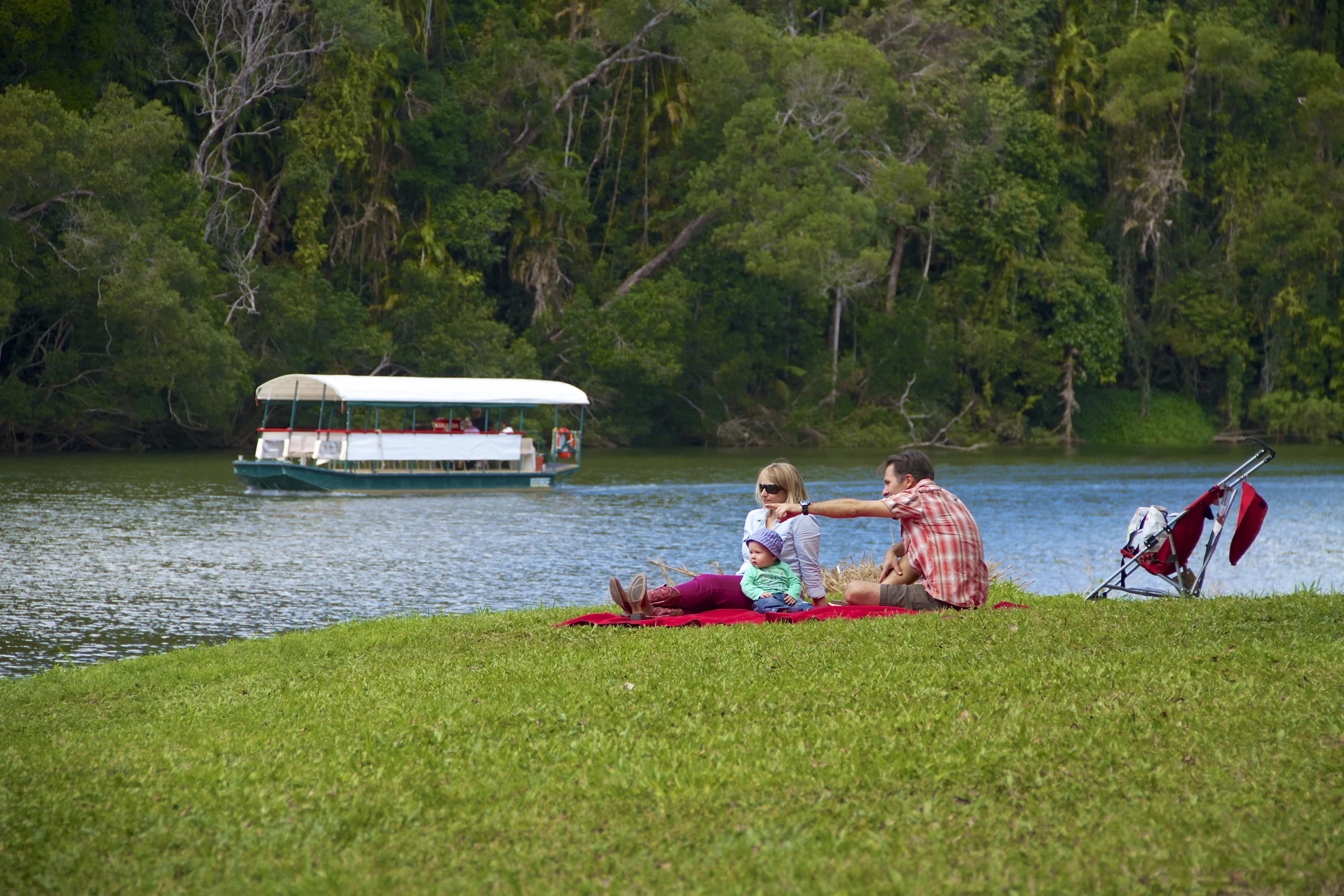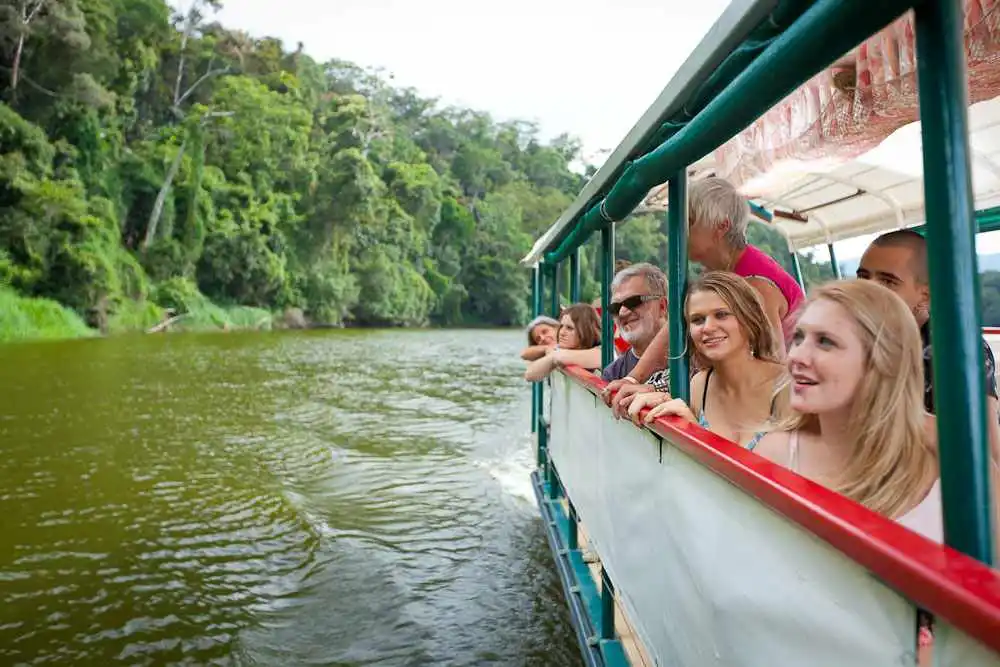 Guests cruising the Barron River
Where does Kuranda Riverboat leave from?
Meander over the footbridge below the Kuranda Railway & Skyrail Stations, head down the stairs to the river where you will see the bright red flags flying.
A locally owned and operated experince, the Kuranda riverboat is a 45 minute cruise rich in history, since 1982 it has provided visitors to the region with a warm welcome and a relaxing cruise packed with knowledge from local guides of the ancient rainforest's diverse ecosystem and fascinating flora & fauna.
An immersive tropical rainforest experience where guests relax during an unforgettable journey on the Kuranda Riverboat. A maximum of 30 guests enjoy a  serene cruise on the calm waters of the Barron River surrounded by lush Wet Tropics World Heritage rainforest. This unique attraction allows guests to sit back, relax, soak up the tropical sun whilst enjoying nature and an abundance of wildlife.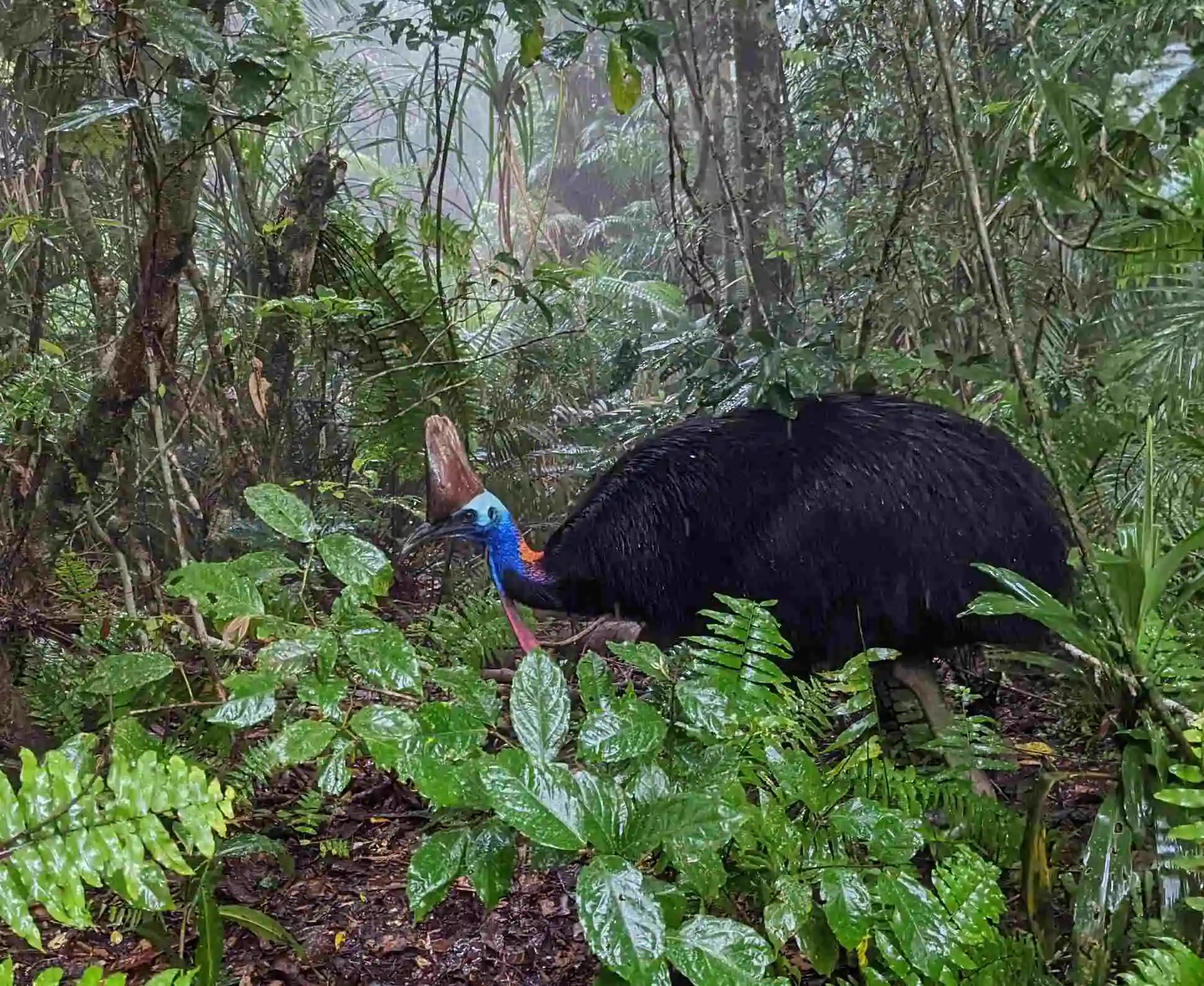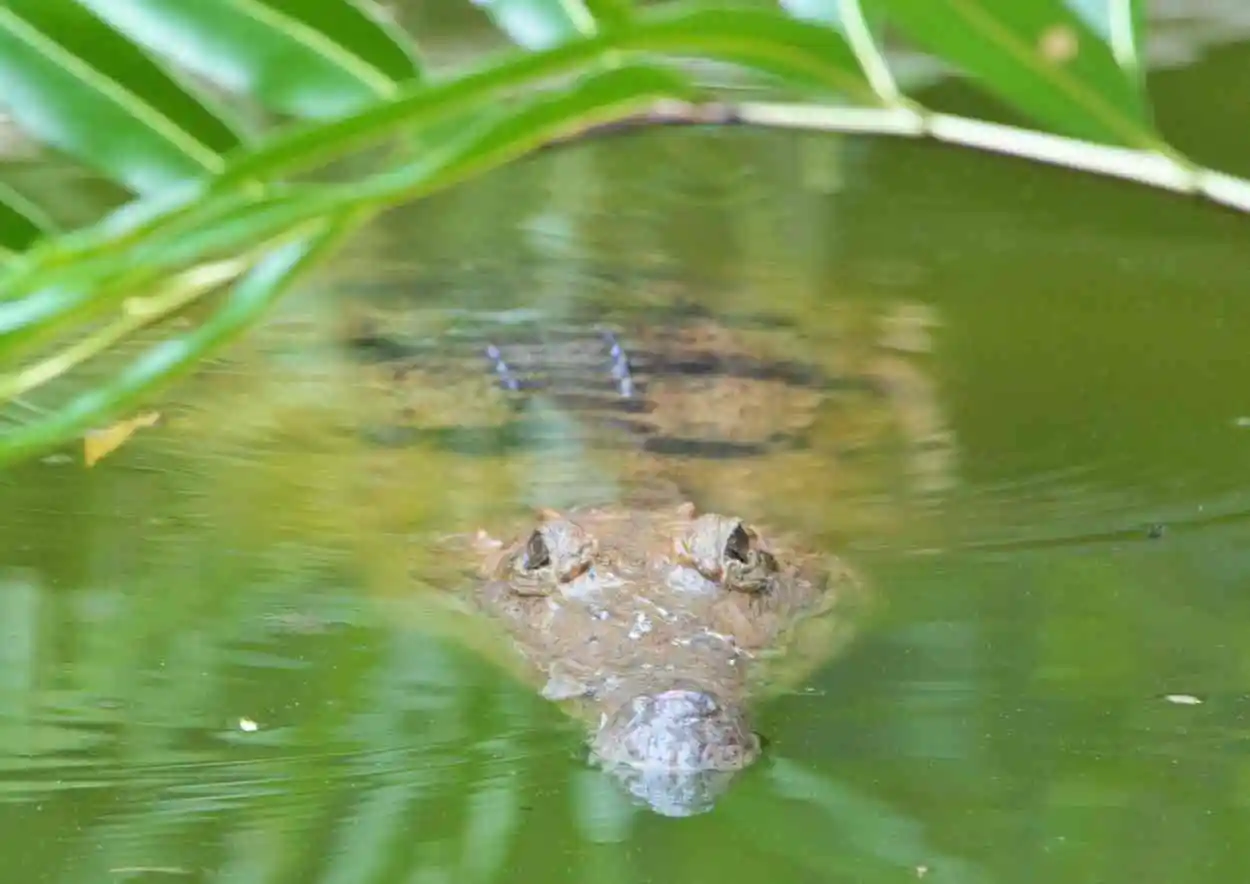 One highlight of an experience with the Kuranda Riverboat is the region's unique wildlife you can encounter. Keep your eyes peeled as you cruise for a wide variety of wildlife, such as iconic freshwater crocodiles, exotic birds, snakes, turtles and the elusive Southern Cassowary. A large flightless bird endemic to this tropical rainforest with a striking blue neck and large casque.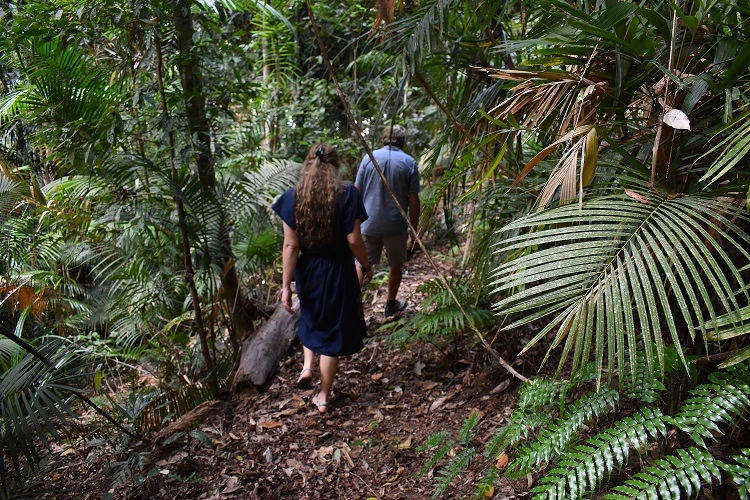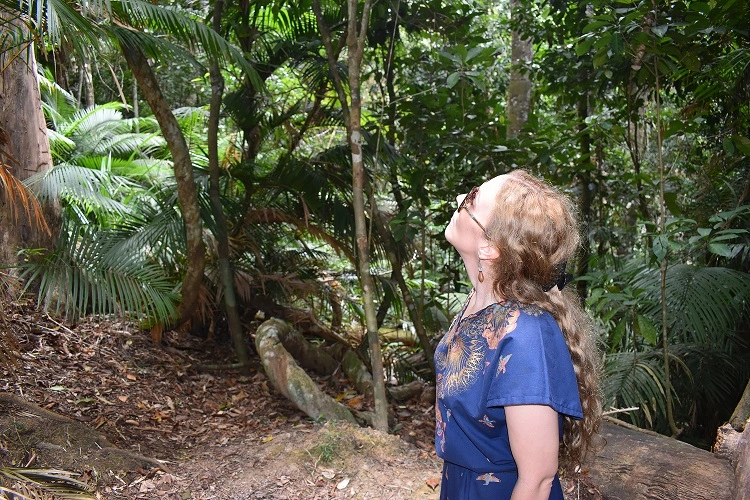 How to book the Kuranda Riverboat?
Booking your tropical rainforest crusie could not be easier on their official website.
Kuranda Riverboat operates five tours per day, seven days a week so no one will miss out. Guests can package their Barron River cruise with Kuranda Koala Gardens and Birdworld with the Explorer Package for a truly unforgettable Kuranda wildlife experience.
Want to explore more of Kuranda Village's flora? Join their river guided interpretive rainforest walk through the deep rainforest edging the Barron River. An established track walk leading through the lush trees, vines, lianas and ferns to disocver the history of the trail, used since the 1920's.
Enjoy a fresh tasty lunch at Cafe Mandala with the cruise and lunch package or celebrate a special occasion with their evening sunset cruise, operating May to October.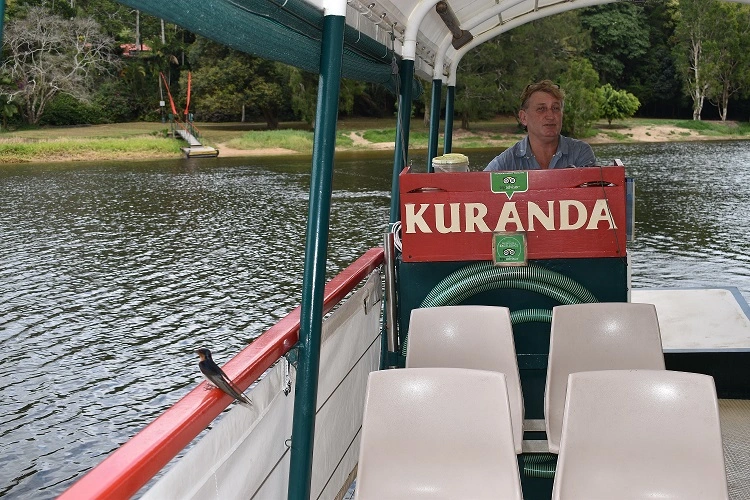 The friendly guide will share ancient stories of the Barron River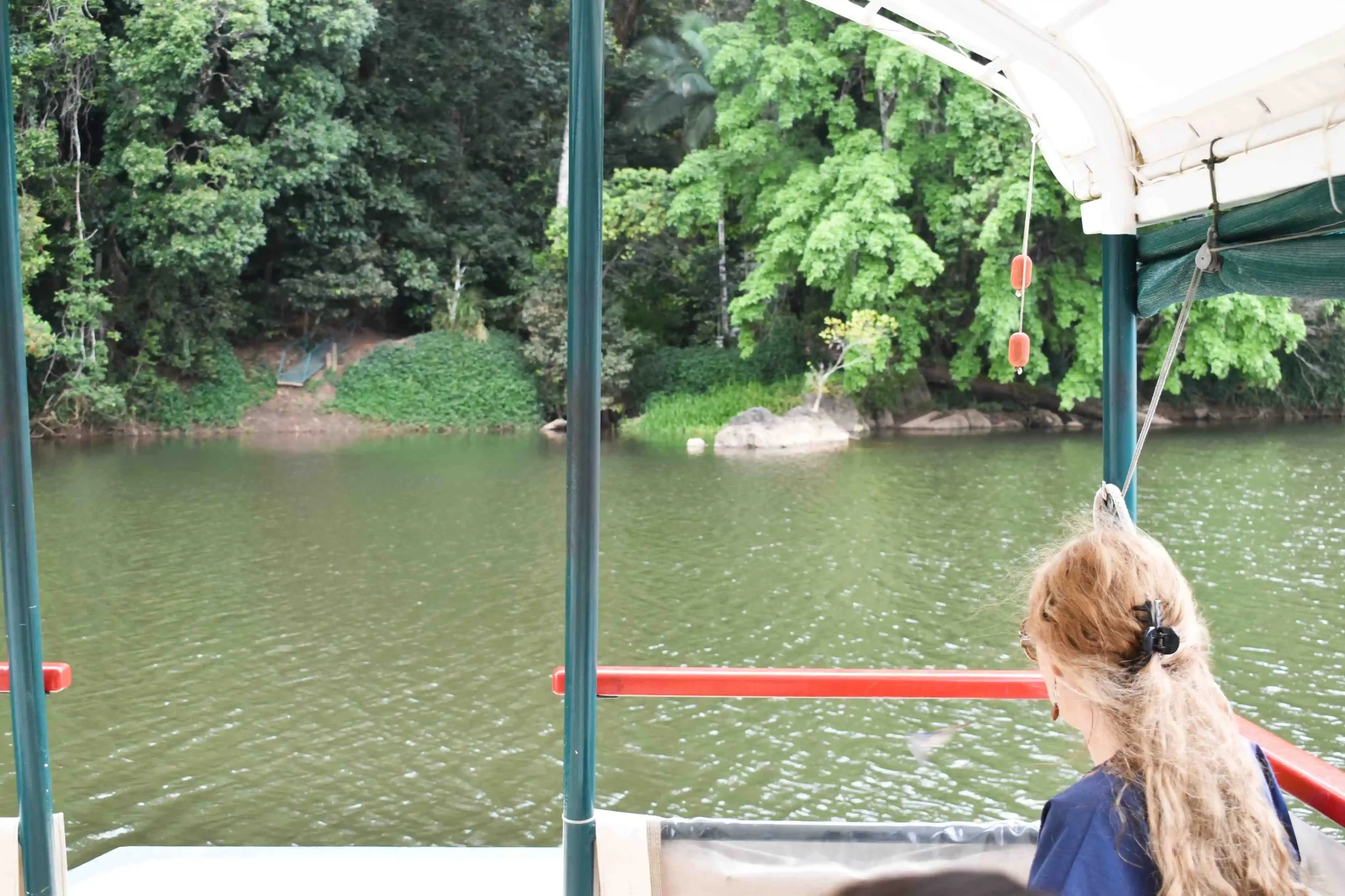 Keep your eyes peeled for wildlife as you cruise the Barron River
How much is the Kuranda Riverboat?
With relaxing Barron River crusing starting at only $25 it leaves some pennies in the pocket for eclectic shopping in Kuranda's Original Markets afterwards.
45 minute Kuranda Riverboat Tour: Adults $25 | Children $10 | Family (2 Adults + 2 Children) $60. A 45 minute tour departing at 10:45am | 11:45am | 12:30pm | 1:30pm | 2:30pm.
Kuranda Explorer Package: Adults $57.50 | Children $26.50 | Family (2 Adults + 2 Children) $141.50. A 45 minute tour plus access to Koala Garden or Birdworld departing at 10:45am | 11:45am | 12:30pm | 1:30pm | 2:30pm.
Kuranda Riverboat Cruise and Cafe Mandala Lunch: Adult $45. A 45 minute tour plus lunch departing at 10:45am | 11:45am | 12:30pm | 1:30pm | 2:30pm.
Sunset Cruise: Adult $40 | Child $20 | Family (2 Adults + 2 Children) $100. This 90 minute tour operates May to October and departs at 4.30 pm.
Kuranda Guided Rainforest Walks:  (Walk Only) Adults $35 | Children $15 | Family (2 Adults + 2 Children) $90.        Departing at 9.30 am and 10.30 am on Tuesdays, Thursdays and Saturdays.
The Kuranda Riverboat is far more than a boat ride, it is an opportunity to connect with nature and learn about the ancient landscape of Tropical North Queensland
So when visiting Cairns and the Great Barrier Reef region take some time to stop, relax and set sail with Kuranda Riverboat Cruises. You will be captivated by the tranquil Barron River and the symphony of nature surrounding you!