Kuranda Cassowary Art Trail
Enjoying a Skyrail Rainforest Cableway experience and spending time in the fun quirky rainforest village of Kuranda?
Why not chase a Southern Cassowary…or rather, follow the Cassowary Art Trail!
On October 8th 2022 the world's first Cassowary Art Trail was launched at the Kuranda Colour Festival. The first three cassowaries have found their home in Kuranda Village offering visitors free access to enjoy the art depicted on them, with more cassowaries to be added to the collection in the future.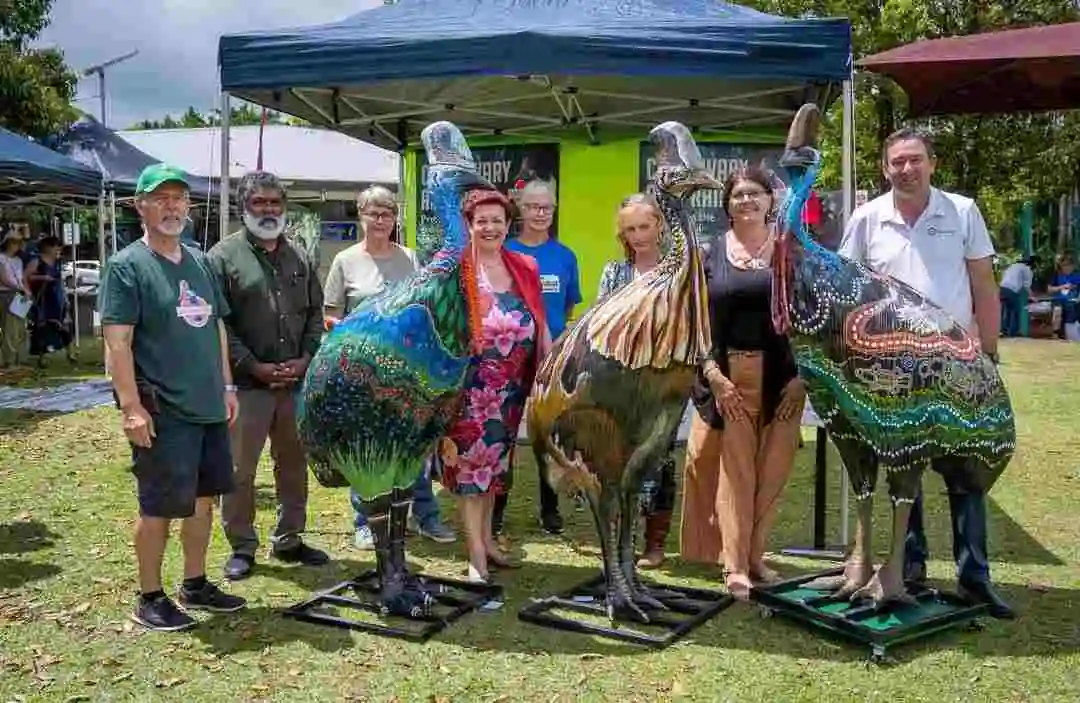 From left: Jurg Jutzi, founder Cassowary Art Trail | George Riley, artist | Dianne Daniels, President KCons | Mayor Angela Toppin | Jax Bergersen, Secretary KCons | Rebecca Koller, artist | Connie Rovina, artist | MP Craig Crawford (Photographer: Steven Nowakowski)
Using the colourful life size cassowaries, which have been situated in different locations around Kuranda Village to create a trail for visitors to follow and help raise awareness of the endangered Southern Cassowary here in Tropical North Queensland. As well as the important role of the Southern cassowary for indigenous people and the regeneration of the Wet Tropics World Heritage Rainforest.
"Bagarra maynggal,Mayi maynggal, Bunda:rra Maynggal" Meaning: "No Rainforest, No Food, No Cassowary" in Djabugay language
Each cassowary has been uniquely painted by a local artist who use their creative flare to showcase the Southern Cassowary in a new eye-catching way. Using their connections to nature, culture, and the Southern Cassowary to portray beautiful art pieces in cassowary form.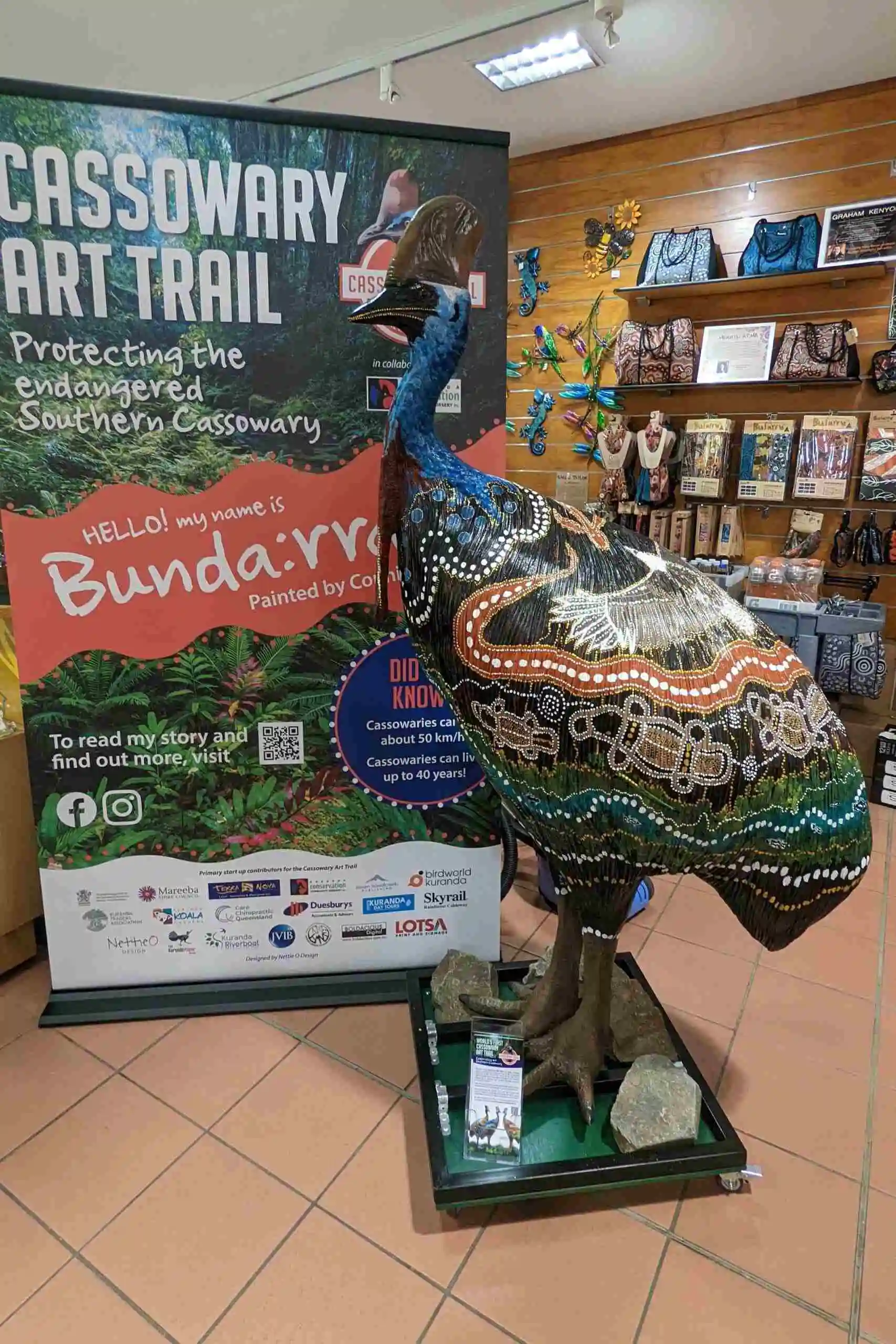 We would like to introduce you to Bunda:rra!
Bunda:rra stands proud, waiting for your arrival in Kuranda Village's Heritage Markets. Bunda:rra was painted by local artist, Connie Rovina.
Connie's ancestral heritage is KukuThaypan, Cape York, and Widi / Birriah, Central Queensland and her artwork is inspired by her upbringing within her Aboriginal family and their traditional lands.
Bunda:rra has seven local Kuranda stories depicted on its body and Connie connected with traditional owners and local Djabugay people to paint certain design on the cassowary.
Traditional dreamtime stories can be seen on the body of Bunda:rra such as The Rainbow Serpent in red, depicting the spiritual being that snaked through and created the deep valleys of the Barron River and gorge. Or the platypus which represents Kuranda Village, known also as NgunBay, meaning 'place of the platypus'.
Legend has it the bright blue neck of the Southern Cassowary is from eating the blue Quandong fruits which fall from rainforest trees, which you can see on Bunda:rra's neck and upper body.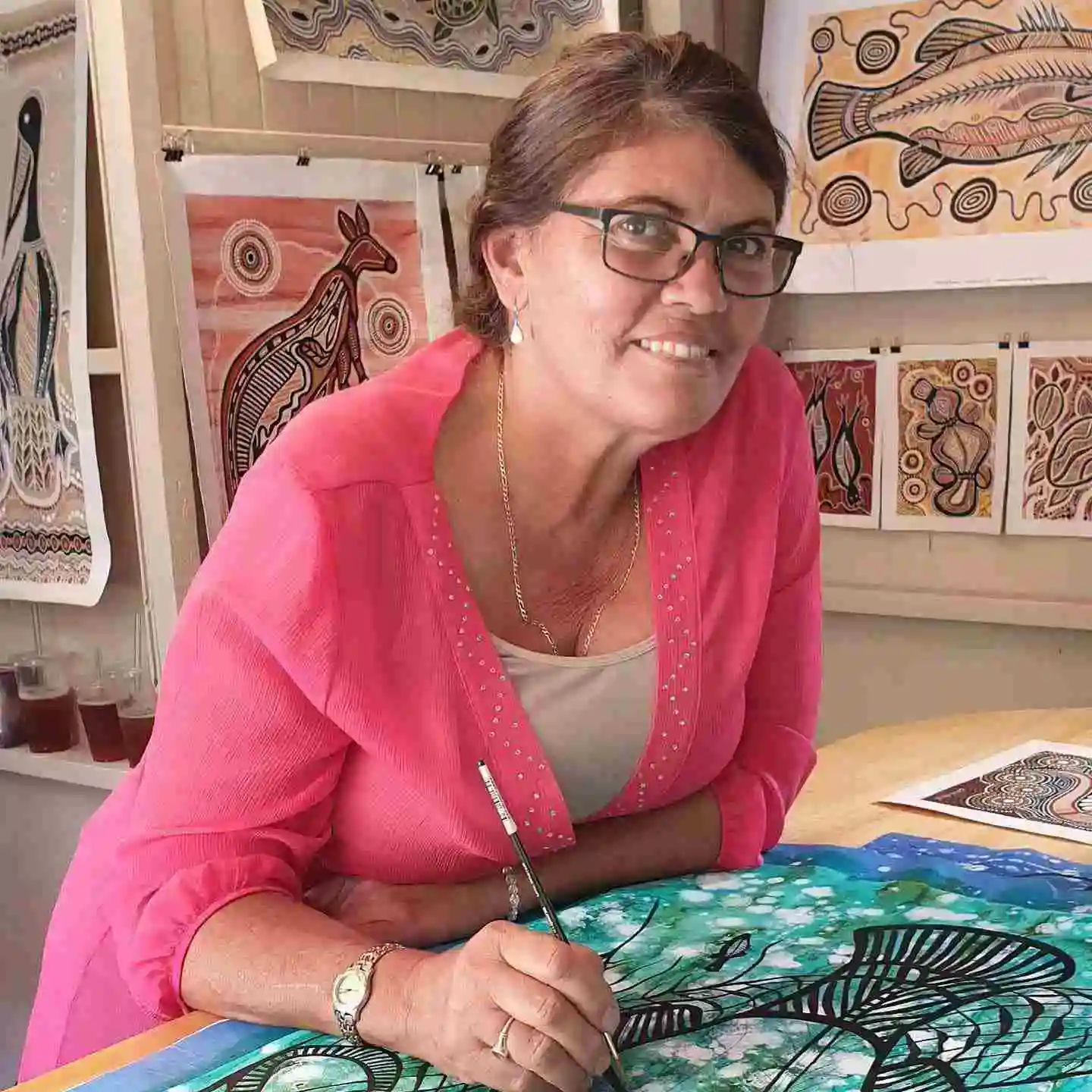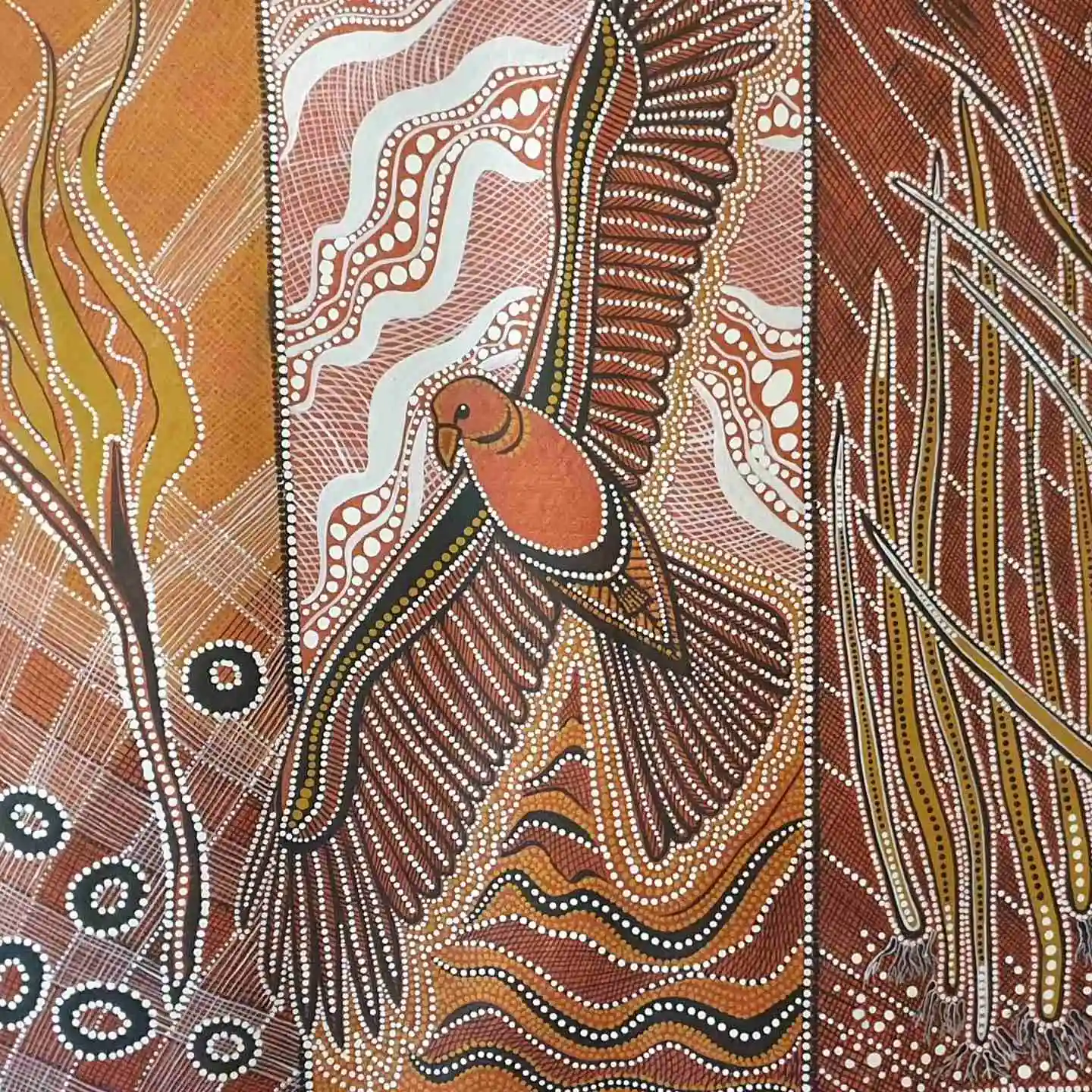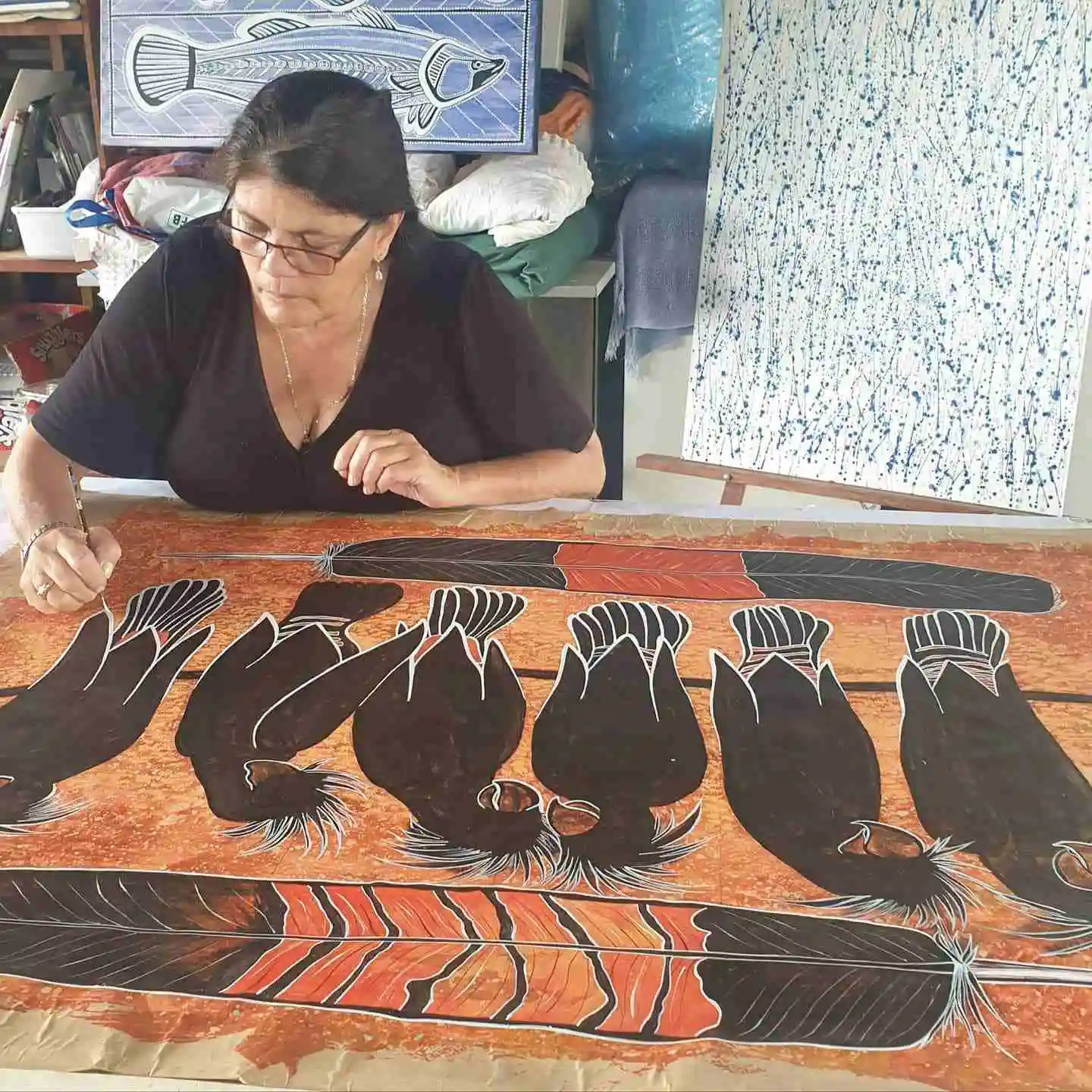 Now we have sparked your interest and chasing colourful Southern Cassowaries sounds like fun and a great family day out, here is how you can spot them in Kuranda village!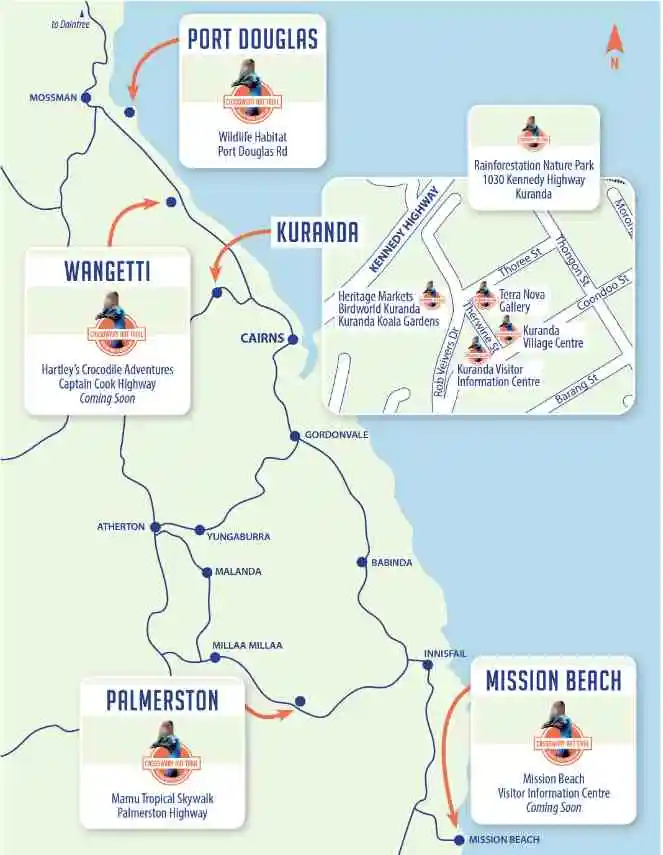 During the last 10 years running a business in Kuranda I recognised that not enough people know about conservation, how to protect the rainforest and the different species living there.
We wanted to create more recognition & awareness of the endangered Southen Cassowary in our community and within the general public. We spoke with different local people, conservation groups, local wildlife attractions, businesses and local indigenous groups.
Born from these discussions was the idea to decoratively paint life-sized statues of the Southern Cassowary, integrating the unique styles and talents of our local artists and a way to create funding & awareness for future conservation projects.
I would like to thank everyone who was involved in the initial inception, creation and organisation of this project with a special thanks to Kuranda Conservation, all our local volunteers and businesses who contributed to creating greater awareness for the Southern Cassowary.
This creative art trail was possible due to the support of the RADF, a partnership between the Queensland Government and Mareeba Shire supporting local artists and culture in regional Queensland. Also supported by many local businesses and organisations, it has a strong sense of community. To find out more about the contributing artists or the painted Southern Cassowaries you can visit the Cassowary Art Trail website.
Like to see more traditional art from Connie Rovina?
When you stroll through the Kuranda Original Markets, in Kuranda Village be sure to pop into WidiWorks Aboriginal Art and peruse her stunning pieces of original paintings on canvas. 
When you head off on your very own Cassowary Art Trail, be sure to tag @CassowaryTrail on Instagram or Facebook and use the hashtag #CassowaryTrail / #CassowaryArtTrail – don't forget to tag us here @SkyrailCairns too!