Warm up in Tropical North Queensland!
Winter is the time of colder days and the return of lower temperatures, wet weather, wooly jumpers and staying indoors, but not here in Cairns! So, rally the troops; gather the family or have that long awaited friendcation and plan your Cairns winter escape!
As the rest of Australia gets cooler, the evenings are darker earlier and the idea of getting your toes wet at the beach does not appeal, it's time to head north – to Cairns! We have the perfect tropical winter you have been dreaming of. Pack your favourite swimwear and big hat because the sunny days are not over yet…
With an average of 23 degrees and clear blue skies there is plenty of 'get out and explore' winter weather to enjoy when you visit the World Heritage listed Tropical Rainforest and the Great Barrier Reef.
Let's dive into the exciting experiences Cairns has to offer!
Explore the Tropical Rainforest with Skyrail Rainforest Cableway on your Cairns winter escape…
Only 15 minutes from Cairns city you can embark on a fascinating journey of discovery over and into the Wet Tropics Rainforest in a unique, sustainable and eco-friendly way.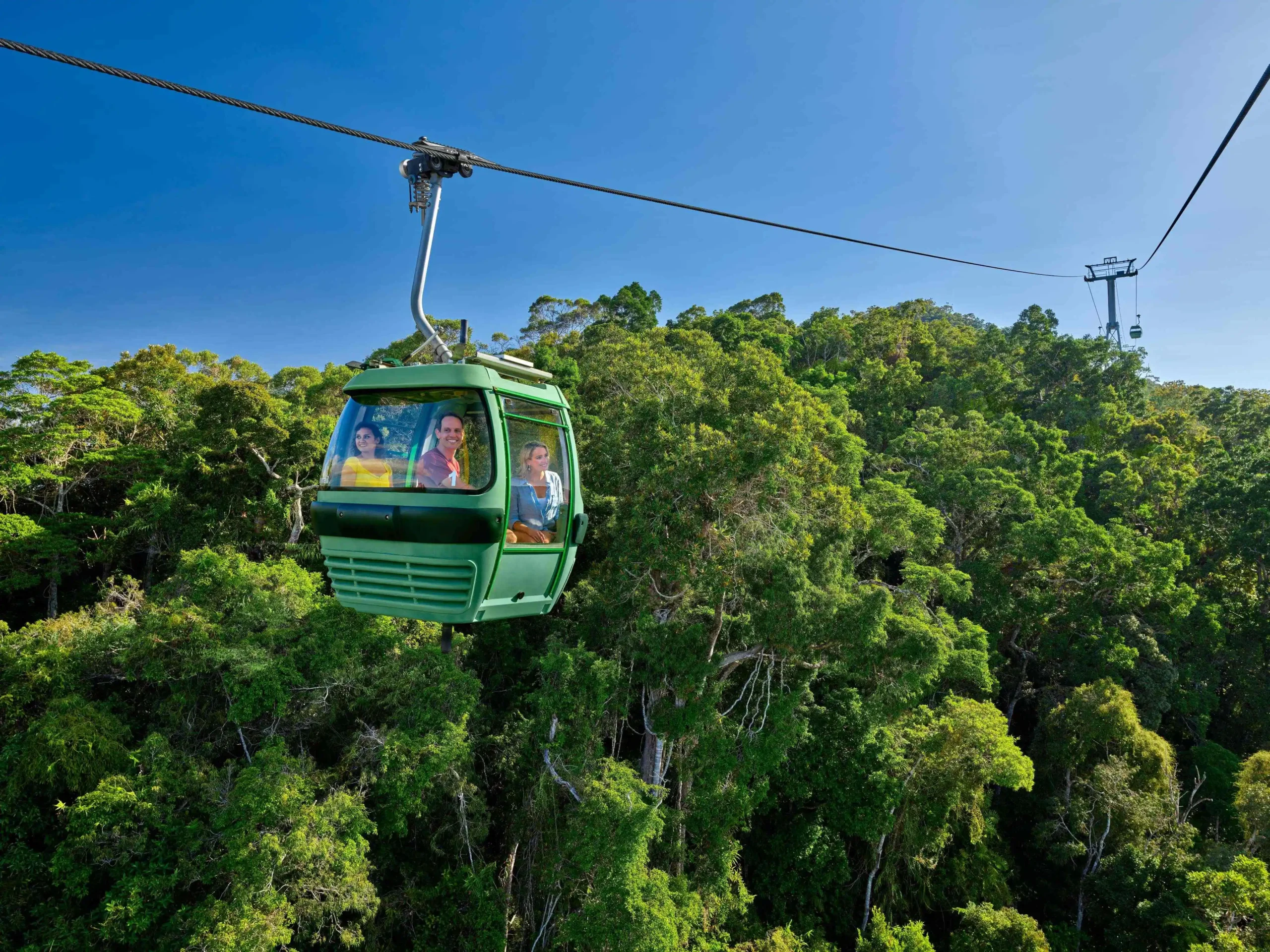 Your Cairns winter escape includes blue skies and a sea of green as far as the eye can see!
Visit Skyrail and the ancient rainforest during your Cairns winter escape, where we have created a truly unique means to explore this ancient landscape in a low impact way by leaving nothing but footprints behind. We have been continually preserving this incredible environment which has been over 130 million years in the making and we hope you take away some incredible life long memories of your time here.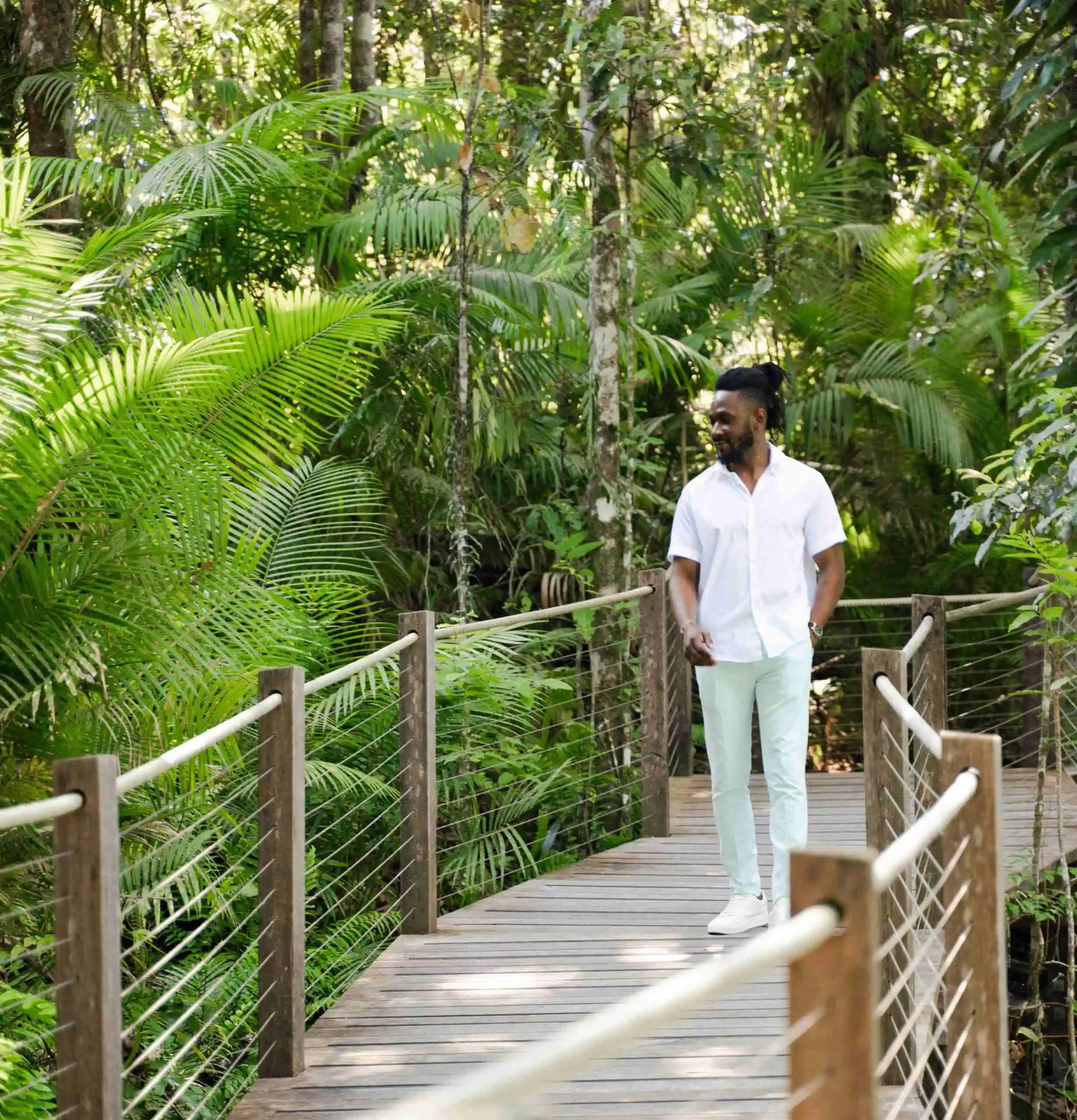 Explore up close on the rainforest boardwalks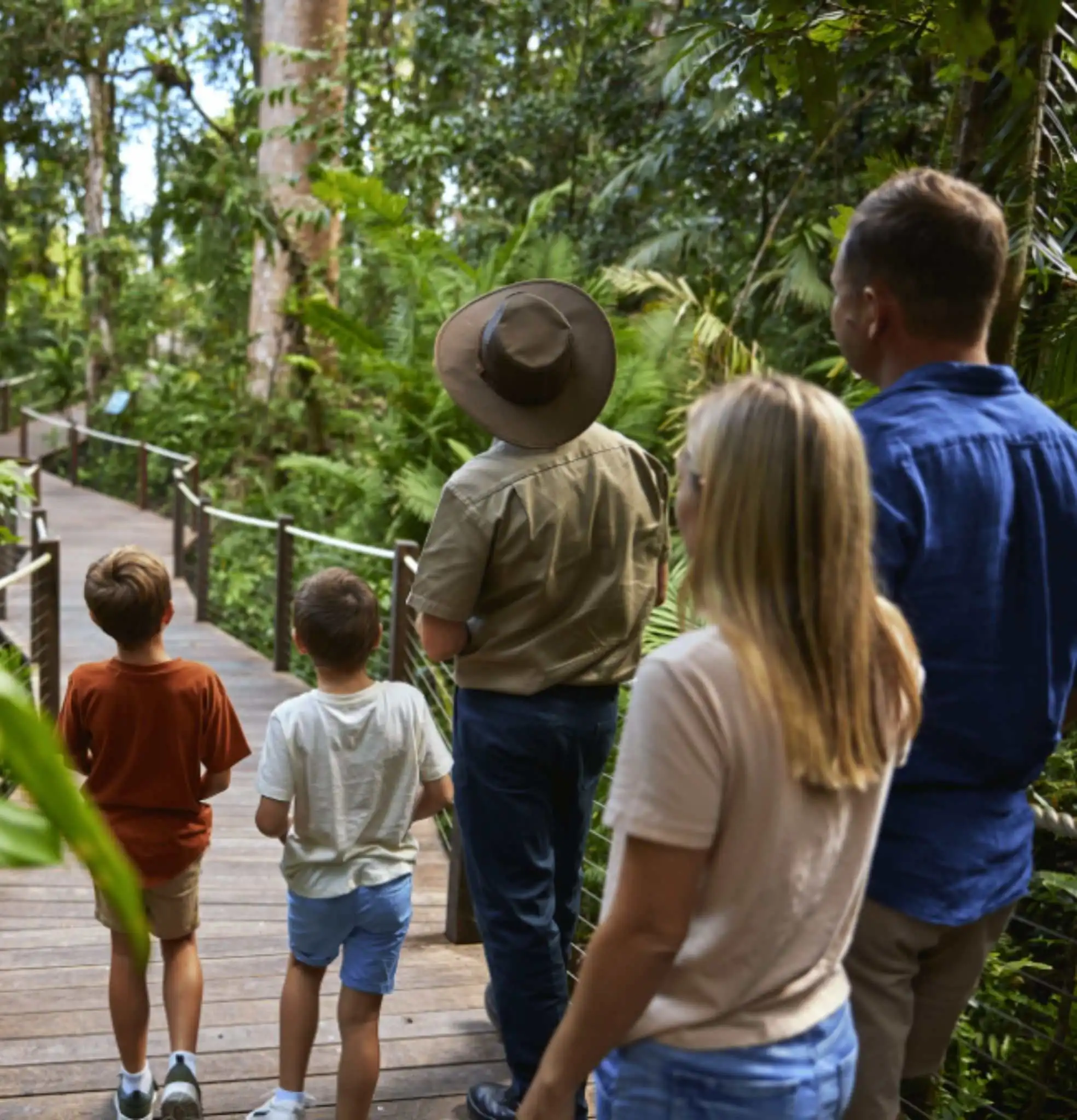 Join a complimentary Ranger Guided Tour at Red Peak
This living natural and cultural wonder is home to the world's oldest continually surviving tropical rainforest, with over 20 Rainforest Aboriginal tribal groups having cultural connections to it. What better way to enjoy it than from a gondola above the rainforest canopy! Upgrade to Diamond View for an extra special view through a glass floor gondola!
Your journey takes place over the historical landscape of the Barron Gorge Nation Park. Take the time to explore the rainforest floor at Red Peak, where you can learn the rainforest's history of evolution at the Rainforest Discovery Zone or join a complimentary Ranger Guided Tour. They are the storytellers of this beautiful landscape and their in-depth knowledge will bring the fascinating story of Australia's ancient rainforest to life. Keep a lookout for the elusive Southern Cassowary that likes to visit!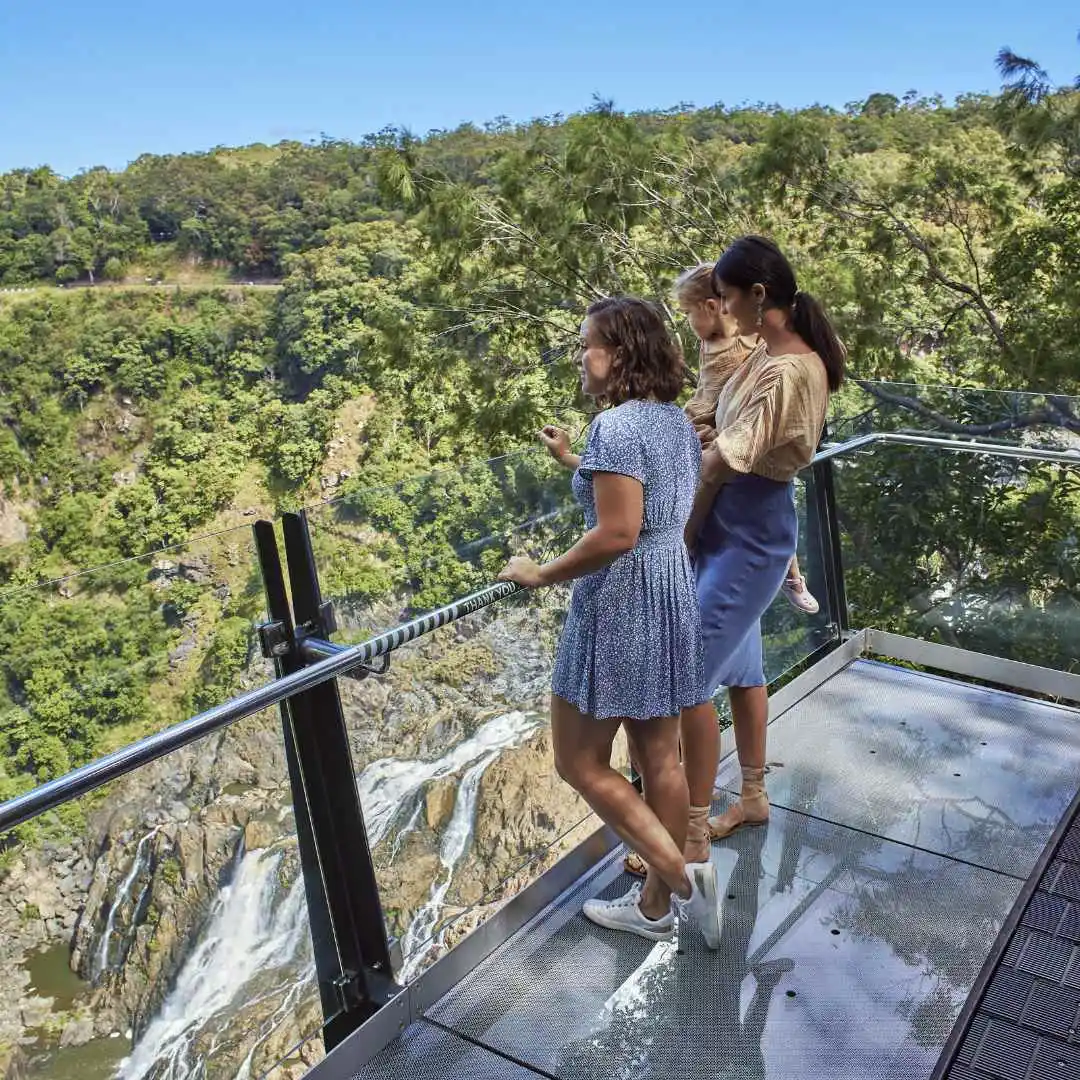 Take a moment for yourself to be mesmorised by the panoramic views at The Edge Lookout!
Stop and immerse yourself in nature surrounding you from The Edge Lookout at Barron Falls, with unimpeded views of the falls and gorge. Get an educational insight into the fascinating ecosystems in our Rainforest Interpretation Centre and enjoy the in gondola commentary during your journey with our Interpretive App and Audio Guide.
Your Skyrail experience will bring you to Kuranda Village, a famous little village nestled in the rainforest. An eclectic mix of quirky markets, boutiques, art galleries and cafés to enjoy during your day before you embark on a historical journey with Kuranda Scenic Railway as it meanders its way back to Cairns.
Wind your way through the Barron Gorge National Park with Kuranda Scenic Railway on your Cairns winter escape…
Opened in 1891, your historic journey takes place in fully refurbished vintage train carriages including commentary as the railway winds around the Barron Gorge passing waterfalls and impressive views, including a short photo opportunity stop at the Falls.
This beautiful and unique railway journey has two travel options but we suggest upgrading to their 'Gold Class'. Relax in lounge style chairs with a dedicated attendant service where you will enjoy morning or afternoon tea, featuring a selection of Queensland and local Tablelands produce such as Gallo Dairyland Cheese, Skybury Coffee, Wondaree Macadamias, Tropical Sorbets or freshly baked muffins.
For the ultimate experience book our most popular package including Skyrail Rainforest Cableway and Kuranda Scenic Railway! You can start at either venture and have an equally enjoyable experience with the best of both worlds!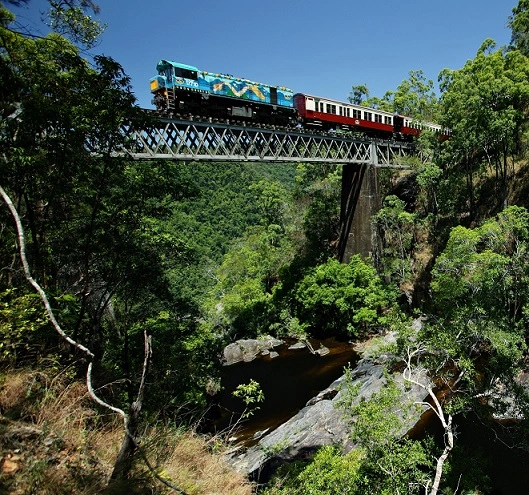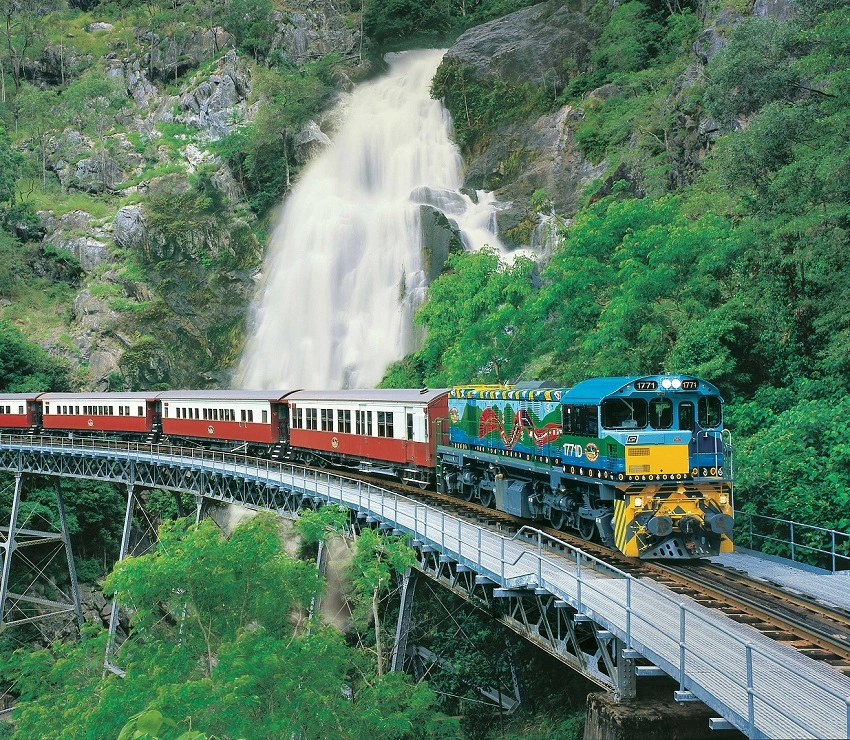 Explore the Great Barrier Reef on your Cairns winter escape…
Cairns has an abundance of tours and trips to the Great Barrier Reef, you will find it hard to choose which one you want to enjoy! From uninhabited islands to indigenous cultural reef adventures, pontoon fun, snorkeling and diving you will find something to love!
Float your day away with a pontoon adventure, departing from Cairns or Port Douglas with Sunlover Reef Cruises, fun for the kids too with waterslides, or Quicksilver Cruises who offer ocean walker helmet diving. There is a myriad of outer reef options to suit everyone!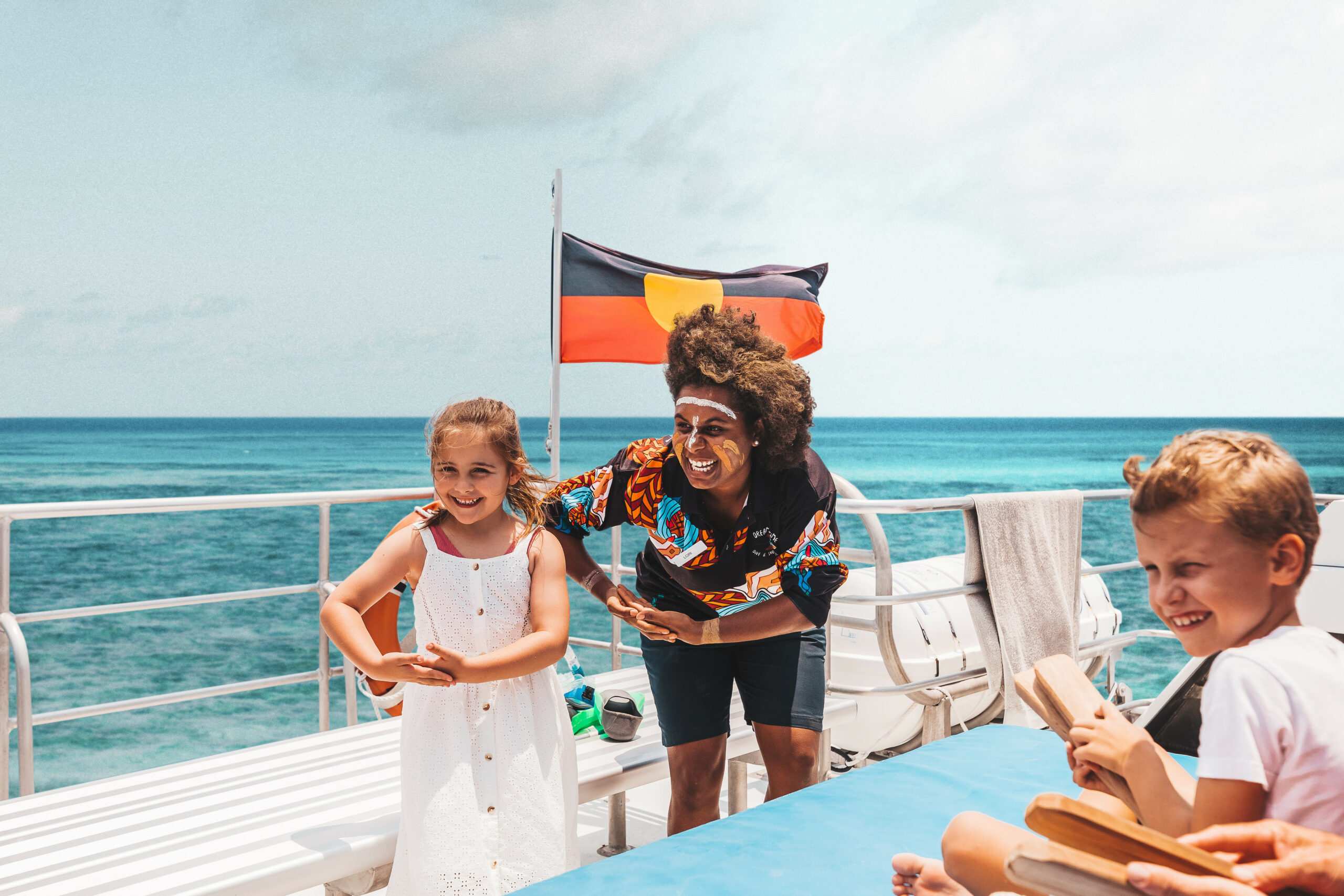 Have fun with the crew Dreamtime Dive and Snorkel crew (Image supplied by Tourism Tropical North Queensland)
Dreamtime Dive and Snorkel is a unique and exclusive aboriginal cultural cruise experience on the reef with traditional owners having passed their stories down for your enjoyment as you explore the marine life of the Great Barrier Reef. Acknowledging the traditional owners of the Sea in which they operate economically, socially and sustainably.
Enjoy the Great Barrier Reef on the newest technologically advanced pontoon with a focus on sustainability, eco-tourism, reef restoration and research via Reef Magic's scientific lab!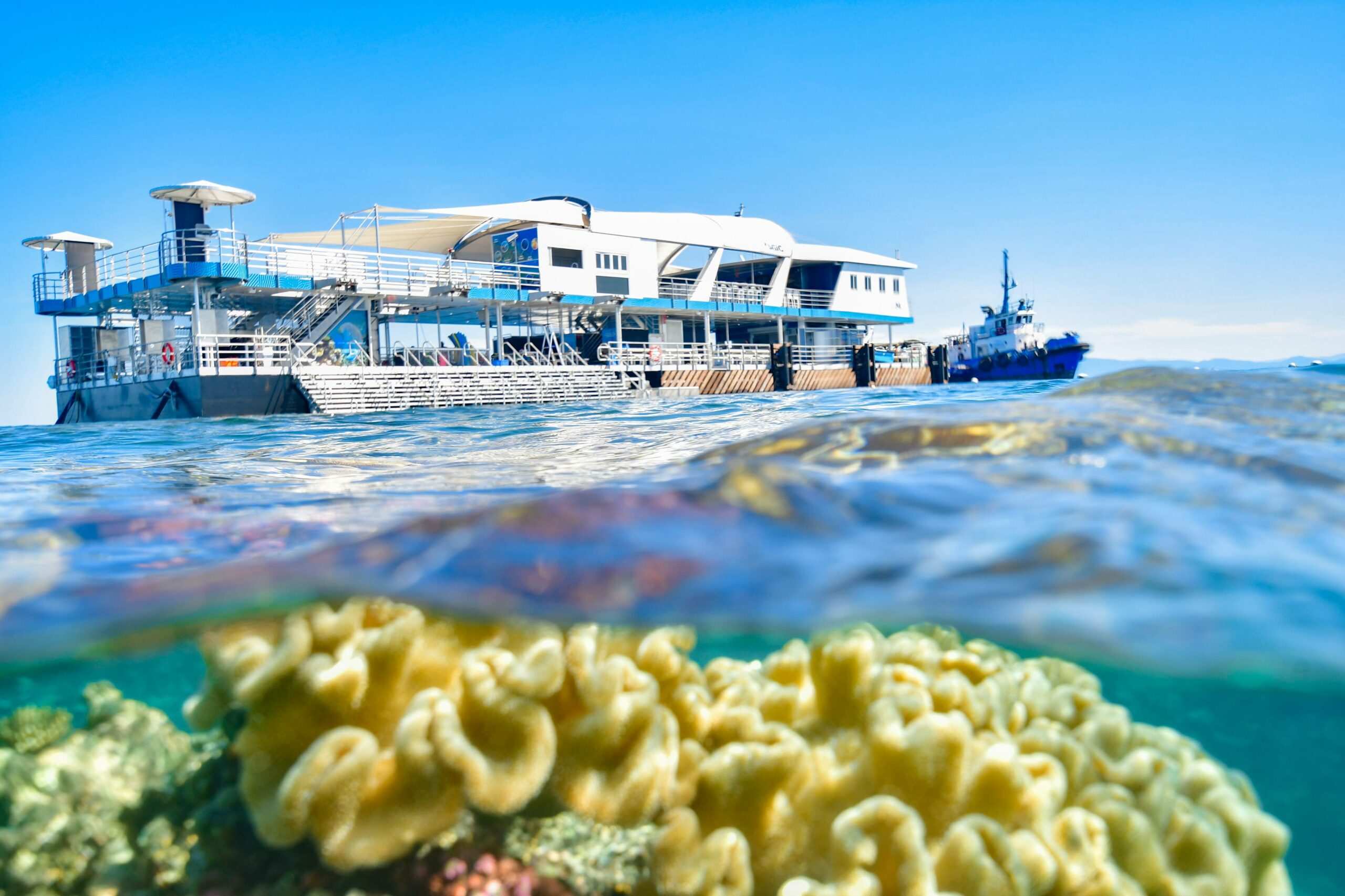 A different point of view ~ Reef Magic Pontoon (Image supplied by Reef Magic)
The all-weather Reef Magic Pontoon impressively has 18 solar panels and 3 wind turbines, designed & built for a sustainable future. At over 1003sqm, with a capacity of 450 guests but numbers kept to a maximum of 250, so you can escape the crowd and enjoy the reef.
With activities for all ages, you can snorkel in the sheltered coral lagoon, enjoy easy access to the reef via a state of the art entry and exit platform. Join their Marine Biologists in the dedicated on board real life science lab or during a Guided Snorkel Safari. Try Scuba Diving in the moon pool, which allows non-diving family & friends to watch. For those not wanting to get their hair wet there is an Underwater Observatory, Glass bottom boat tour and semi submarine tour as well as the Sea Trek helmet dive.
We are sure whatever Great Barrier Reef adventure you choose to partake in you will be mesmerised by the hard and soft colourful corals, schools of fish, turtles, rays and so much more!
With all these exciting adventures waiting for you, Cairns really has the best of both, the reef and rainforest World Heritage listed areas existing side by side, why not plan a tropical, Cairns winter escape right now!
Re-imagine warmer winters in natures playground, in Tropical North Queensland!